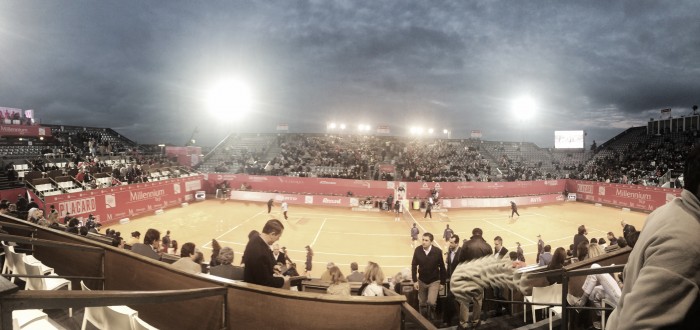 There was one match for the first round yet to be played, it was between Pablo Carreno Busta, eight seed, and the wildcard, Fernando Verdasco. The two compatriots faced eachother and the younger won took the win in two conclusive sets 6-1, 6-3.
Court Millennium
The first match of the second round opposed Borna Coric and Rogerio Dutra Silva and the ATP NextGen star won in three tough sets 6-3, 4-6, 6-1 in two hours and eight minutes. "It was a tougher match [comparing to the first round], in the first set I was performing very well, I was really happy how I played, I was very aggressive, I was playing high on his backhand, it was working perfectly well and in the second set I stopped with that and I started to play a little more defensive," said Borna Coric after his second round match against Rogerio Dutra Silva.
Nick Kyrgios faced Inigo Cervantes to celebrate his birthday and to open the first night session of the Millennium Estoril Open second edition. Kyrgios received the perfect gift, besides the cake from the organization, a passport to the quarterfinals. He defeated Cervantes 7-6(4), 7-5 and after the match he was offered an original birthday cake.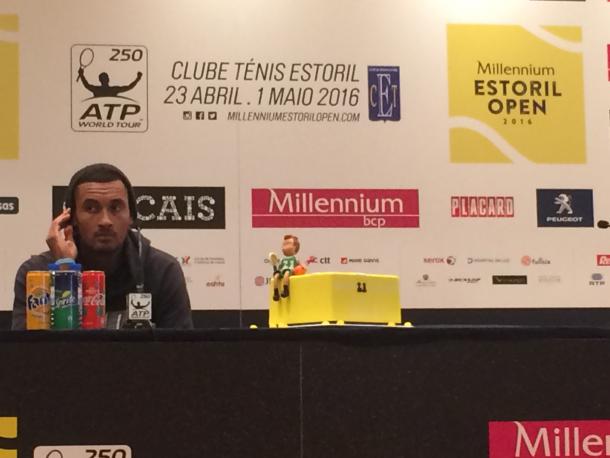 To close Wednesday's night session Benoit Paire defeated Kyle Edmund in three sets 6-7(4), 6-3, 6-3.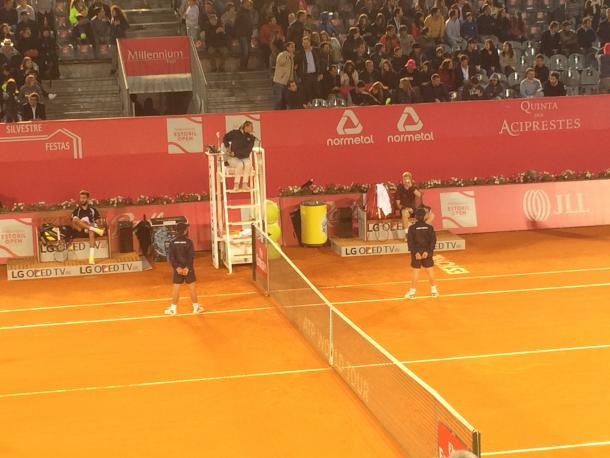 Court Cascais
Guillermo Garcia-Lopez defeated Stephane Robert 6-3, 7-6(3) and will now face Benoit Paire on the quarterfinals.
There was some action in doubles too on this court with Erlich/Fleming facing Draganja/Qureshi; Erlich/Fleming won 6-3, 6-2.
To finish the day on this court Elias/Sousa offered a bagel to Dutra Silva/Garcia-Lopez. The Portuguese double won 6-3, 6-0.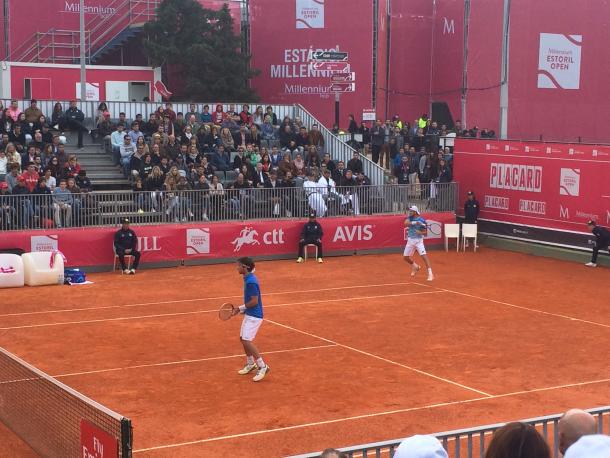 Court 3
There was only one match to be played on this court. Huey/Mirnyi defeated Fabbiano/Lorenzi 6-2, 6-3.