 Following his withdrawal from the 2016 Mutua Madrid Open last week, 17-time Grand Slam champion and 2015 Italian Open runner-up Roger Federer returns to the clay courts on Wednesday as he will face off with world number 44 Alexander Zverev of Germany.
Federer, who recently moved past Andy Murray for the world number two ranking, will look to move past his back injury, which he sustained last week in Madrid in practice. Upon the release of the draw, most pointed to Federer's path to the title as the toughest of anyone, beginning with this matchup. Zverev is an up-and-coming player, someone who has a very bright future on the ATP World Tour. He will certainly challenge Federer in his opening match in Rome.
Federer returns from yet another injury
The Swiss number one has had a challenging, injury-riddled season, to say the least. His struggles began in January, as he tore his meniscus while running a bath for his twin daughters. After surgery, he initially planned to return in time for Indian Wells. The Swiss Maestro later decided to skip the 2016 BNP Paribas Open in Indian Wells in order to have more time to recover.
A few weeks later, the Fed-Express decided to enter the 2016 Miami Open, after not initially planning on playing the Masters 1000 Series event this season. Days before his well-anticipated return in Miami, the Fed-Express, unfortunately, came down with a stomach bug, which forced him to withdraw before his match against Juan Martín del Potro in the second round.
The stomach bug provided yet another setback for the Swiss number one. Federer finally made his return in Monte Carlo at the beginning of April. He reached the quarterfinals there before falling to Jo-Wilfried Tsonga in a three-set thriller.
Following his exit, the former world number one proclaimed that he could possibly enter the tournaments in Madrid and/or Rome. Before the tournament began in the Spanish Capital last week, Federer announced that he would indeed play in Madrid.
Once again, however, the injury bug struck the father of four, forcing the Swiss Maestro to pull-out of the 2016 Mutua Madrid Open due to a back injury sustained in practice. The Swiss superstar's season has been nothing short of frustrating.
The Fed-Express has only played a total of three tournaments this year. This week in Rome will mark only his fourth. After more rehab throughout this past week, the Swiss superstar should be ready to go tomorrow; however, he still has not completely confirmed his availability for the match. If all goes to plan, Federer will be good-to-go for the match, which is scheduled to open play on Center Court at 12:00 PM local time.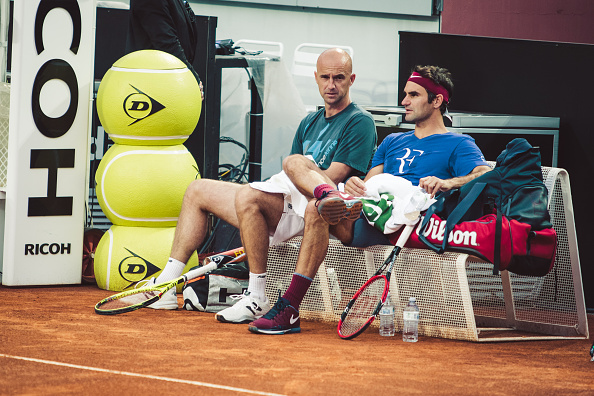 Zverev easily moves past Grigor Dimitrov in round one
Unlike Federer, who has a high-enough seed, thus receiving a first round bye, Zverev had to play in round one of the Italian Open. The 19-year-old German number two faced-off with world number 35 Grigor Dimitrov, who has held a ranking as high as eight in the world in his career.
Zverev played a very impressive match, defeating the Bulgarian number one 6-1, 6-4, in just over an hour. The German served over 70% for the match and won over 70% of both first and second service points. Those percentages will keep anyone competitive against anybody. However, serving to Federer across the net provides another level of pressure, much more than Dimitrov can apply.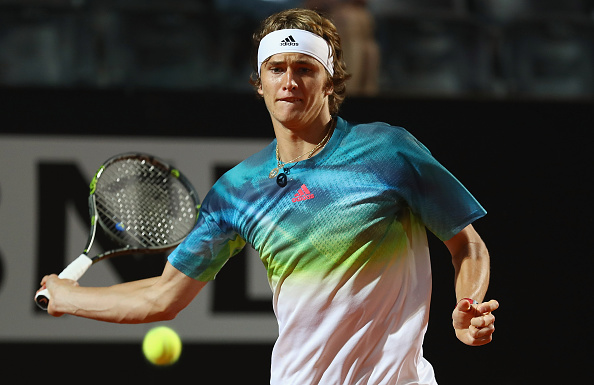 Prediction:
This is a very intriguing second round match. There are a variety of storylines here, ranging from Federer's health, to Zverev's ability to attack Federer's weaknesses, to the Swiss Maestro's movement related to his knee injury, as Federer has only played a handful of matches following his surgery.
The Swiss number one hopes for a quick victory as he works back from his newest ailment. The 17-time Grand Slam champion has struggled with back injuries in the past, so this recent back ailment is a bit more worrying based on that fact alone.
Zverev has had a fairly good start to the 2016 season, amassing 16 victories and 11 losses. He last competed in Munich, at the 2016 BMW Open, falling to Dominic Thiem in the semifinals. Federer, on the other hand, has not played since his quarterfinal exit at the 2016 Monte-Carlo Rolex Masters to Jo-Wilfried Tsonga.
Federer and Zverev have never played before, but expect Federer to come out of the locker room with a clear strategy. The 34-year-old always keeps an eye on the up-and-coming generation, for these first-time matchups specifically.
This has a chance to be a thrilling match, depending on Federer's level-of-play and movement ability. Zverev has every attribute to become one of the best players in the world in a few year's time. However, Federer is still number two in the world. Even if he is not at 100%, he still should be able to battle past the young German.
Prediction: Federer in two sets