 Jeļena Ostapenko routed qualifier Monica Puig to advance to the third round In Rome, losing only two games in the process.
Ostapenko breezes through the first set
Coming off of a solid win over 15th seed Elina Svitolina, Puig came out and appeared lifeless, barely winning points. She was broken immediately, a backhand missing the mark, sending Ostapenko to a quick advantage. After a quick hold, the Latvian was handed a second break and 3-0 lead when Puig double faulted. After falling behind 4-0, Puig dug out of a 0-40 hole to finally record her first game of the match. She appeared to gain a small measure of momentum, holding a 15-30 on Ostapenko's serve, but the Latvian escaped the potential trap and held. When another Puig backhand was off in the next game, this one misfiring down the line, the set was comfortably in the possession of Ostapenko 6-1.
Ostapenko continues fine play, cruises to second set and win
Ostapenko reached the final in Doha and her dominance in this match continued. Puig started out much better than in set one and she kept pace with her superior opponent early but cracked in her second service game of the set, double faulting for the second time on break point to hand Ostapenko a 3-1 lead. The Latvian's forehand was working well, creating openings to hit winners and she marched on, plowing through her service game to lead 4-1 and position herself to within two games of the victory. Any small glimmer of hope Puig had of recovering from her immense hole was gone in the next game, her serve breached one final time when yet another backhand was off the mark, Ostapenko leading 5-1. Punctuating her superiority in the match, Ostapenko calmly served out the match, the set hers 6-1 and with it, a place in the third round, an impressive display by the 18-year-old, needing only 58 minutes to dispatch Puig.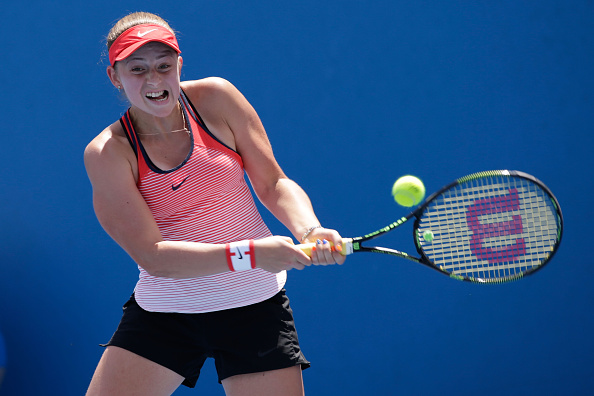 Ostapenko brilliant on serve, earns date with Muguruza in round three
Ostapenko doesn't have a big serve, but she was perfect on her first delivery, winning 100% of those points. She balanced out four double faults with four aces while almost doubling up Puig in total points, 61 to 32. She was also proficient on Puig's 2nd serve, winning 19 of those 28 points. Puig could only manage to win a measly 8 of 37 return points. Ostapenko was also quite efficient on break points, taking 5 of her 13 chances whereas Puig only had one, failing to convert. Her next opponent should provide much more of a test when she faces Spaniard Garbiñe Muguruza, who easily defeated Ekaterina Makarova, surrendering just two games.