 Madison Keys notched a straight-sets win over fifth seed Petra Kvitová in the second round of Rome.
Keys falls behind early, rallies to win the first set
Both players are blessed with a tremendous amount of power but are also plagued by inconsistency and patches of unforced errors. For Keys, that's exactly what happened to start the match as Kvitová was handed an opening break when Keys made three errors, the last a backhand down the line wide.
Soon after, it was Kvitová's turn to lose serve as she was broken at 2-1 ahead after Keys' forehand chip that was mishit and dropped in, just clearing the net. Now on level terms, Keys set out on forging ahead and she duly responded with two solid holds. Now leading 4-3, the American struck for the decisive break in the set when Kvitová overhit a forehand over the baseline. Now serving for the set at 5-3, Keys needed three set points, but finally slammed the door on her third chance to go up a set.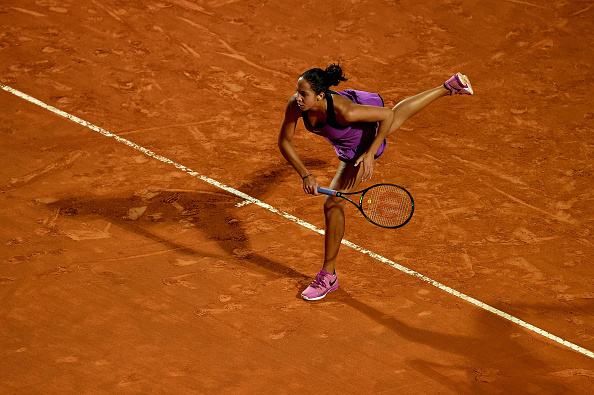 Keys grabs lone break midway through second set, makes it stand up to progress to third round
With two of the biggest servers in tennis battling each other, neither player was troubled much through the first four games of the second set. The lone exception, however, was Kvitová serving at 1-all: Keys had an opportunity to take a stranglehold on the match. A backhand miss enabled Kvitová to hold, but she wouldn't be as fortunate in her next service game, wasting a 40-15 lead as Keys broke, aided by three Kvitová backhand errors, the last dumped into the bottom of the net to hand the American what would turn out to be the only break she needed in the set.
Keys was hardly challenged in her next two service games and at 5-3 ahead, the finish line was in sight. She gave herself a chance to close the deal, getting to deuce on Kvitová's serve, but the Czech responded well to scrape out a hold and temporarily stave off elimination. Keys would step up to the line, the match on her racquet at 5-4 and she passed her final test, serving out the match to love, firing aces on the last three points to finish in style and gain passage into the third round.
Keys comments on her win, thoughts on clay
Keys on her victory: "I definitely didn't want to start down 2-0 right off the bat," Keys said of her initially slow start. "But I was able to recover from that, build some momentum and keep it going." Keys about her comfort level on clay: "It's definitely more love than hate now," the 21-year-old said of her relationship with clay. "The first couple of years were very difficult for me; I never really played on red clay growing up. I think every year is a little more experience, and I'm feeling more comfortable."
Babos test next
Up next for the unseeded American is Hungary's Timea Babos, who outlasted the 12 seed Venus Williams 6-7(5), 7-5, 6-4, in just under three hours. "I've played her on grass, and I think I got my butt kicked," Keys laughed. "So hopefully, it'll be a little bit better for me next time. I haven't really seen her play in the last couple of years, so I'll definitely rely on my coach to help me figure that out."