 On a day of surprises at the Internazionali BNL d'Italia Open, Daria Gavrilova managed to edge Simona Halep after an amazing performance throughout the whole match. Rome seems a city which suits Gavrilova in terms of how good she can play here. Last year she had her breakthrough here after she came from qualification rounds to reach the semifinal. Actually both players were semifinalists last year in Rome (Simona Halep losing to Carla Suarez Navarro, and Daria Gavrilova to Maria Sharapova whom then moved on to win the title).
Halep came into the match with little time training in Rome, having only a couple of days to adjust to the conditions, and that must have contributed in her loss tonight. Coming here as the champion of Mutua Madrid Open, Halep was searching to continue her good form shown in the previous tournament and to continue her momentum going into Roland Garros. A tough first match against the feisty Aussie, Daria Gavrilova, which can also be a good opportunity for her to put herself in a Roland Garros similar conditions of play, see how she feels, how can she control the match and also managing the emotions she must have felt after winning her second biggest title after such a rough beginning of the year.
While Halep was brimming with confidence, on the other side Gavrilova was brimming with energy and seemed eager to play every point, showing a great display of fearless tennis as she also wanted to defend last year semifinal and to avoid a downfall in the rankings. But, most of all, she was eager to continue her good form on clay after reaching the round of 16 in Charleston then beating Petra Kvitova to reach quarterfinal in Madrid. And in her first round in Rome, she got a pretty straightforward win over the German, Sabine Lisicki.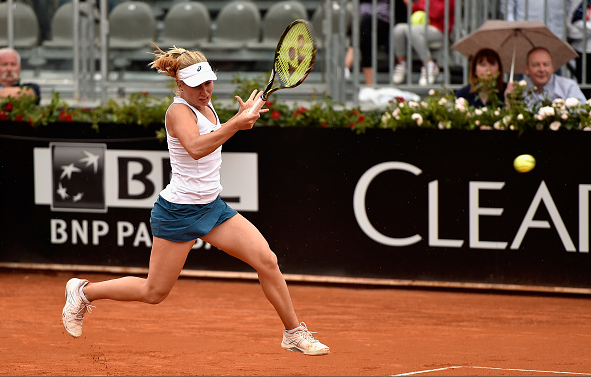 A looming start for the Aussie.
The beginning of the first set was just a little preview of how the whole match was going to be like. Both struggled to hold their serve, in the second game, Halep was facing a break point which was saved with a stunning crosscourt backhand and then went on to hold with a T ace. Two first long games with a good exchange of shots and excellent groundstrokes. Gavrilova tried to hamper Simona's chances of getting the upper hand, at 3- all in the third game, Gavrilova kept on attacking the Romanian's forehand side by placing the ball on the corner over and over again, and ending the point at the net with a volley was an easy task to carry out. The match was all about the battle of great movers with a relentless desire of getting the win.
Simona Halep seemed not to be in the same mod game as she was in Madrid and got broken, missing easy shots and not take the initiative. However she did manage to break back on the first opportunity and the momentum was carried out as she held her serve; Halep stepped in the court stronger and at 40-40, although she was previously 40-15 up, she made a glorious jumping backhand winner. At 4-3 Gavrilova managed to take a decisive break with a disguised slice forehand drop shot. The perfect timing as she immediately took the first set.
During the toilet break Darren Cahill came to Halep and offered her a couple of tips on how to manage Gavrilova's style of play, he told her to open the court more and to put a little bit more spin on the forehand.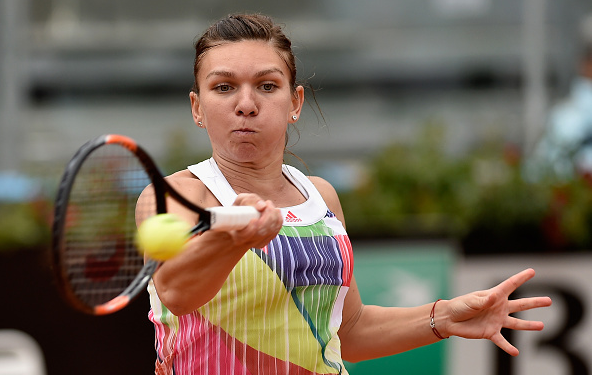 Halep fights back to take the second set.
Gavrilova seemed to have more energy, she was more committed, and put more pressure on the Romanian by making Halep's job harder, always hitting her groundstrokes with at precise placement. After two easy holds, Gavrilova was the first player to break as she was the player able to make more damage, especially with her drop shots, Halep being always caught by surprise.
Although Halep's backhand was always a weapon to rely on, Gavrilova was able to annihilate as she was playing on her forehand. Simona was the one forced to play that extra shot every single time, and Gavrilova used her slice quite efficiently, Halep not being able to bounce the ball enough and the Aussie was always at the right place to seal the deal.
Simona looked to recover and broke for 3 all, to serve and take the lead afterwards. Gavrilova was not going to make things any easier for Halep as she started to paint the lines on both sides of the court. Halep came back well due to the depth of her shots at 30-30. All throughout the match, Gavrilova was seething, fist bumping on every point, squirming when missing easy shots, a behavior which keeps your mind competitive, but which can also harm your performance. Big point were at stake as Halep was about to force the break, and that was the moment Gavrilova rushed into things and double faulted to give Halep the chance to serve for the match.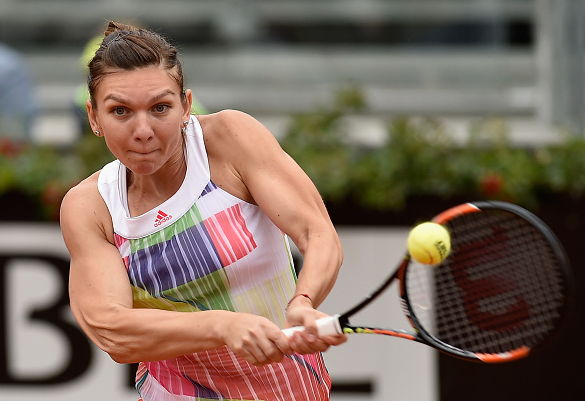 Nicole Pratt came down immediately to calm down Gavrilova and to tell her not to rush, "Take your time. Think about every shot you're hitting (…) work the points, work hard physically, when you get the opportunity, come forward, take the ball out here. Tendency will be to rush it, just slow down, take a couple of deep breaths. She's rushing you, so don't rush yourself."
Gavrilova was not done yet in the second set as she broke back thanks to an amazing defense. However, the two time semifinalist, Simona Halep, didn't give up on the fight and took a final break to take things into a decider.
In the third set Gavrilova took her opportunities to send off Simona Halep.
After a 45 minutes delay due to rain condition both player came on the court to continue their battle. Simona started better the decider as she went up to 40-0 to closed the opening game with yet another ace. Halep took the ball earlier, she didn't' let it bounce too much to give Gavrilova the opportunity to get in the striking position.
But the Aussie got into her zone again and she pushed Halep behind the baseline, getting in the control of the rallies. The first tight game came in the fourth game, Gavrilova played some gutsy tennis which gave her the right amount of confidence that she can get in the control of the match. And she did so by breaking two more times. After she was unable to serve for the match at 5-2, Gavrilova came back strong to win 4 consecutive points on Halep's serve and to score one her most impressive win of her career.
Simona Halep will now move on to get her preparation for Roland Garros where she expects to make a good result. A defeat against Gavrilova is definitely not a setback for Halep as she said in her press conference that she lost to a good player who deserved to get the win. Thus, Gavrilova moves on to take Svetlana Kuznetsova and if she gets the win, she might have a Serena Williams quarterfinal clash.