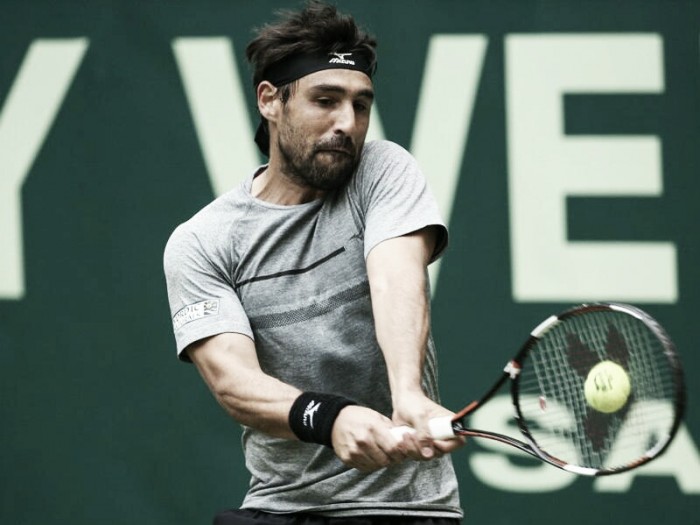 Marcos Baghdatis won a close two set match over Dustin Brown to reach the last eight in Halle.
Baghdatis gains only break in final game of razor-thin first set
In what was to be an entertaining encounter, the match took on an unexpected twist: an exhibition in serving, both men dominating on their serve, Brown holding a break chance in the third game of the set, Baghdatis swatting it away. Outside of that game, the Cypriot would lose just five points on serve while Brown only surrendered six. The key moment came in what turned out to be the final game of the opening set, Baghdatis gaining the only break he needed to capture the set, staying close in the game then making his move, the set his 7-5 in 34 enjoyable minutes.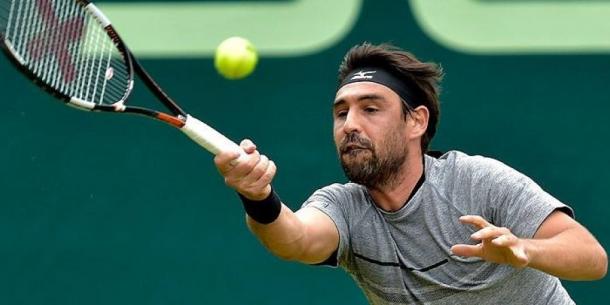 Baghdatis squeezes by Brown in ultra-close set and tiebreak
Both men have enjoyed success on the grass, Baghdatis a former Wimbledon semifinalist and a finalist at this event in 2007, losing to Tomas Berdych. The Cypriot took care of the Czech in his opening round match. Brown has also had notable scalps on grass at Wimbledon, defeating Lleyton Hewitt and Rafael Nadal.
The second set was much like the first, the server dominant, six love games played out of twelve. At 2-1 down, Brown faced his toughest game of the match, a 13-point marathon that saw hin fight off two break points to hold. The German was resolute in saving a match point at 6-5 down, a tiebreak deciding the outcome. In the tiebreak, minibreaks were exchanged at the start before the server settled down.
Baghdatis would regain his edge with another minibreak, this one putting him ahead 4-2. The Cypriot would wobble and in a flash, Brown was even at 4-all. Reflecting the up-and-down nature of the tiebreak, Baghdatis would take the next two points, putting himself on the brink of victory at 6-4 up.
Just as he did in the final game of the set, Brown was able to stave off elimination, saving both match points. After saving a third match point, Brown held a set point at 8-7, but Baghdatis was able to close strong, winning the final three points of the match to take it 7-6 (10-8) in 48 minutes and with it the match in one hour and 22 minutes of thoroughly enjoyable tennis.
German teenager awaits
Baghdatis' quarterfinal opponent will be 18-year old Alexander Zverev. Zverev came from 4-0 down in the opening set to defeat fellow German Benjamin Becker 7-5, 3-0 with Becker retiring after he lost seven games in a row. The two players have met once before, Baghdatis topping Zverev 6-3, 6-3 in the second round of Nottingham last year.