 Bernard Tomic has advanced to the semifinal of Queen's Club with a marathon victory against Gilles Muller. Just hours after the Australian Tomic defended criticism of his effort in tennis matches, the 22nd ranked player on the ATP Tour used three sets to roam past Muller, who couldn't pull off a successful comeback after winning the second set.
Tomic, who now moves on to face Milos Raonic, won the match with a 7-6(5), 4-6, 6-2 victory.
No lack of effort here
Tomic spent the better part of the previous day defending his play on the tennis court. Several journalists and fans have battered him for years with repeated claims that he often fails to give much of an effort and even tanks matches.
Today, he seemed to dispel those allegations by putting up a vigorous challenge against Muller.
Muller held a 3-0 match record against Tomic entering the match. But he may have been somewhat exhausted after saving an incredible ten match points to defeat John Isner in the previous round. Tomic took full advantage of his opponent's state in a first set marathon.
Both men held serve with regularity to begin the match. Neither competitor faced a single break point until the 10th game of the set. There, Tomic was able to force three break points on Muller's serve. Each break also gave the Aussie a chance to win the first set against the Luxembourgish player. Yet, each time, Muller was able to save the break and he would eventually force a tie-break to decided the first set.
Having saved ten match points the previous day and three set-points to begin his next match, Muller's luck finally ran out in the tie-break. Tomic lost serve in his first service point but forced a couple of mini-breaks and converted twice to win the set.
Trouble brewing
Muller, to his credit, was able to summon enough energy to claim the second set. The world number 41 fired 10 aces in that set and never faced a single break point. In saving all of his service games, he won 81 percent of his points on serve. The only Luxembourger player ranked in the ATP top 100 broke Tomic in the final game of the set, winning 6-4.
However, a win today was not to be.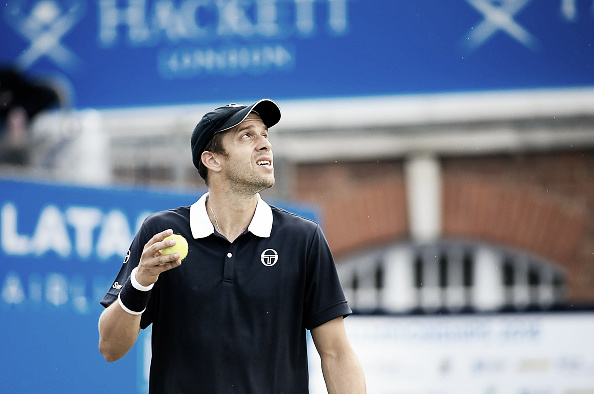 Tomic claimed breaks on both of Muller's two service games to begin the final set. The Aussie did face two service games but easily saved them both. He claimed the final set 6-2 and moves on to face Raonic in the semifinals of the Aegon Championships.
Bernard Tomic, who is barely above water in terms of wins and losses on the year, is still looking to claim his first title of 2016.