 Florian Mayer, at age 32, played a fellow-countryman who was 13 years his junior in Alexander Zverev in the Gerry Weber Open. The competitors were both Germans playing in Halle, Germany, so in essence, they were both the home player. After an hour and 55 minutes of intense battle, it was the elder Mayer who pulled out the win in three sets, 6-2, 5-7, 6-3.
Mayer Strikes First
The first two service games, while lacking break points, set the playstyles for the math early; Mayer would try to move Zverev around using drop shots and lobs, and Zverev would use every inch of his 6'6" frame to get to the net and power past his opponent. The young German was able to begin the match by winning the first two points, but his fellow countryman had little trouble winning the next three points and then the game. Showcasing some big serves—including two aces—Zverev held easily at love to bring the score to 1-1. At 30-30 in the third game, Mayer missed a crosscourt forehand for the match's first break point chance. The 32-year-old then used a big second serve out wide to get to deuce—where he quickly finished the game.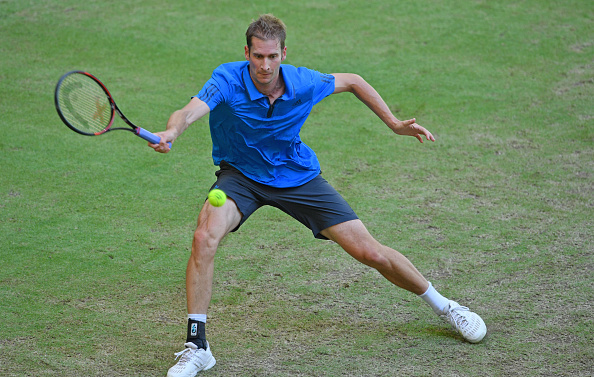 After another pair of deuces, with the score at 3-2 in favor of the elder German, Mayer began punching back returns with a shorter backswing. That, in turn, gave him two quick points and rattled Zverev enough to double fault not once, but twice. With the early break, Mayer was en route to his seventh straight set won in Halle. At 40-0, the world number 38 hit the shot of the match: a tweener pass from corner to corner. It wasn't enough to save the young gun though; Mayer still held at 15—taking a 5-2 lead with him. The set didn't last much longer. A well-placed return set up an overhead smash, and at 30-40, a mishit forehand by Zverev concluded the first set. Two breaks lead Mayer halfway to the win in commanding fashion.
Zverev found his way to the net relatively often—with points ending at the net six times. However, by winning only two of those chances and relentlessly being lobbed by his opponent, the young German's strategy was neutralized.
Zverev Roars Back
After losing the first set, Zverev immediately responded. Finding an early pair of break point chances at 15-40, the world number 38 hit a beautiful backhand pass that leaped away from Mayer at the net. His hot streak held on through his serve as he gave up just one point on his way to a 2-0 lead. The next three games proceeded with the returner winning a total of just four points.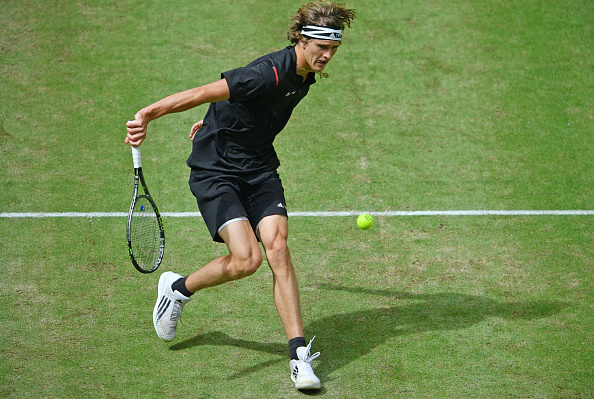 The sixth game featured some beautiful tennis from both players. It lasted two deuces before Mayer put away a backhand volley for his first break point chance of the second set. Similarly to the first set, Mayer's first break of the set came on an unfortunate Zverev double fault. The 32-year-old held once more—taking his first lead of the set, 4-3. Holding at love, the 19-year-old responded with some fantastic serves to which Mayer had no response. The next game saw an emotional Zverev sending his racket airborne, but it still went on without a break; Mayer held to the tune of a 5-4 lead. Paced by a wonderful lob that had become his trademark of the match, Mayer found two championship points at 15-40. The first was erased on a big ace; the second, on a forehand hit wide. A well-timed challenge on a serve called out became an ace, and a backhand into the net by Mayer finished the game. Now energized by his survival in the match, Zverev hit a sliced backhand to take a 30-40 lead; then, with a beautiful backhand pass, the young German broke his countryman's serve. At 6-5, Zverev was one hold away from sending this match into a deciding set. With a hold at thirty, the young gun finished the set—winning it 7-5 in 52 minutes.
Mayer Finishes Narrative
The final set of the Gerry Weber Open began with three rather ho-hum games. Mayer looked exhausted and was waning fast, but he led 2-1, nevertheless. That lead didn't last long as Zverev held despite double-faulting another big point at 40-30. The lead returned with another hold from the 32-year-old, but things really went his way when he broke serve at love to take a 4-2 lead.
Consolidating his break at love, Mayer took a 5-2 lead. His young German opponent began to look tight, and things did not look good for the 19-year-old. Zverev finally ended an 11-point run from Mayer by forcing a backhand error into the net; he continued to hold serve at 15 and survived another game.
A huge backhand miss from Mayer at 30-30 gave Zverev a look at a break point, but the young gun ran around a backhand and dumped it into the net to make it deuce. Mayer found two more championship points after two more deuces went right for him. Zverev, however, would not go away—playing fearless tennis to save both. On his fifth championship point, the 32-year-old won on a shot driven long by his young adversary. He won the set 6-3 in 39 minutes.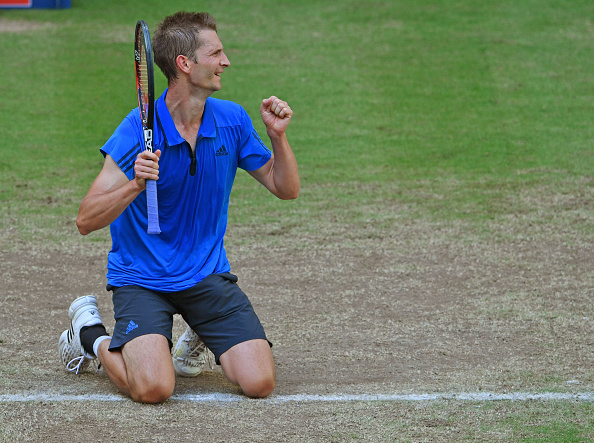 In his second final of a Masters event, Zverev was still unable to get his first title. Luckily, time is on his side as he's only 19, and his ranking will jump ten spots to world number 28. Knock on wood, this spring chicken should have plenty of titles in the future, just not the title of 2016 Gerry Weber Open Champion. That title will forever belong to Mayer.
After two years off due to injury, the 32-year-old came back as a wild card and won the Gerry Weber Open in his home country. The championship title will also catapult his ATP ranking from 192 to around number 80 in the world. That might not seem like a huge deal, but it puts him in the position to not have to qualify at Wimbledon—which could prove to be really important as he is now a player top players will want to avoid.