 Marcos Baghdatis saved two match points as he defeated the fifth seed Sam Querrey in the third round of the Aegon Open on Wednesday 1-6, 7-6(8), 6-4. The 31 year old reached the semifinals in Nottingham last year and was very pleased to get through as he strives to defend his ranking points on the grass.
Reflections on the match against Querrey
After the match the Cypriot conceded that all was not well in the mind in the first set, as he succumbed to the American 6-1. "It was not an easy match for me for many reasons, in the first set I was very negative in my head and I thought it wasn't my day out there. I woke up very negative and in a bad frame of mind, maybe I slept too much I don't know!
"I didn't even see the Croatia second half as I slept for eleven hours and woke up not feeling very well. I'm very happy with the way I came back mentally and found my way in the second set and I stayed positive in the third set, so I'm very glad about that."
After dropping serve at 4-3 in the final set the 31 year old admitted that he started to panic a bit, especially after he dropped the next two points in Querrey's service game. The Cypriot said, "he was 30-0 up on his serve and I started to think about the next game already, serving with the wind in front of me. But I got lucky a bit there, managed to return a few points and he didn't serve particularly well and at 30-30 he gave me a chance to get into the point.
"Also on the break point I just guessed with the forehand and he made a good approach shot and I made a great passing shot, which came off and I'm very happy. Having the crowd behind me was a big help and maybe not so helpful for him towards the end of the match. To have them behind me is always a bonus and it gives you an extra push."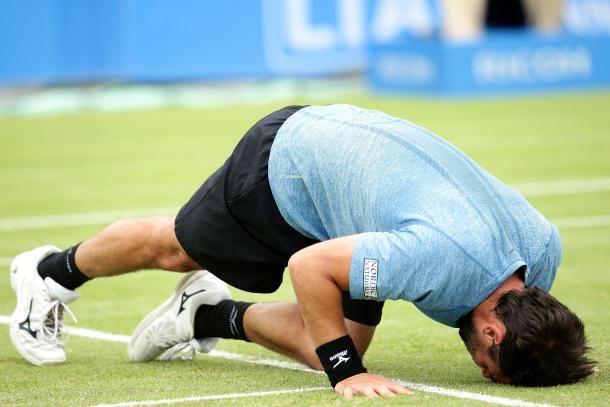 ​Baghdatis offers constructive criticism about the courts
Baghdatis was very critical of the outside courts yesterday after his second round match with Evgeny Donskoy, and when asked about whether he felt Centre Court was playing much better, the ninth seed was very honest and critical. "They were not so good unfortunately. I know everybody's trying to do their best and obviously it depends on the weather and what with the girls playing here two weeks ago doesn't help, but they're not the best grass courts I've played on.
"It's good to hear criticism sometimes as you can find a way to improve, I'm not saying it in a bad way I'm saying it because I want the tournament to improve. If we can improve in that aspect, then it can be a great 250", he said. Of course, this is the last year that the ATP 250 event will take place in Nottingham for the foreseeable future, as it returns to Eastbourne, but with the men's Challenger event returning next year, the Aegon Open can continue to make improvements.
Supporting Croatia at Euro 2016
After revealing earlier that the 31 year old was watching Croatia against Spain on Tuesday night, Baghdatis discussed his love for the country and that he was rooting for them to do well in Euro 2016. The Cypriot said, "I root for Croatia for sure, I am behind them, because I feel part Croatian, having been living there for the past eight years. My daughters were born in Croatia, so I'm much more Croatian than I am any other country in the Euros. I'm trying to watch every match, obviously I fell asleep last night but I'm very happy they won yesterday!"