 Team SanTina, the powerhouse pairing of Sania Mirza and Martina Hingis, fell short of their bid for the non-calendar year Grand Slam at the French Open but will be looking to reassert their dominance on the WTA doubles tour at the place where their run of majors began last year. After a tough couple of months, SanTina are getting ready to try and retake control of the doubles world at Wimbledon.
Notable Results to Date
Where to start? SanTina won their first four events of 2016, including the Australian Open, stretching their winning streak to 41 matches dating back to 2015. A brief cold spell ensued, losing in the second round of both Indian Wells and Miami before dropping back-to-back finals in Stuttgart and Madrid before finally returning to title-form with a win in Rome. The pair were upset however in the third round of the French Open.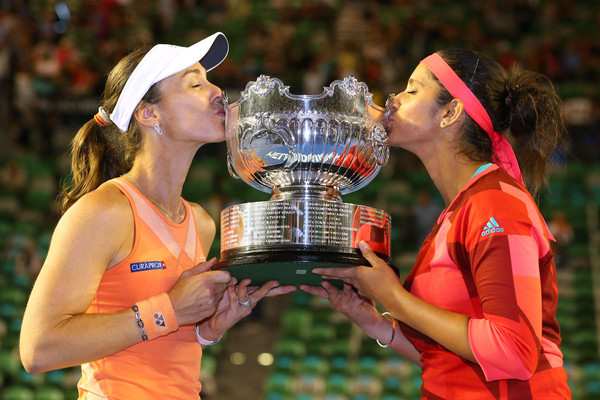 Since winning Wimbledon last year, Hingis and Mirza have only lost eight matches. To put that into perspective, they've won more titles than they've lost matches in the last twelve months, as they've won nine titles since (and not including) Wimbledon last July.
Best Grass Results Leading into Wimbledon
SanTina are playing this week at the Aegon International in Eastbourne, which will serve as their 2016 grass court debut. However, a warm-up event may not be all that relevant for the pair, as last year they lost early in Eastbourne, only to go on and win Wimbledon. At the time of the writing of this piece, they are into the quarterfinals in Eastbourne. However, their first round match was by no means easy. The pair required a super tiebreak to oust Lucie Safarova and Samantha Stosur after dropping the second set 6-2. They would bounce back well, taking the super tiebreak fairly handily 10-4.
Best Results at Wimbledon
The world number ones are the reigning champions in Wimbledon. Last year, they won the title only dropping a single set. They blew through the first five rounds of the tournament with ease before facing a stiff test in the final. A tight final between them and the second-seeded pairing of Ekaterina Makarova and Elena Vesnina saw the opening set go the way of the Russians 7-5. SanTina was forced to survive a tiebreak in the second set just to force a decider. They would take the breaker and then return the favour from the first set, scoring a late break to claim the third set and the title.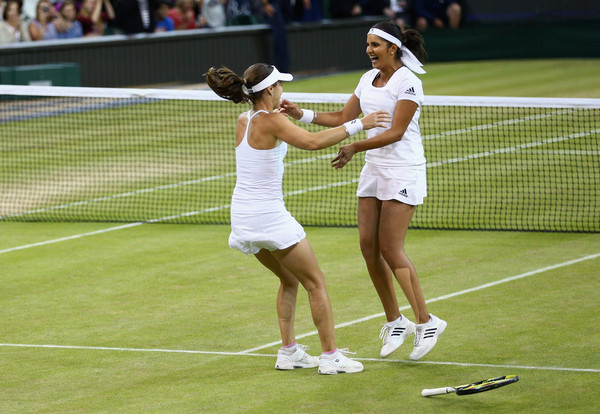 While the Wimbledon crown was Mirza's first career major title, Hingis has had a lot of success at the All-England club throughout her career. She won Wimbledon in singles in 1997 and added a pair of doubles titles in 1996 (her first major title in any senior-level competition) and 1998. She also won the mixed doubles title in Wimbledon last year.
How SanTina's Game Translates to Grass
It's no secret that the pair love fast surfaces. They seem to be at their most dominant on the speedy hard courts, but their aggressive game translates well to the lawns of western Europe. Mirza is particularly strong on the grass. The Indian possesses a ton of power off both wings, crushing her groundstrokes whenever she gets the chance. Her big shots allow her to put opponents under pressure. This strategy is particularly effective on grass, where the slick surface highlights her power.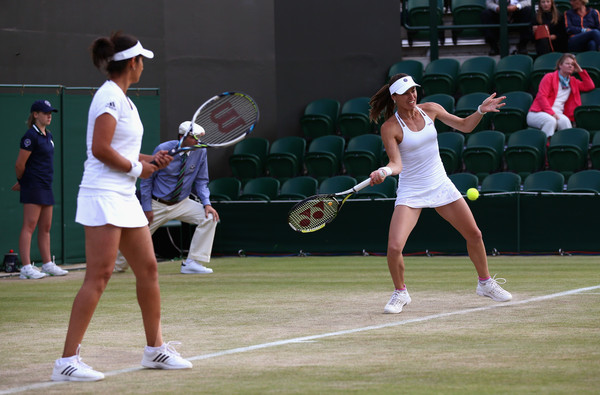 Hingis has always been strong on grass and is a former Wimbledon champion. However, it is not her strongest surface. That being said, her craftiness can be dangerous on any surface. Part of what makes this team so dangerous is the way the two players combine their fairly different styles and on grass, the combination is a pretty successful one. Mirza uses her raw power to blow through opponents, while Hingis does the damage with her variety and shot placement. This combination of skill sets allows opponents no let up.
When SanTina are on their game on faster surface, they are nearly unbeatable. They have very little in the way of weakness and have a ton of weapons to hurt opponents with. On the grass, it's possible for opponents to take control out of their hands, but that will still be a big ask for any other team over the next fortnight.