 Prior to the 2015 Wimbledon championships, if someone had said that a Canadian would reach the quarterfinals at the All-England Club, Milos Raonic or Eugenie Bouchard would have been the expected choices. But instead, it was Vasek Pospisil, the defending doubles champion, making a charge into the last eight at Wimbledon. But the Canadian has struggled ever since. He will be hoping to turn a disappointing season around as he returns the site of his greatest success.
Notable Results to Date
In singles, Pospisil has no real positive results to speak of so far in 2015. He has an abysmal 4-15 record and has yet to post consecutive wins on the main tour. In fact, only once this season has he posted wins in consecutive tournaments, advancing to the second round of both Indian Wells and Miami. His best results have been the second round of tournaments, doing so four times. Excluding his two qualifying round wins at the Queen's Club, he has lost seven matches in a row, his last win coming in Miami.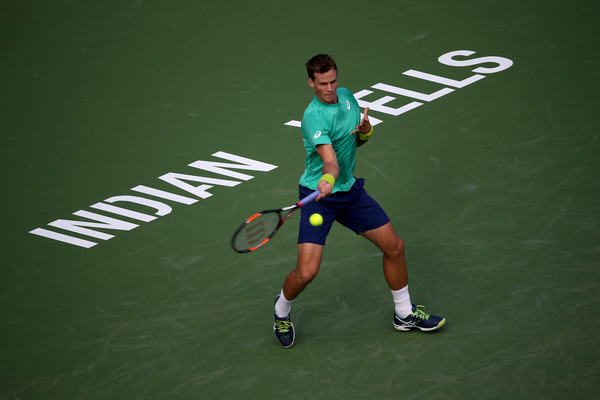 That being said, the Canadian has had some strong results in doubles. He won a title in Rotterdam partnering soon-to-be doubles number one Nicolas Mahut and reached a pair of Masters 1000 finals, in Indian Wells and Rome, with long-time partner Jack Sock.
Best Grass Results Leading into Wimbledon
Including qualifiers, Pospisil has a 3-2 record on grass this season. However, two of those wins came in the qualifying rounds of the Queen's Club. He lost in the first round of his first two tournaments, Stuttgart and the Queen's Club, both times in straight sets. Both of his losses were to lower-ranked players. He finally stopped the skid with a second-round win in Nottingham (following a bye), only to lose in the third round in straight sets.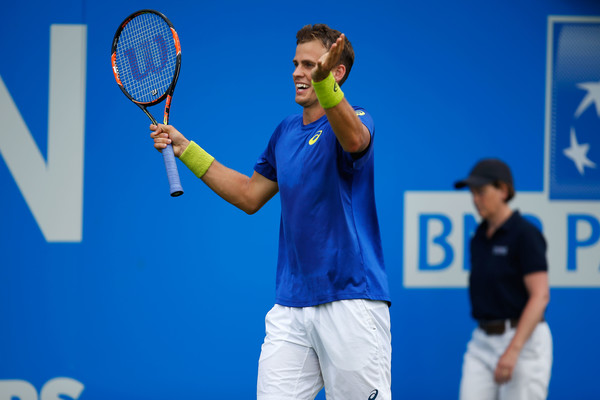 His doubles results were not any better. He only contested one match, partnering soon-to-be Olympic partner Milos Raonic, at the Queen's Club. The pair were ousted in straight sets in the first round. He has not played a match on grass with usual partner Jack Sock, who he will be competing with at Wimbledon.
Best Results at Wimbledon
Prior to last year, Pospisil had only advanced past the first of Wimbledon once, reaching the second round in 2013. However, he had won the doubles title a year earlier at the All-England Club. The Canadian, who had always been stronger on fast surfaces, hit his stride at a major in singles, making a charge to the quarterfinals, his best result at any major to date.
By no means was Pospisil's run easy. In fact, just the opposite. He battled through three five-set matches in his first four matches. He came back from two-sets-to-one down against a qualifier in the first round, before posting an impressive four-set win over 30th seed Fabio Fognini in round two. The third round was a massive test, as he was forced to battle with Kyle Edmund, a Brit playing on home soil with the crowd at his back. Edmund took a two-sets-to-one lead, but the Canadian would battle back again, winning an epic fifth set 8-6 to reach the fourth round.
He seemed out of gas in his round of sixteen battle with 22nd seed Viktor Troicki, dropping the first two sets. But he turned things around again, roaring back to take the next three sets in a massive comeback win. His run was finally stopped in the quarterfinals by second seed Andy Murray, but Pospisil still put up a tough fight, losing in three tight sets.
How Pospisil's Game Translates to Grass
Pospisil likes to hit the ball hard. He possesses a strong serve and can generate good pace off both wings. He moves fairly well and can charge the net and do damage with his volleys. Given his doubles success, he could probably afford to attack the net more during his singles matches. When he is on and is hitting his spots consistently, like he was at Wimbledon last year, he can be a very dangerous, aggressive player. This power and aggression translates very well to the grass.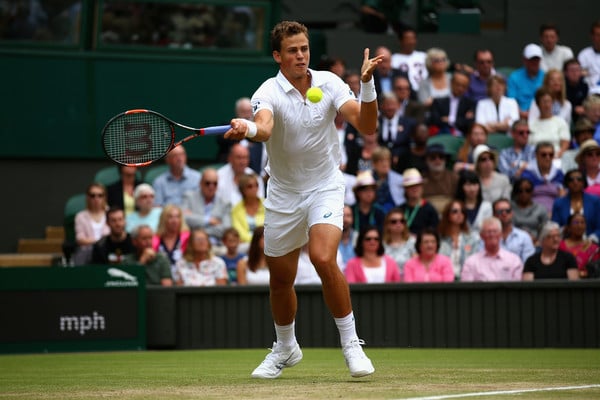 There are several problems for Pospisil, the main one being consistency. He struggles to string together shots in a rally, let alone points. He can go long stretches without keeping more than a few shots in the court. Even if he is dictating points, he can give it up very quickly by making an unforced error.
The other problem is that he does not do well on defence. While he can move fairly well, he is not very good at hitting defensive shots and often produces a lot of errors. He also is not great at turning defence into offence, so when he gets caught behind in points, it is very difficult for him to get back on offence. This is even harder to do on the quick grass that rewards aggression. And Pospisil needs to be on offence to win matches.
The Canadian number two is in desperate need of a good run to turn this season around. While there may not be a better venue than the All-England Club for him to do this, he will be hard pressed to repeat his quarterfinal run at Wimbledon.