 Steve Johnson will face Pablo Cuevas in the final of the Aegon Open after a straight sets win over Andreas Seppi 6-4, 6-4 and the American feels more confident heading into the match compared to when preparing for his maiden final.
The sixth seed is very much looking forward to tomorrow's match and was delighted with his semifinal win. Johnson said, "I'm very happy to reach my second final and first on grass. I'm glad to put some momentum on the board this grass court swing and happy to be in the final."
Thoughts after playing two matches in one day
After seeing off Kevin Anderson ealier on in the day in a disrupted match due to darkness, the sixth seed discussed what pleased him most about his performances. "Keeping my composure and coming back from the darkness delay last night and the rain delay today up a set", he said. "You never know how those are going to turn out. Fortunately, I came out with good starts in both and was able to get back in the swing of things."
In between his two matches the sixth seed took things easy as he waited in the players lounge. "I just sat here and relaxed, had some lunch, and got away from the tennis for a little bit. When it was time to get back going after Pablo (Cuevas) won the second set, then it was time to start thinking about the next match and go out there and go through my routines."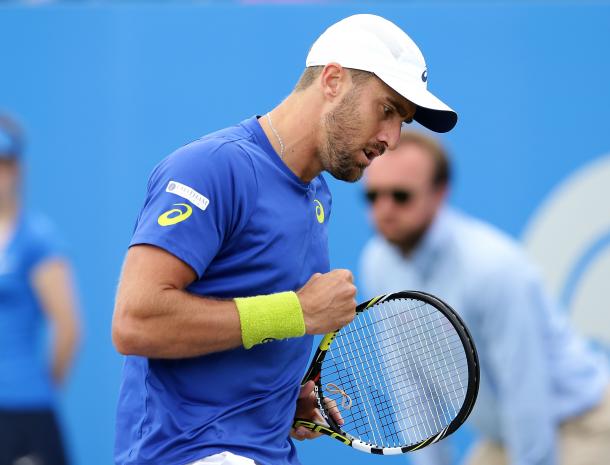 Nottingham is a special place for the American
The American has fond memories of Nottingham and looks forward to coming back year upon year. "This is a site that I have pretty fond memories of. Back in 2013, I won the Challenger here to get into the top 100 and get a wildcard into Wimbledon all at the same time. It's one of those things that I'll never forget. I remember that match pretty clearly and to make my first grass final is great. It's nothing more than I could have asked for", the world number 38 said.
Comparing his first ATP final to now
Johnson reached the final in Vienna last year, narrowly losing out to David Ferrer, who won 4-6, 6-4, 7-5. The American feels more confident as he prepares for the final against Cuevas. "It's going to be my second final, so I'm going to feel more comfortable. I'm definitely feeling confident but Pablo's played an outstanding tournament as well so it's hopefully going to be a great match and I'm going to be a bit more comfortable in my second final than I was in my first."