 After losing two Grand Slam finals, Andy Murray aims to win his third Grand Slam at Wimbledon where he is the crowd's favorite. Four years after making history after becoming the first British player to win Wimbledon in 77 years, Murray has reached three more finals all of them losing to Novak Djokovic, but many think this could be the year of Murray to triumph again in the All England Club.
Notable results to date
The world number two began his 2016 season at the Australian Open, although the uncertainty surrounded the Scot who had declared he wouldn't hesitate to withdraw if his wife, Kim Sears, would go into labor. The Australian Open is Murray's most successful Slam having reached four finals, and this year he made it to his fifth final in Melbourne but was not able to get his first Australian Open title as he lost to Novak Djokovic in straight sets.
Last year, Murray made history again leading Great Britain to their first Davis Cup after 79 years. He participated in the first round of the Davis Cup, winning both of his matches. The Scot didn't have a great run at Indian Wells and Miami where he lost in the third round in both tournaments.
However, his luck started to change when the clay season began. He made it to the semifinals of the Monte-Carlo Masters but lost to Rafael Nadal in three sets. At the Mutua Madrid Open, Murray was the defending champion and reached the final but lost to Novak Djokovic in three sets, in the last set he lost seven break points to get back in the match.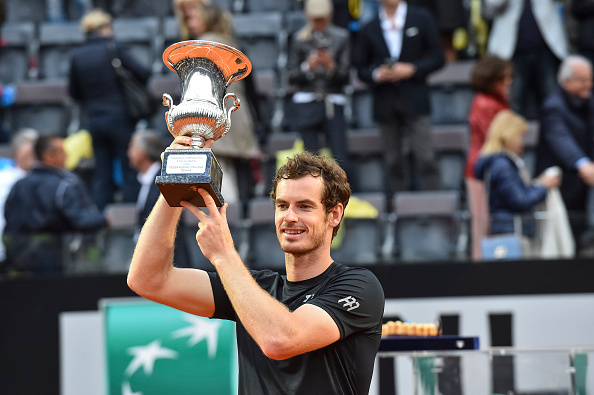 Prior the Italian Open, it was announced that Murray had broken up with his coach of two years, Amelie Mauresmo. Murray won his first title of the year at the Italian Open in a rematch of the Madrid's final. This time, the Brit defeated Djokovic in straight sets. This was his first win over Djokovic on clay.
At the French Open, Murray got there feeling optimistic after his win at Rome but he struggled to win his first two matches against Radek Stepanek and Mathias Bourgue, both matches forced the Brit to play five sets. After that, Murray defeated Ivo Karlovic, John Isner, Richard Gasquet and Stan Wawrinka to reach his first ever French Open final where he would play again Novak Djokovic. "I'm extremely proud. I never expected to reach the final here, I always struggled on the clay," he commented after his win over Wawrinka. On the final, Murray won the first set, but then the Scot dropped his level and Djokovic went on to win the next three sets, finally getting his Career Grand Slam.
Best grass results leading to Wimbledon
Before he started his campaign at the Queen's Club, Murray announced he would be reuniting with his former coach and former world number one, Ivan Lendl following their original split in 2014. With Lendl, Murray achieved his best results to date: two Grand Slams (US Open 2012 and Wimbledon 2013) and a gold medal at the Olympics in 2012.
As per usual, Murray played at the Queen's Club Championships where he had won four times before. He got through a tough first round match against Nicolas Mahut where he won after winning two intense tiebreaks. In the second round and in the quarterfinal, Murray had to face two British players. First, Aljaz Bedene who he defeated in straight sets and then Kyle Edmund who gave a little more fight and forced the British number one to play the third set.
His semifinal match was also a complicated one, he played former US Open champion, Marin Cilic. After a three-set battle, Murray reached his fifth final at Queen's. There he would play Milos Raonic, now coached by John McEnroe, and who gave him a hard time at the Australian Open semifinals. Raonic won the first set and was a break up in the second, but Murray came back to win the match and the title. Murray made history again with this victory as he became the player with most titles in the Queen's Club.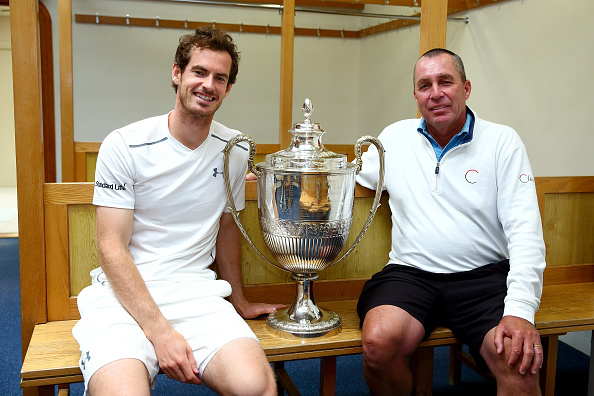 Best result at Wimbledon
After his debut in 2005, Murray has come a long way. From 2009 to 2011, he reached the semifinal but it was in 2012 when he finally made it to his first Wimbledon final becoming the first British man to do this since 1938. The Scot won the first set which was a great start as he hadn't won a set in his prior Grand Slam finals, but Roger Federer came back and won the title. It was a very tough loss for the Brit who broke in tears during his speech. "I'm getting closer," he said, followed by a loud cheer from the crowd. Many people believe this is when Murray finally got the full support of the British crowd.
Murray was indeed getting closer and after losing a match like that he admitted it was hard to recover. However, he did triumph on Center Court just a few weeks later when he defeated Roger Federer in the 2012 Olympics to win the gold medal.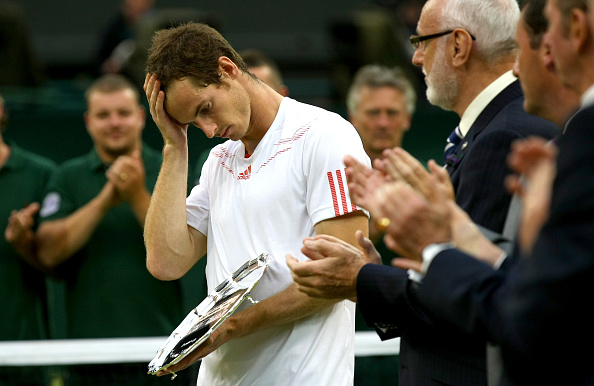 In 2013, Murray came to Wimbledon as a Grand Slam following his first major win at the US Open in 2012, plus he hadn't lost a match on grass since the previous year's final. The Brit was the second seed and started his Wimbledon campaign with a win over Benjamin Becker in straight sets. In the second round, he continued his impressive run defeating Lu Yen-Hsun also in straight sets. Tommy Robredo was his next rival but didn't cause much harm to Murray who faced Mikhail Youzhny in the fourth round.
His most difficult match was in the quarterfinals where he faced Fernando Verdasco. The Brit was two set down, but came back to win the next three and book a spot in the semifinals where he faced Jerzy Janowicz. The Pole took a set away from Murray, but at the end, the Scot was too strong and with that win, he made it to his second straight Wimbledon final.
In the final, he would have to face, Novak Djokovic. Murray had beaten the Serb in the semifinal of the Olympic Games and had also won his first Grand Slam after defeating Djokovic in five sets in the US Open. Despite Murray was the home crowd favorite, Novak Djokovic was the clear favorite coming into the final. However, the Brit had already experienced losing a final in front of his home crowd.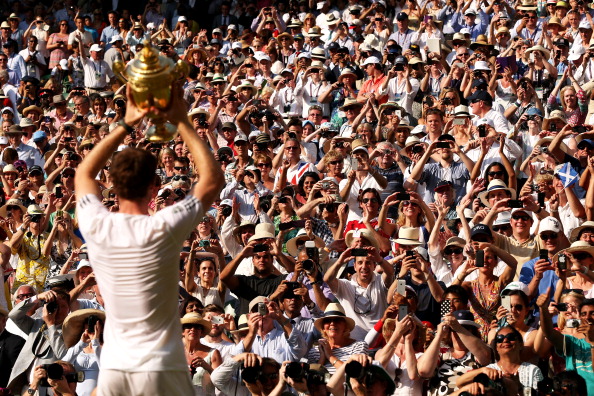 Murray won the first two sets in an impressive way and was a break up in the third. At 5-4, the Scot had the hard task to serve for the match. The crowd was on the edge of their seat, cheering every point Murray won. That final game was a battle as Murray had three championship points, but Djokovic stepped up his game and erased those match points. During that last game, Djokovic had the opportunity to break but Murray saved them. On his fourth championship point, hit an amazing serve that made the crowd think Djokovic's return had gone long, but it had been in. Murray replied with a forehand and Djokovic with a backhand that stayed in the net, giving Murray his second Grand Slam win and his first title at Wimbledon.
The match lasted over three hours, and with that win, Murray became the first male British player to win Wimbledon since Fred Perry in 1936. Winning this title meant also that Murray had a winning streak of 18 matches on grass. The match has been called 'one of the greatest matches' as Murray ended the 77 years drought at Wimbledon.
"I obviously wanted to win this for myself," Murray said, "but I understand how much everyone else wanted to see a British winner at Wimbledon, so I hope you guys enjoyed it, I tried my best."
After his win in 2013, Murray hasn't reached another Wimbledon final having lost in the quarterfinals in 2014 and in the semifinals last year.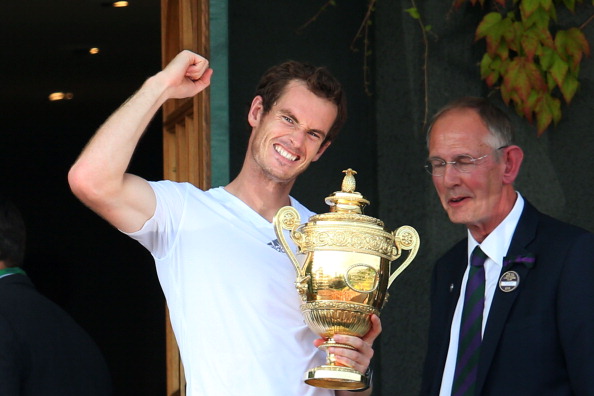 How Murray's game translates to the surface
Murray's style of play is most proficient on fast courts like grass. He is an all-court player which is perfect on this surface because his groundstrokes normally are low error rate. The Brit has also be named one of the best counterpunchers on tour. He plays his best when he is aggressive, although this doesn't mean his defensive skills are bad, on the contrary, he is one of the few players who can anticipate and react, because of this he often dominates the transition from offense to defense which enables him to hit winners from defensive positions.
His two-handed backhand is one of the best on the tour and thanks to it he managed to get a lot of winners in high speed. In the last years, Murray has improved dramatically his forehand which now helps him to create better groundstrokes, plus he uses his forehand and backhand slice often to take control of the rally, however, this could also be considered a weakness as sometimes Murray uses too much slice. Unlike other players, Murray's game is at his best when he has to play long rallies since he has great footwork and is able to win impossible shots with his on the run passing shot.
The Brit is not a serve-and-volley player but he still has a great net game and also executes good drop shots. Another strength of Murray is his great return since he has the skill to anticipate his opponents serve and block them. Murray has probably the best lob on the tour which helps him to get out of tough situations.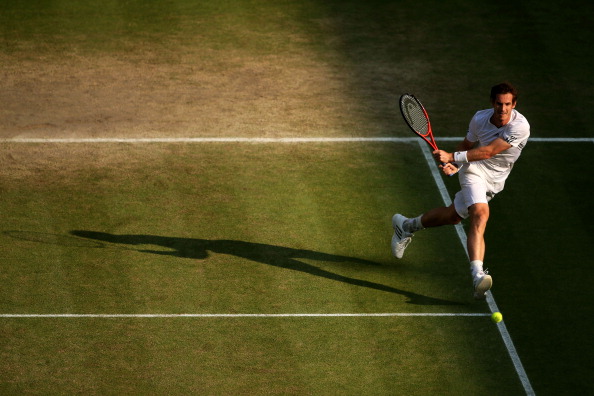 In the past, Murray has a great first serve and he still does but it has been affected since he struggles to get it in. His second serve could be a liability, especially in grass, since it has great placement but not enough spin or pace which makes it vulnerable to his opponent's return. His mental strength has also being a big problem for Murray who is an extremely talented player. While being with Ivan Lendl he improved his mental strength and now that he is back with him he could go that way again which would help his game enormously.
The main thing Murray must do to win Wimbledon this year is to be more aggressive, although he is a great counter-puncher he can't wait for his opponent to make the mistake, especially when he plays someone like Novak Djokovic who doesn't give away many errors. He can't be afraid to come to the net and finish points. Also, now that Lendl is back he might be more motivated to win Wimbledon since he has said Lendl has been his best coach and in the past has gotten his best results with him.
Can Murray win his second Wimbledon and third Grand Slam title at Wimbledon 2016? Yes, his results on Grand Slam this year have not been bad, and since he has the full support of the crowd he can play his best tennis and even top Djokovic in the final, but he has to believe he can and be aggressive. Without a doubt, Murray could be the second favorite to take the title.