 Steve Johnson captured his first ATP World Tour title after overcoming a second set slip to defeat the second seed Pablo Cuevas in straight sets 7-6(5), 7-5 at the Aegon Open.
Johnson arrived in Nottingham after a fine quarterfinal run at The Queen's Club last week (l. Cillic) and captured his first ATP World Tour singles title, after narrowly missing out in Vienna final to David Ferrer in a 4-6, 6-4, 7-5 loss. The American began the week with straight sets wins over John Millman and Vasek Pospisil, before completing a three sets win over Kevin Anderson in a match which went over two days, coming back onto court later on the Friday to defeat Andreas Seppi 6-4, 6-4 to book his place in the final where he defeated Cuevas Saturday afternoon.
That first time as a champion feeling and the confidence which it brings
As one can imagine the American was absolutely delighted. "Not going to lie to you, it feels really good. I've had some ups and downs so far this year, some rough patches, and to find my groove here on the grass has been fantastic. I had a good week at Queen's last week and felt pretty comfortable on the grass and came here", he said.
"You always expect to win when you enter a tournament, but once I got here I played first couple of days I knew I was definitely a contender to win this if I kept playing at that level, so I'm just very happy to be sitting here right now."
Johnson, seeded sixth in this tournament, will take lots of confidence from his performance as he prepares for Wimbledon, which starts on Monday. The world number 38 said, "any time you can be the last guy standing at a tournament. I've probably tried 80 times and this is the first time I've come out a winner so it's definitely a great feeling.
"I'm super happy and pretty tired emotionally just from the stopping and the starting in the last couple of days and always staying pretty engaged on the match. I'll probably sleep well tonight and then Sunday and then Monday comes Wimbledon so there's no time to relax, there's another big tournament right around the corner."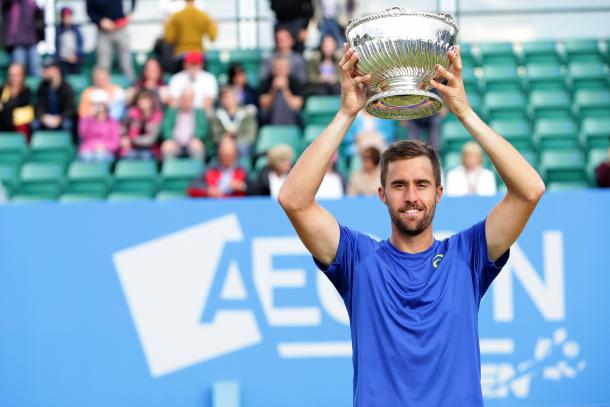 Johnson's assessment of the match
The American had to recover from a second set blip as he lost his break advantage when just two games away from the title, but the sixth seed stayed calm. "It was kind of normal and strange all at the same time. Up a break and at 4-2 I have a break point, hit a really good return that I thought I was going right at his feet and maybe have a good look at a pass to get up 5-2", he said.
"It clips the tape and he plays a couple of good points, plays another good game and all of a sudden I'm thinking 'alright 5-2 serve it out', now it's 4-4 and I'm right back to even so I'm really happy to play a good game at 5-5 and hit those couple of good drop shots at 6-5 and to close it out.
"I've served out hundreds of matches in my life no problem, and you've just got to take it just like another match. I felt I did a good job after I got broken at 4-3, it sucks, you're up a break on grass and all of a sudden it's back on serve so I just said 'you know I'm up a set, I've been in a bunch of return games, so I'll likely get another look, if not I feel like my chances in a tie-breaker and if that doesn't go well you still leading, so he's still playing from behind. I just took it point by point at that point."
A moment to share with all the American's family
"My coach was here, my girlfriend has been with me this whole trip, my agent came up today from Wimbledon, my trainer is here, my physio, my dad is here. It was such a blessing. My last final, my only other final, was in Vienna. It's so far away, it's tricky for family to just get on a plane and head there and get there in time. To have people around who have supported my tennis my whole life, it's exciting to share that with them. It's going to be a fun memory we're all going to have together."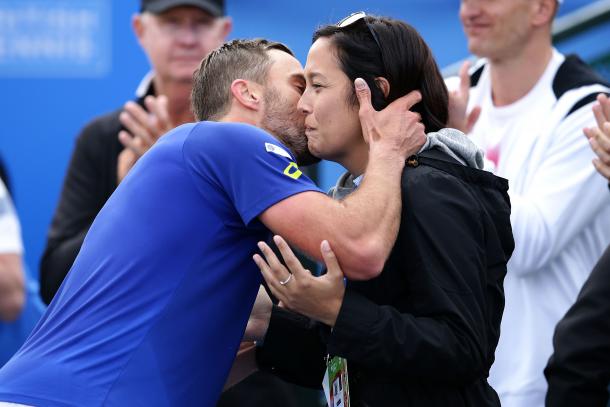 Thoughts on Nottingham and the crowd, as the city bids farewell to the ATP event
"The crowd here has always been fantastic. Even when I was playing the Challenger last few years, same with Wimbledon, they just appreciate good tennis. They're not disrespectful by any means one way of the other. They respect good tennis both ways and I thought the crowd was awesome with the rain and everything all week. They stayed around and it's pretty impressive to have three or four rain delays and to have the entire crowd stay."
The ATP event will move back to Eastbourne next year as part of a grass court season schedule shake up by the LTA. Johnson will be sad to see it leave the East Midlands city. "I just won here so let's have it here every year! It's just the way the ATP is, it shuffles tournaments around and it's the way things are but to have won it here, I won the Challenger back in 2013 on the Saturday to get me out of qualys (for Wimbledon) on Monday", he said. "I've had a couple of good trains rides on Saturday night from here back to London, no doubt about that!"