 The Italian Tennis Federation has banned world number 143 Marco Cecchinato for 18 months today, following offences that include fixing his matches and betting on several matches, including his own.
A ban from the ATP is likely to follow for Cecchinato, who has played in several big events this season despite some of what has been called "Illegal Behaviour" taking place in 2015.
Cecchinato's offences
The 23-year-old, who has reached a career-high of 82nd, has been banned for three main offences, as well as receiving a 40,000 euro fine.
Cecchinato has been found guilty of altering a singles and doubles match last year, as well as using a friend's account to bet on several ITF-level matches. Reportedly on one occasion, he bet on himself to win, which he did.
He has also been banned for leaking information about the fitness of his compatriot Andreas Seppi, who has struggled with injury in the past couple of years.
Much of this evidence comes from the fact that Cecchinato's friend did not delete WhatsApp conversations with him that showed his illegal betting. This comes despite the fact that the Tennis Integrity Unit, which took a high profile role in banning Maria Sharapova for two years in June, were apparently unable to find any evidence implicating Cecchinato.
The Italian played at a high level
Though Cecchinato never cracked the top 80, there may be concerns about how someone who played in significant tournaments has been found guilty of committing serious offences.
Cecchinato has played at the last three Grand Slam tournaments, providing a difficult opener to Nick Kyrgios at the French Open, and also played in the Masters 1000 events in Rome and Monte Carlo, losing to Milos Raonic on both occasions.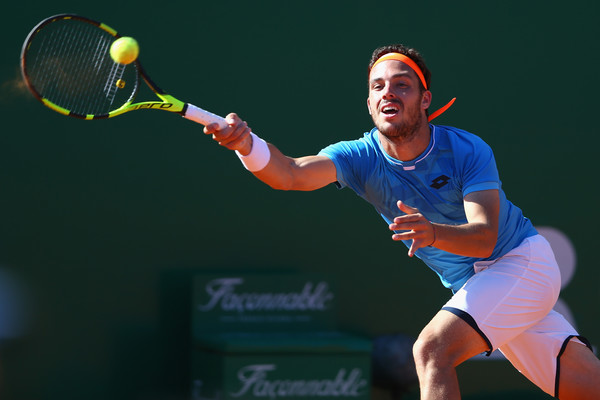 The Italian was also in the Davis Cup squad for Italy's tie against Argentina just a few days ago. He was set to play in the doubles but was replaced by Fabio Fognini.
Vanni, Frigerio also sanctioned
Fellow Italians Luca Vanni and Lorenzo Frigerio have also been sanctioned by the Italian Tennis Federation.
The extent of their punishment and what they have been punished for has not yet been revealed.