 After a year marred by injuries for both, defending finalist Belinda Bencic and 2010 champion and former world number one Caroline Wozniacki come into this year's Toray Pan Pacific Open ranked 26th and 28th respectively. In a rematch of last year's semifinal here in Tokyo, the unseeded Swiss and Danish stars look to kick star their Asian Swings with a solid tournament here in the Japanese capital.

Wozniacki and Bencic's injury-plagued seasons

For both Wozniacki and Bencic, 2016 has been a season to forget for the former top 10 stars. For Wozniacki, after a resurgent 2014, injuries from 2015 carried over into this season, with an ankle injury sidelining her throughout the clay-court season and limiting her on the grass as well.

After a poor lead-up to the US Open, the Dane came alive in the Big Apple, upsetting top-ten seeds Svetlana Kuznetsova and Madison Keys along the way to the semifinals in New York before falling to eventual champion Angelique Kerber in straight sets. 

Caroline Wozniacki hits a forehand at the 2015 Toray Pan Pacific Open in Tokyo/Getty Images

Wozniacki and Bencic's previous Tokyo results

Unlike Bencic who has only played in Tokyo three times, Wozniacki has enjoyed much success in the Japanese capital in the past, taking the title in 2010 and reaching the final two years ago in 2014. In 2013 the Dane reached the semifinal at the Ariake Coliseum, before falling at the same stage last year in straight sets to her opponent tomorrow, Belinda Bencic. 

Caroline Wozniacki lifts the 2010 Toray Pan Pacific Open trophy in Tokyo/Getty Images
For the Swiss teenager, her best result in Tokyo came here last year, reaching the final before falling to an inspired Agnieszka Radwanska 6-2, 6-4. The former top-ten player played here twice before in 2014 and 2013, falling in her second match both times.
Previous matchups
After Wozniacki dismantled the Swiss youngster in their first meeting in Istanbul in 2014, handing Bencic a double bagel, the 19-year-old hasn't dropped a set to the former number one since then, winning all four of their meetings in 2015 to claim a 4-1 head to head lead.
In Indian Wells last year, Bencic got the better of the Dane 6-4, 6-4, before a clearly hampered Wozniacki retired down 0-3 in their semifinal in Eastbourne later that year. Bencic kept up her domination of Wozniacki, getting past the two-time US Open finalist 7-5, 7-5 in Toronto later that year before their most recent meeting last year here in Tokyo, with Bencic easing past Wozniacki 6-2, 6-4 in the last four.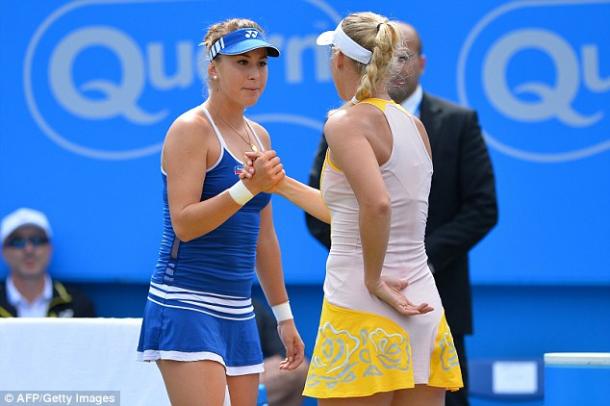 Final thoughts
Despite Bencic's recent domination of the pair's head-to-head, it's hard to look past a resurgent and inspired Wozniacki considering how she played only a few weeks ago in New York. For the Dane, if she can get ahead early in points and get on the aggressive, she should be able to claim a relatively straightforward win, but if she lets the Swiss teenager push her around like she did last year, the 2010 winner will be in serious trouble.
Overall, with Wozniacki's improved play the past month and Bencic still struggling for confidence and form, the Dane should be the favorite and expect her to win through to the second round in a tight, straight sets affair.
Prediction: Wozniacki in straight sets