 With a straight sets victory over Dusan Lajovic, Jo-Wilfried Tsonga reached the third round, where he will face American Jack Sock. Speaking to the press, the Frenchman talked about the conditions, his confidence and becoming a father for the first time.
Frenchman happy with win despite tricky conditions
After his straight-sets win over Dusan Lajovic, Tsonga admitted that he didn't play his best tennis and the conditions were a factor. "Yeah, the match was good for me. I played well. The conditions was not easy. A lot of wind for both of us. It was not the best tennis I played, but it was a good match. Really solid. I was focused on the game. Yeah, it was good."
Having made the second week on four occasions, Tsonga kept his cards close to his chest when asked about whether he though he can reach the second week. "You know, every day is different. I'm playing well for the moment, so I will prepare for the next match and see how it goes," Tsonga said.
"But of course I'm confident because I played well the two first matches. I hope I will be able to play at this level or even better on the next round."
Tsonga on Sock
With Sock to come for the Frenchman, he was asked about a potential matchup, having won two tight matches against him previously. "Yeah, of course, it's gonna be a different match than the others, different condition," Tsonga said.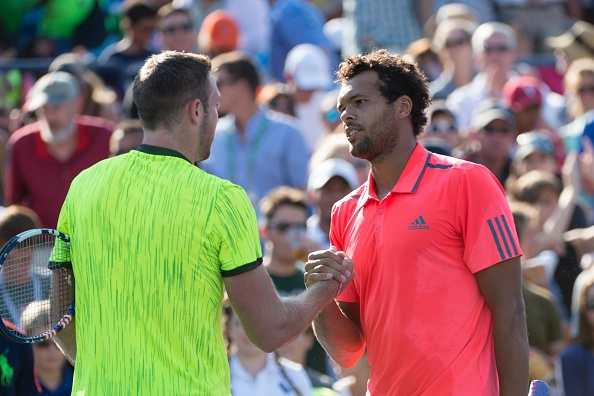 "Anyway, it's going to be important for me to try to put my game on the court and not let him play a good match. He's got a good forehand. He's gonna go for it, for sure. It's going to be important for me to be good on my move, to make him play one more shot."
Tsonga speaking about becoming a father for the first time.
Now 31, Tsonga's life is about to change. His girlfriend Noura El Shwekh is due to give birth to his first child in April. He was asked if he had spoken to any father's on the tour.
"Not especially Andy, but I have some friends and some people around me who got kids. So, for me, yeah, it's gonna be a new experience and new adventure. It's great."