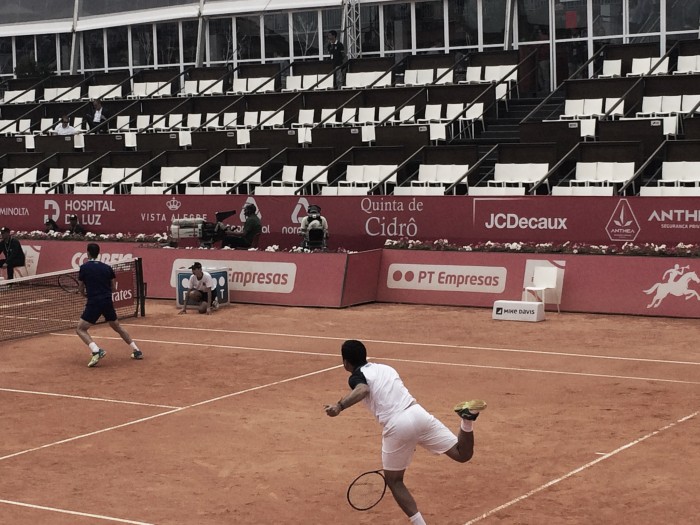 After Juan Martin del Potro retires from the tournament, the organisation had to put a doubles match on the Stadium Millennium. On Court Cascais happened two matches.
Stadium Millennium
To start the action there was a doubles match, which opposed Nicolas Almagro and Guillermo Garcia-Lopez to Leander Paes and Andre Sa, the fourth seed team. In a very tough match, Almagro/Garcia-Lopez seemed to have it all in control, but when they were up a set and a break, the Indian and the Brazilian came back to win the second set 6-4. Although, the Spanish team was stronger and closed the match on the match tie-break. It ended 7-6(2) 4-6 10-8. Almagro/Garcia-Lopez are now in the semifinals and will face Tommy Robredo and David Marrero in an all-Spanish battle.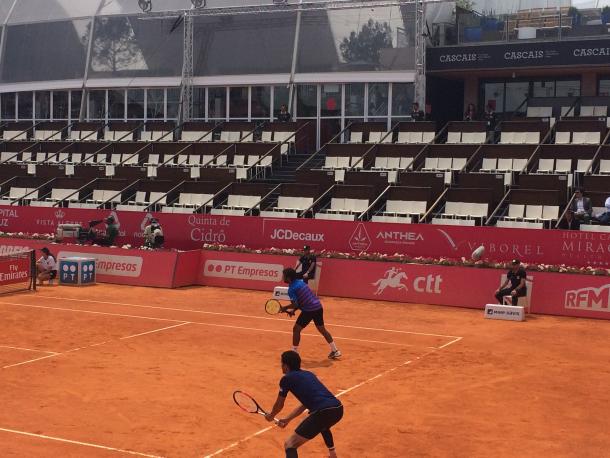 The second match of the day and last one of the day session was played by Pedro Sousa, a Portuguese wild card, and Gilles Muller, the tournament third seed. Pedro Sousa had three break points in the first set but it was Gilles Muller who took advantage of one out of three break points to help him in the set. The Luxembourgese broke the less ranked player's serve in the sixth game to be up 4-2. He conquered the first set 6-3. The second set it was a one-way set, with the 28th player in the world prevailing 6-2. Gilles Muller won 6-3 6-2.
The night session started with the fourth seed and wild card David Ferrer facing the wild card Frederico Ferreira Silva. The Spaniard player defeated Silva in 1 hour and 14 minutes by the score of 6-3 6-4. Ferrer was on a five-match losing streak. He is now facing Ryan Harrison.
To end the night session and the day, Taro Daniel booked a place in the quarterfinals by defeating Bjorn Fratangelo, a qualifier who sent João Sousa home. It was already late when the Japanese imposed himself in two sets 6-4 6-4. He is going to play against Gilles Muller this Friday.
Court Cascais
Two matches were played on the secondary court, both doubles matches.
Ariel Behar and Aliaksandr Bury defeated Purav Raja and Divij Sharan to book a place in the semifinals. They won 7-5 6-3.
Ryan Harrison and Michael Venus pulled out Carlos Berlocq and Sergio Galdos 6-4 6-3 and will face Behar/Bury for a place in the final of the Millennium Estoril Open.