 Karolina Pliskova couldn't aim for a better start for her 2018 campaign. At the Brisbane International, the first WTA Premier tournament of the year, she saw off 2017 WTA Newcomer of the Year, Catherine Bellis, at her debut in the tournament, with a clear double 6-1, being dominant in all of her service games and taking advantage of her power to control the rallies and put pressure on her opponent.
Bellis, who defeated Kateryna Bondarenko in the first round, and who has no ranking points to defend until February, tried to react to an opponent clearly tricky for her, but it hasn't been enough to challenge a Pliskova who never lost focus throughout all the match.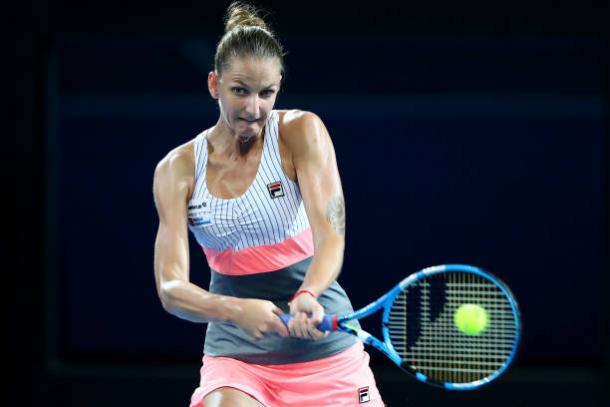 Pliskova's good start grants her the first set
Pliskova easily started on serve, dropping only one point to quickly gain the lead. Bellis seemed to do the same, but, as she were 40-0 up, she lost three points in a row to face the first challenge of the match. She got another chance to hold, but once again she failed to convert it, unable to answer to her opponent's powerful attacks. Helped by a winner barely in, Pliskova converted her first break point; with another easy hold, signed with the first ace of the match, she kept the lead.
Benefitting from some errors from the Czech, Bellis held to win her first game of the match but still struggled to take control even during her service games. Even less she could do against Pliskova's serve. The Czech only dropped one point - with a double-fault - to hold for a 4-1 lead.
On serve again, Bellis struggled again but saved two break points to bring the game to deuce. She then got herself two chances to hold and stay on track, but couldn't convert them, wasting the second one with a double-fault. Pliskova granted herself a third break point, and Bellis attempted cross-court winner landed barely behind the sideline, giving Pliskova the chance to immediately serve out the set.
With a clinic game to love, the Czech wasted no time and sealed the first set with a 6-1 score.
Often struggling to keep the first serve in, Bellis couldn't make the difference with her second serve, winning only 33 percent of the points and easing Pliskova's chances to break. On the other hand, Pliskova showed the usual good performance on serve, with an impressive 92 percent of the points won with her first serve, and a determinant 71 percent of the points won with her equally tricky second serve.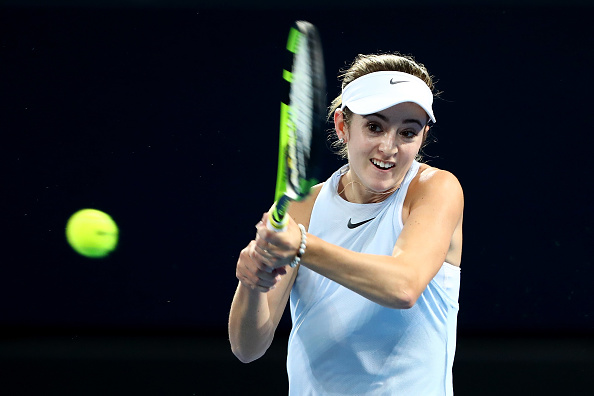 Bellis tries to fight back, Pliskova holds the momentum to close the match
The 18-year-old American seemed to aim for a brand new start in the second set. Trying to avoid being pressured by Pliskova's power, she signed a quick hold, gaining the lead for the first time of the match. On Pliskova's serve, she tried to set up a challenge, but her opponent didn't falter and powered her way to hold.
From 40-15 up, once again Bellis found herself in a tricky situation and eventually dropped one more break point to her opponent. On a very bad timing, she hit a double-fault and lost her serve again.
Every Bellis's attempt to make Pliskova move and hit passing shots clashed with the Czech almost perfect coverage of the net. Far from being challenged, Pliskova held for a 3-1 lead, and then benefitted from a struggling game from Bellis and broke her serve again.
The usual combination of powerful serves and deep winners gave Pliskova another quick hold that brought her 5-1 up. She didn't even need to serve out the match; still suffering the pressure, Bellis could nothing against two return winners and a forehand down the line that gave Pliskova two match points.
The American saved the first one with an ace, but the Czech converted her second chance and signed the end of the almost one-sided match, in which the Czech's serve and power made a huge difference against the still less experienced opponent. Bellis never stopped fighting, but she needed to attempt trickier and trickier solutions in order to get points, that often ended up in errors.
Pliskova, on her first tournament with new coach Tomas Krupa, will face qualifier Kaia Kanepi in the quarterfinals. Against the Estonian, who had already defeated the likes of Daria Kasatkina and Lesia Tsurenko, she leads the head-to-head with two wins and zero losses.