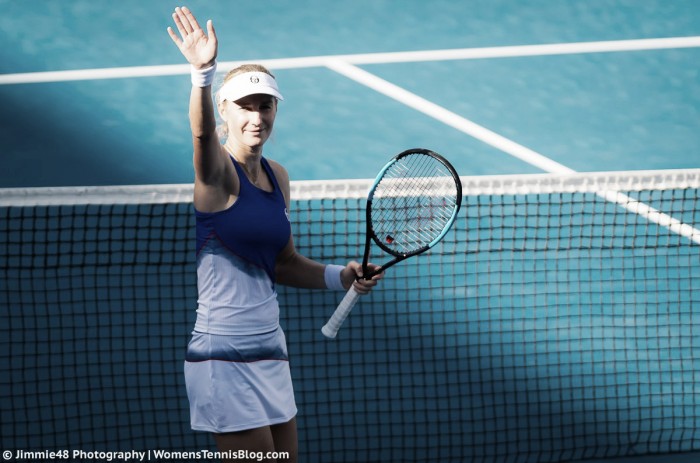 World number seven Jelena Ostapenko heads into the 2018 Australian Open on a disappointing two-match losing streak as she was handed another poor defeat by former top-10 player Ekaterina Makarova in a cruel first-round match-up at the Apia International Sydney. After a grueling 96 minutes under the soaring temperatures, the Russian earned her 10th top-10 victory in 12 months with a 7-6, 6-1 victory where she totally outclassed the Latvian.
Makarova, who comes in third on the leaderboard when it comes to top-10 wins in 2017, is always a huge danger to the top players despite being ranked outside the top-30. She now enters the second round where she would either face Barbora Strycova or compatriot Daria Kasatkina for a place in the quarterfinals.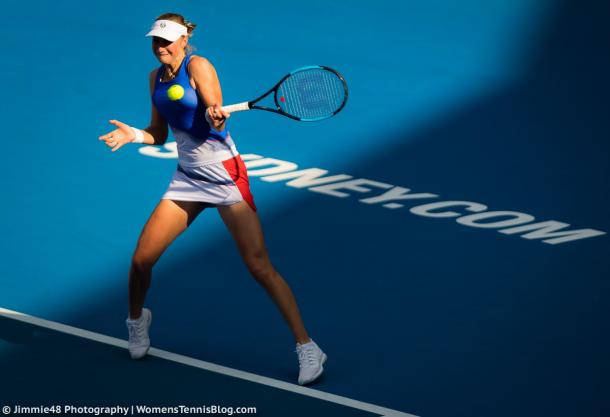 Messy set but Makarova prevails
Ostapenko had the worst possible start to the match — literally — after she threw in four double-faults in the opening game to get broken early. The service has been a liability for her game throughout her career, and her risky style of play certainly does not help as well. Unexpectedly, Makarova also struggled on her serves with the Roland Garros peaking on the return, sending in a couple of powerful winners.
The Russian regained her lead with some leaky serving from the Latvian, and this time, she managed to consolidate the break for a two-game advantage. A series of service holds followed before Makarova had the golden opportunity to serve out the opening set in the tenth game. However, Ostapenko stepped up her game at the crucial moment, breaking straight back to level the scores out of nowhere.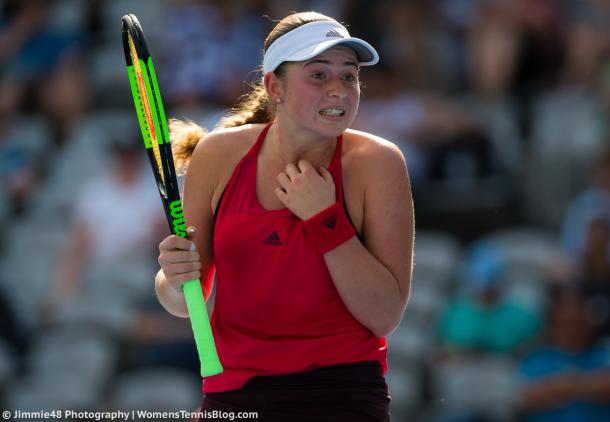 We were headed towards a tiebreak, but unexpectedly it was a one-sided one. Ostapenko's serving struggles followed, winning just one point on serve throughout the tiebreak. Makarova swept to a commanding 4-1 lead before converting on her second set point to be halfway to an upset over the world number seven.
Makarova strolls through straightforward second set
Starting off the second set in the best possible way, Makarova slugged through a marathon opening game which saw her saving two break points — or rather, Ostapenko blew her chances as her unforced errors came untimely. Failure to convert her opportunities proved to be a deadly blow as Makarova came from 40-15 down to gain the lead, with the help of yet another double-fault by Ostapenko.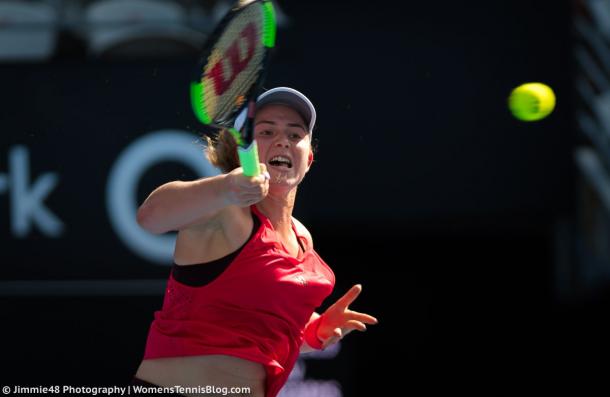 Nothing was working for Ostapenko, who allowed Makarova to consolidate the break for a commanding 3-0 lead before she served four consecutive double-faults from 30-0 up, gifting the Russian with a double-break lead. From there, the Latvian's game and mentality totally crumbled, and an implausible bagel victory looked possible. Fortunately for Ostapenko, she spared herself from more embarrassment with a solid service hold, though it might be just too late as Makarova closed out the 7-6, 6-1 win after just an hour and 36 minutes of play.