With the threat of double-duty looming on Friday at the Western and Southern Open, Simona Halep kicked off her day with a straight-sets win over Ashleigh Barty. The pair were supposed to play on Thursday night, but incessant rain pushed them over to Friday, with the winner needing to play a quarterfinal later on the same day.
The world number one did herself no favours by getting off to slow starts in both sets. But both times she was able to recover and wear Barty down to escape the match in straight sets 7-5, 6-4.
Barty can't hold on
Both returners were applying pressure in the early games. In her first two service games, Barty had to fight through deuces. In comparison, the Aussie had an easy go of it as Halep faced break points in her first two games. In the first, she saved it with some strong attacking tennis that ended in a volley winner. But a sloppy second service game at 1-2 saw the top seed commit four straight unforced errors to give up a love break.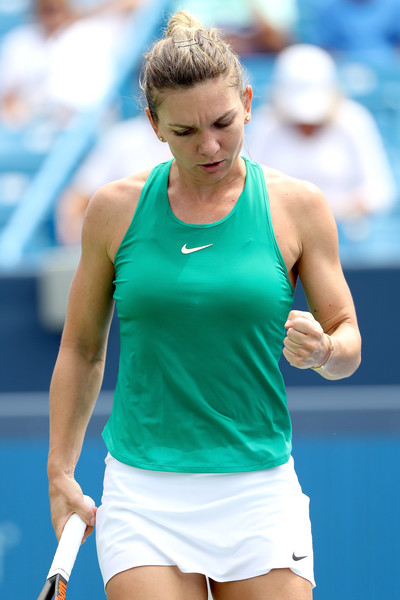 Halep bounced right back, reclaiming the break in the following game when Barty missed back-to-back backhands, one into the net and one long, from 30-all to put the set back on serve. Things would stay that way until 5-all when Barty sent a forehand long to go down 15-40. Halep would fail to convert both break points, but after the top seed won an exchange in the front court to go up 40-AD, the Aussie netted a backhand to surrender the break.
Serving out the set would prove a bit troublesome for the world number one. She seemed on the brink of taking it when she went up 40-love, only to lose three straight points to let Barty back to deuce. The Aussie failed to complete the comeback, however, netting a backhand to give Halep a fourth set point and then sliced a backhand long to drop the opening set.
Halep fights back again
The second set followed a very similar script to the opener, with both servers facing early pressure. This time, Barty actually had to face break points in her opening game but saved both with forehand winners. She then made Halep pay for the missed opportunity in the following game. The Romanian fell behind 15-40 but was temporarily let off the hook when the Aussie missed shots on both break points. But Halep missed a forehand to go down 40-AD and then drove a shot long to surrender another early break.
Just like the opening set, she bounced right back with a little help from her opponent. Barty would commit three unforced errors to dig herself into a 15-40 hole and then sliced a backhand long to give the break back. Things went from bad to worse for the Aussie as, in her next service game at 2-all, as she committed three straight unforced errors to go down love-40. Halep ripped a backhand winner down the line to take the break lead.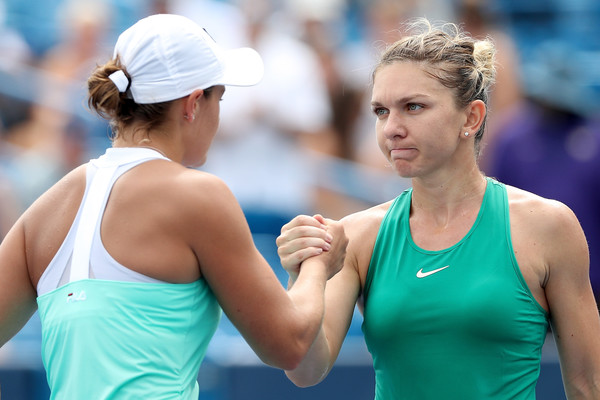 The world number one had a chance to run the table when, on Barty's serve at 2-4, she had two break points to move to within a game of victory. But both times, the Aussie came up with some big hitting to draw errors and survive. Again like the opening set, Barty would put up a fight as Halep looked to serve it out. The world number one netted a forehand at 30-all to give her opponent a break point, but Barty sent her return wide. Halep then got a match point courtesy of a Barty backhand long and closed out the win with a backhand winner down the line.
By the numbers
Barty's big hitting failed to put much of a dent in Halep's rock-solid defense. Despite striking 20 winner's to the Romanian's 12, Barty committed 32 unforced errors, almost twice as many as Halep (17). The top seed took advantage of some underwhelming serving from the Aussie, who only put 56 percent of her first serves in play and only won 41 percent of her second serve points.
Both women had a lot of break point opportunities in the match, but Halep was far more efficient breaking four times on ten opportunities. Barty only managed two breaks on six break points.
Halep will meet Lesia Tsurenko later on Friday in the quarterfinals.