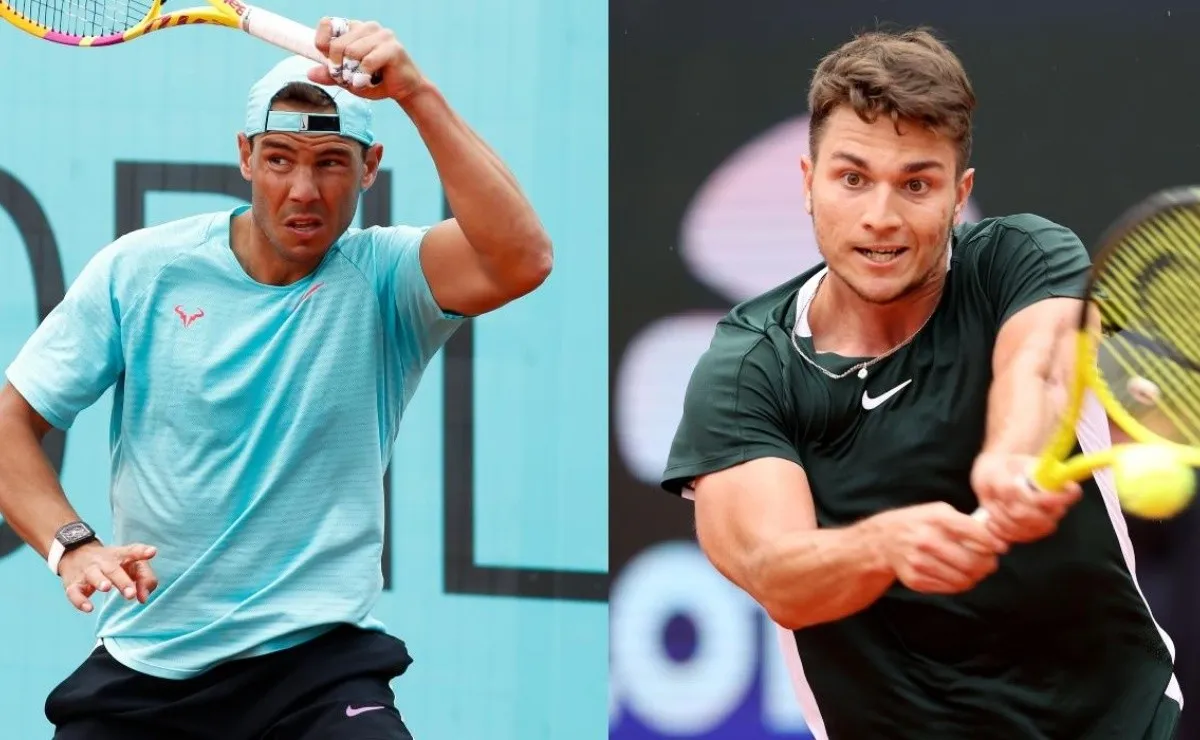 END OF MATCH: MATCH BALL FOR NADAL
2º Set Rafael Nadal (6-1 7-6) Miomir Kecmanovic
2º Set Rafael Nadal (6-1 6-6) Miomir Kecmanovic
2º Set Rafael Nadal (6-1 4-5) Miomir y
2º Set Rafael Nadal (6-1 3-4) Miomir Kecmanovic
2º Set Rafael Nadal (6-1 3-3) Miomir Kecmanovic
2º Set Rafael Nadal (6-1 3-2) Miomir Kecmanovic
2º Set Rafael Nadal (6-1 2-2) Miomir Kecmanovic
2º Set Rafael Nadal (6-1 1-2) Miomir Kecmanovic
2º Set Rafael Nadal (6-1 1-1) Miomir Kecmanovic
The meeting resumes
The game is stopped
2º Set Rafael Nadal (6-1 0-1) Miomir Kecmanovic
RAFAEL NADAL TAKES THE FIRST SET OF THE MATCH
1º Set Rafael Nadal (6-1) Miomir Kecmanovic
1º Set Rafael Nadal (5-1) Miomir Kecmanovic
1º Set Rafael Nadal (4-1) Miomir Kecmanovic
Nadal's score
1º Set Rafael Nadal (3-1) Miomir Kecmanovic
This is how the Caga Mágica received these two tennis players;
1º Set Rafael Nadal (2-1) Miomir Kecmanovic
1º Set Rafael Nadal (1-1) Miomir Kecmanovic
1º Set Rafael Nadal (1-0) Miomir Kecmanovic
THE MATCH BEGINS
The match between Zverev and Clic is over.
Kecmanovic at Open Madrid 2021
Nadal at Open Madrid 2021
Rival in the round of 16
While Kecmanovic
Nadal Fact
1 hour
How to watch Rafael Nadal vs Kecmanovic ?
What time is the match Rafael Nadal vs Kecmanovic at Madrid Open ?
Nadal wants to see Real Madrid
Summary of the last match played by Rafael Nadal
How does Kecmanovic arrive ?
How does Rafael Nadal arrive ?
Background
Venue: The match will be played at the Magic Box in Madrid, a court located in the city of Madrid and inaugurated on May 8, 2009 with a capacity for 12,442 spectators.
Preview of the match
Welcome to VAVEL.COM's LIVE coverage of Rafael Nadal vs Kecmanovic at Mutua Madrid Open