Former world number one Caroline Wozniacki capped off a dominant week in Hong Kong with her 25th career WTA title, downing Kristina Mladenovic 6-1, 6-7, 6-2 to win the Prudential Hong Kong Tennis Open. Wozniacki, who came into the US Open 13-14 on the season, has been resurgent of late, going 19-3 since then including titles in Tokyo and here in Hong Kong.
Wozniacki cruises through dominant opening set
After saving a break point in the opening game of the match, Wozniacki went straight on the offensive, breaking Mladenovic immediately before consolidating the break for a 3-0 lead. The Dane took another break to go up 4-0, before an easy game on her serve brought her to within a game of taking the opening set.
The Frenchwoman held to get on the scoreboard at 5-1, forcing the fifth-seeded Wozniacki to serve out the opening set. Wozniacki made no mistake though, closing out a dominant first set on her first time of asking to take it 6-1.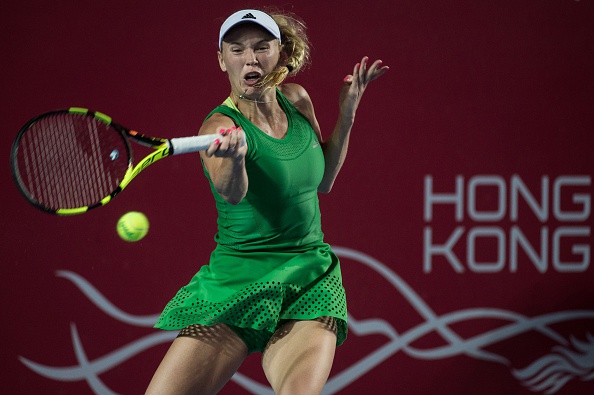 Mladenovic fights back in second set to edge Wozniacki
In the second it was back to normal service for both players, with Mladenovic and Wozniacki exchanging holds for 1-all. The Frenchwoman took another routine hold before snatching her first break of serve to go up 3-1. The former world number one responded immediately, breaking straight back only to have her 54th ranked opponent come storming back with another break for a 4-2 lead.
Fifth-seeded Wozniacki took the fourth straight break of serve for 4-3 before consolidating the break to even the match at 4-all. A love hold from Mladenovic forced the world number 22 to serve to stay in the set, something Wozniacki did successfully to level the set at 5 games apiece.
The French 23-year-old held to force Wozniacki to serve to stay in it once again, with the Dane taking the game at love to force a tiebreak. In the breaker it was Mladenovic drawing first blood, taking a mini-break for a 2-1 lead. Wozniacki clawed her way back though, breaking back to bring the tiebreak back on serve at 3-2. The two-time US Open finalist held her first service point before gifting away a mini-break again for 4-3.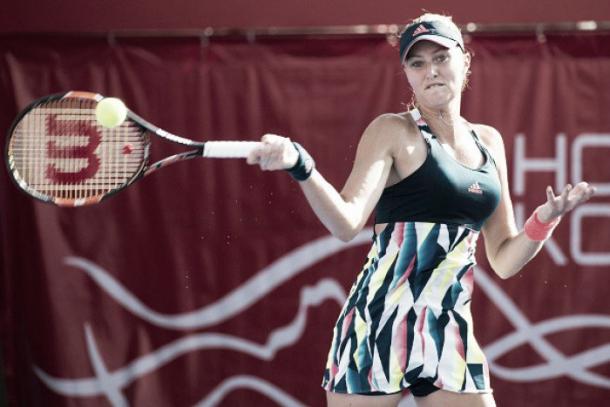 Mladenovic and Wozniacki split the next two points, bringing proceedings to 5-4. With the former number one serving to stay in the set, Mladenovic cranked up the pressure, delivering two big returns to steal the set 7-4 in the tiebreak.
Wozniacki responds to seal title in comfortable fashion
Wozniacki began the final set fighting off three break points, eventually taking the hold. The fifth seed then broke immediately before holding the following game to go up an early 3-0 lead in the third set. The Dane kept dialing up the pressure on her French opponent, breaking again to seal a double break and go up a seemingly unassailable 4-0 lead.
26-year-old Wozniacki consolidated the double break for a 5-0 lead, putting herself one game from a maiden Hong Kong title. Serving to stay in the final, Mladenovic fought hard to suffice a hold of serve for 5-1, going on to break the Dane as she served out the title. This time around Wozniacki made no mistake, breaking to claim the title on her second time of asking to take a first Prudential Hong Kong Tennis Open title.
Wozniacki on her second title of 2016 here in Hong Kong
After a season marred by injuries early on, triumphs this season in Tokyo and Hong Kong couldn't taste any sweeter for 26-year-old Wozniacki. After fighting injuries all season, Wozniacki said, "You know your body, and I knew it was going to take a while for me to get back and be back at 100%."
Wozniacki, a player always defined by her determination, said about getting back to the upper echelon of the game, "I never doubted that I could come back and make it here because I've worked too hard my whole life on my fitness to keep my body in shape. I was like, 'It's going to be okay, where it's going to be a month, two months, four months.'
"I knew eventually I would be back," said a confident Wozniacki.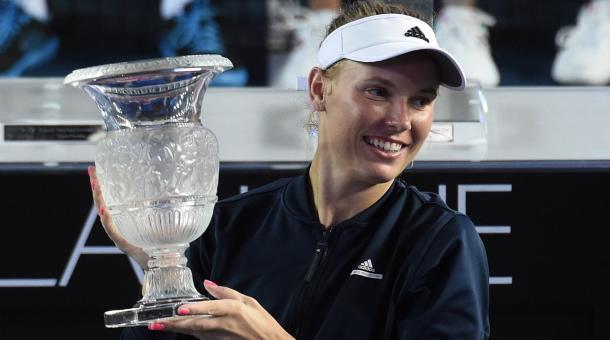 Wrapping up her week here in Hong Kong, the Dane said, "It's great winning trophies, it's what we play for. I'm very pleased with my week this week, I played some good tennis, I'm proud of how I managed to win," concluded the former world number one.
Wozniacki will now return to the world's top 20 come Monday and will be looking to seal a place at the WTA Elite Trophy in Zhuhai this week at the BGL BNP Paribas Luxembourg Open.