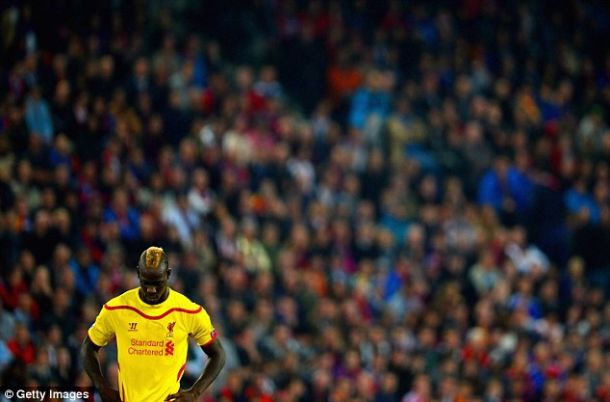 Mario Balotelli's £16 million move to Liverpool was dubbed "his last chance" by many and they're not wrong. Having been a hit-and-miss signing for Manchester City and then AC Milan, where glimpses of sheer brilliance intertwined with moments of madness, lethargy and languidness, his move to Anfield represents the defining point in his career. Merseyside may be the place where he would realise his world-class potential, or become known as a wasted talent.
So far, Balotelli hasn't quite had the impact at Liverpool that had been hoped. At the age of 24, the Italian is close to his prime and despite career highlights at the European Championships in 2012 and the sporadic sublime displays for City and Rossoneri, where his goal rate averaged in one in two, he has failed to hit the heights expected of him and he's certainly had trouble igniting much inspiration since returning to England.
Despite certain claims, it's clear that Balotelli has realised that this is likely to be his last opportunity at a "big club". How is it so obvious? Well despite criticisms and worries over his work rate and presumptions as to whether he would abandon his "lazy" style-of-play, he has certainly shown an eagerness to work hard and fit into the pressing ethic that Brendan Rodgers demand. Frequently, Balotelli has pressed the back-line, tracked back to dispossess and even man-marked from corners - showing he has no qualms with improving his defensive outputs. The frustrations now however, vent from his lack of goalscoring impact.
Balotelli has caught the eye with his frequent and increasingly speculative long-range efforts. So far, he's attempted 23 Premier League shots in just five games. That's an average of 4.6 per game, 2.8 of which have come from outside-of-the-box and he's scored none. That makes him the only player with so many shots and still without a goal in Europe's top five leagues. It's easy to see why he's been criticised, with even the likes of Diego Costa having attempted less shots than him the league - and the Spaniard has nine goals more to his name, but most of the questions over his lack of impact can be answered by a range of factors, as opposed to Balotelli's incompetence, which many pundits have been quick to cite as the cause of blame.
First and foremost, Balotelli's goals, and his shooting. Last season, at Milan, Balotelli netted 14 times and created 32 chances, six resulting in assists. The 24-year-old managed better than a goal every two games during his second spell in Italy, and he previously averaged a goal every other game at Manchester City and Inter Milan. Of his last 63 shots in the league, only one has been a goal. Recently, 10 shots came against Everton alone, and just four of those were on target. But why is his goal percentage dwindling game by game, making him look as if he's forgotten his shooting boots permanently?
Perhaps the most obvious reason, has been the lack of other options for Balotelli. It's similar to Luis Suárez in his first season, who was incredibly frustrating in front of goal. The Uruguayan had four or five shots before he hit the back of the net, simply as there were very little alternatives for him. Currently, Balotelli has only played one game alongside Daniel Sturridge, and without him he has struggled for support with Raheem Sterling and Lazar Marković failing to help from the wings. Steven Gerrard's move into the hole, coinciding with Balotelli's introduction against West Brom saw them build up a clear chemistry - interchanging a number of neat passing exchanges, but elsewhere he has struggled finding any creative partner in the final third. At least, any partner that is on a similar wavelength and can help cause damage to defences. Hence, Balotelli has took it upon himself to try and fire from long range. The Italian can't dribble through an entire defence like Suárez who could have or would die trying, and without runs beyond him, there is little else on for him when he brings down the ball and turns towards goal. It's frustrating for the fans, but it must be even more so for the forward himself.
There's no replacing Suárez, Brendan Rodgers said that himself. But strangely, he has yet to really adjust his side in order to suit Balotelli's strengths. The Italian averages much less touches inside the penalty area than the Uruguayan, who has renowned for his ability inside the area and has a vastly different individual game. Balotelli is an entirely different player. Hard work can be coached, but changing someone's individual playing style cannot. The current Liverpool system is still one that very much works to Suárez, and it worked perfectly, Rodgers ensured so. That's why "SAS" were so prolific, because the system worked to them. This season, the players have still been looking forward expecting those endless runs in behind the defence from Suárez. The whole team seems to still be in the mindset, or at least in the systematic tactics, that the Uruguayan is up in the final third in a red shirt and that he is the man they should be looking for. Last season, Liverpool overwhelmed defences with a frightening combination of pace, movement, creativity and togetherness and the Uruguayan was central to it all. The attack moved forward as one, but he was the never-say-die beating heart of it. This season, it seems a lot more disjointed and there's no real focal point. The players don't have the understanding that they had with one another last year. As they look for those Suárez-esque runs up top, Balotelli stands motionless in the middle, waiting for the ball into feet. When that comes off, he spins away but has no support. He's helpless, but yet he is receiving much of the blame after struggling to impose himself as a result. He's looked a dejected figure up top at times, but why should he be blamed for an entire team's poor performances?
Instead, a portion of the blame must go to all of the Liverpool side, and even Brendan Rodgers. He has set his side up in the wrong system without Daniel Sturridge. The 4-2-3-1 hasn't worked, and it didn't with Sturridge alone up top either. Neither has the 4-3-3, or any other adaptation, but Rodgers has persisted with it nevertheless. Still, there remains a hope that when the Englishman returns they can return to the all-conquering diamond system which should hopefully see Balotelli and Sturridge form a formidable partnership that can consequently help kick-start the Reds' campaign. The failings of the defence have been less than surprising, but the lack of effervescence up top has been particularly worrying and very un-Brendan Rodgers-like.
Still, if the diamond returns - so can Liverpool's troublesome attack. Ihat way, if the option of hitting it up to Balotelli isn't working, Sturridge can drop deep or play out wide. Sterling or Lallana can operate in behind them and provide them with pace, flair and support. Once Coutinho gets up to speed, he can find those delightful incisive through balls that Sturridge can race onto before looking to cut back to Balotelli, or going it alone. There's support. There's chemistry. There's excitement and flair. There's togetherness. There's so much potential with Liverpool's attack, but a lot of it has yet to be unharnessed.
The Reds aren't not functioning because Balotelli doesn't fit, but more that they haven't made him fit. He has been an outcast shunned into a system that used to work, but no longer does. As long as that continues, the longer Balotelli will fail to succeed.