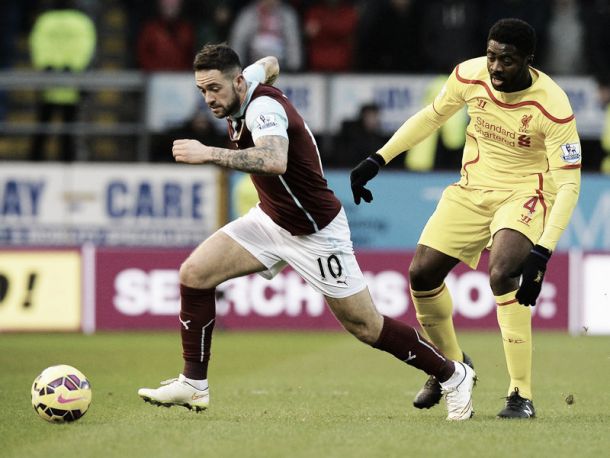 Liverpool have been told they must wait until the summer to complete a potential move for striker Danny Ings, of Burnley.
Ings, 22, is out of contract in the summer and clubs such as Tottenham, Newcastle and Real Sociedad appear to be Liverpool's main competition for the striker.
To avoid a contract bidding war in the summer, Liverpool were keen to agree a low fee deal with Burnley for Ings during the January transfer window before loaning him back to the relegation strugglers until the summer with both clubs seeming open to the idea. However, Premier League rules against such deals blocked any notion of that move.
Due to this Liverpool tabled a £4 million bid for Ings, which has recently been rejected by Burnley. The Clarets insist Ings keeping them in the Premier League is worth far more than selling him to make quick money before his contract expires. Also, Ings is under 24 meaning any club signing him on a bosman contract would be legally forced to pay a £3 million compensation fee to Burnley.
Speaking recently, Ings said "I'm contracted until the end of the season and that's the way it's going to be. I will fight for the team as much as I can and do my best for them. If an offer comes in, I won't be looking at it."
Ings would logically come in as a backup to Daniel Sturridge, who returns from injury against West Ham United on Saturday. He would most likely be ahead of Mario Balotelli, Rickie Lambert and Fabio Borini in the pecking order with at least two of those strikers expected to leave during the summer.
To add to their stricking options, Liverpool have Divock Origi returning from his loan to Lille at the end of the season. Origi was loaned back to Lille after being purchased for £10 million last summer, in the same type of deal not allowed to take place between Liverpool and Burnley over Ings.
It seems like Liverpool will be forced to wait until the summer to sign the frontman, who has seven league goals this season. Despite other competition, Liverpool are known to be Ings' number one choice and we could be seeing him at L4 in the future.