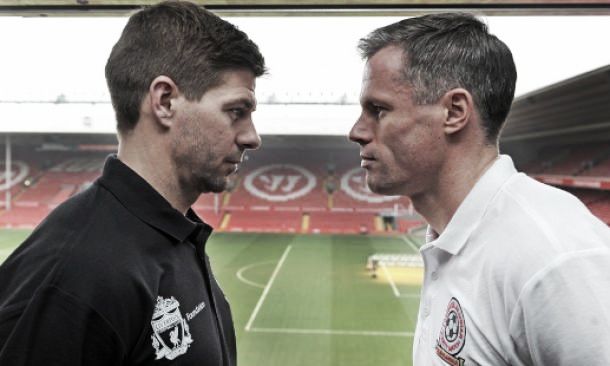 Two all star XI's, led by Steven Gerrard and Jamie Carragher will face off at Anfield this Sunday in a bid to help raise money for charity. The sides contain both past and present Liverpool players, as well as some stars that have gone up against Liverpool over the years. Let's take a look at who will be playing in the highly billed fixture.
Gerrard's squad:
Brad Jones- Current Liverpool goalkeeper Brad Jones will 'keep for Gerrard's side. The Australian has been at Liverpool since 2010, making 11 appearances for the Reds.
John Terry- As captain of rival club Chelsea, Terry seems an odd choice for this fixture, however the former England captain has built a good friendship with both Gerrard and Carragher on international duty in the past decade and will be welcomed as one of the highest profile names in the fixture.
Stephen Warnock- With Liverpool keen to include players that came through the youth academy, left back Stephen Warnock will be playing in the fixture. Warnock made 40 appearances for Liverpool before moving on to Blackburn in 2007. The Englishman previously returned to Anfield in 2011 for Jamie Carragher's testimonial.
Scott Dann- Crystal Palace defender Scott Dann was always keen to play in the fixture due to his Scouse roots and was one of the earlier confirmed names on Gerrard's team sheet.
Ashley Williams- Captain of Swansea and Wales, Ashley Williams was a keen Liverpool supporter as a boy and his friendship with Reds midfielder Joe Allen allowed him to put himself forward for the fixture.
John Arne Riise- One of Gerrard's closest friends in football, John Arne Riise will return to the ground where he was once a fan favourite. Winning the Champions League and FA Cup during his time on L4, 'Ginge' will get a superb reception come Sunday.
Anthony Gerrard- Cousin of Steven, Anthony Gerrard was also a childhood Liverpool fan and famously came up against his brother for Cardiff in the 2012 League Cup final.
Steven Gerrard- Playing in a testimonial type game, the charity match will offer Gerrard a more relaxed chance to bid goodbye to the Liverpool fans ahead of his summer move to LA Galaxy, before the Reds resume their Barclays Premer League campaign.
Xabi Alonso- Since leaving for Real Madrid, playmaking midfielder Xabi Alonso has won the UEFA Champions League with the spanish giants, and is currently lighting up the Bundesliga for Pep Guardiola's Bayern Munich side. Alonso is still well loved at Anfield and fans will eagerly anticipate his return.
Kevin Nolan- West Ham midfielder Nolan is a huge Liverpool fan an has made no secret of it throughout his career. He'll finally fufill his dream of wearing a red shirt at Anfield, and he will be feeding the ball to some top strikers.
Charlie Adam- Scottish midfielder Charlie Adam spent one season at Liverpool, playing under Kenny Dalglish and will help fill Gerrard's midfield.
Jay Spearing- Another academy graduate, Jay Spearing made 30 appearances for his childhood club before moving to Bolton Wanderers, whom he now captains.
Ryan Babel- Known for his hot and cold performances, Ryan Babel is perhaps best remembered for an Anfield winner against Manchester United and the winger has declared his excitement at the prospect of returning to Merseyside on Sunday.
Thierry Henry- One of the most famous faces at the game, Thierry Henry is regarded as one of the finest players ever to play football in England. Terrorising Liverpool many a time in his Arsenal day, Henry now works as a pundit for Sky Sports.
Luis Suarez- Ah yes, he is back. One of the finest players in world football at the moment, Luis Suarez returns to Anfield much sooner than he might have imagined after his £75 million move to Barcelona last Summer.
Fernando Torres- Completing a star studded trio of strikers is Fernando Torres, who was regarded as one of the finest strikers in the world before a £50 million move to Chelsea in 2011 saw his talents somewhat fade away. El Nino should get a good reception due to it being a charity game.
Carragher's squad:
Pepe Reina- Bayern Munich 'keeper Pepe Reina was a huge success at Liverpool as his excellent goalkeeping helped the Reds win three trophies during his time on Merseyside. Now second choice in Germany to Manuel Neuer, Reina will start in between the sticks for Carragher's side.
Peter Gulacsi- Another player to come through the youth ranks at Liverpool, Hungarian Peter Gulacsi will play some minutes in goal on Sunday.
Alvaro Arbeloa- Another Liverpool star that departed for Madrid, full back Alvaro Arbeloa returns to Liverpool on Sunday just as transfer rumours about a possible permenant move back arise.
Jamie Carragher- Carragher will go up against best friend Steven Gerrard and work colleague Thierry Henry as he captains one of the sides. A Liverpool legend, Carragher retired in 2013.
Gael Clichy- A more surprising selection for this fixture was Gael Clichy, the Manchester City left back who has made over 250 Barclays Premier League appearances since joining Arsenal in 2003. Clichy has no real connection to Liverpool, however has played against them on numerous occasions.
Martin Kelly- Another player that will return to the place of his football upbringing, Crystal Palace full back Martin Kelly will make the trip up from London to play in the game. Kelly struggled with injuries whilst on Merseyside, but is doing well to establish himself as a Premier League player for Palace.
Luis Garcia- Being inconsistent during his time at Liverpool didn't prevent Luis Garica becoming a hero for the Kop, as he scored the infamous 'ghost goal' against Chelsea to send The Reds to the Champions League final in 2005. 'Luis Garcia, he drinks sangria,' will undoubtedly be reverberating around Anfield come Sunday.
Craig Noone- Not quite an academy graduate, Craig Noone still came through some development stages on Merseyside. The Liverpudlian winger has played his trade through the English leagues, and currently represents Cardiff City. A proud Liverpool fan, Noone is likely to play a big part for Carragher's team.
Harry Kewell- Injuries plagued his time at Liverpool but Australian winger Harry Kewell will still be a popular face at Anfield as he won numerous trophies during his period on L4. Kewell retired in 2014 after a short spell with homeland team Melbourne Heart.
Stewart Downing- Another face from the Kenny Daglish era, Stewart Downing has been impressing at West Ham this season in his second season since transferring to the London club from Liverpool. He could play out wide on Sunday, or in the central role he has impressed in this season.
Jonjo Shelvey- Facing his club captain Ashley Williams, Jonjo Shelvey will play some part in the fixture. An indifferent spell for the Reds after signing from Charlton saw Shelvey's undoubted ability often comprimised by a lack of discipline. Hopefully his poor discipline won't come into play on Sunday, due to the nature of the match.
Craig Bellamy- Former Wales striker Craig Bellamy will provide some attacking threat for Carragher's XI on Sunday. He is a familiar face at Anfield, having had two spells at the club.
Didier Drogba- The spearhead of Carragher's side is none other than legendary Chelsea striker Didier Drogba. During his time at the London club the Ivorian has enjoyed some wonderful games against Liverpool, and scored what he describes as his 'best ever goal' against the Reds in 2008.
Commiserations must go out to Dirk Kuyt and Raul Mereiles, who were both scheduled to play in the game but came off at the weekend with injuries for Fenerbache. The pair will still attend the game however, helping LFC TV out with punditry roles.