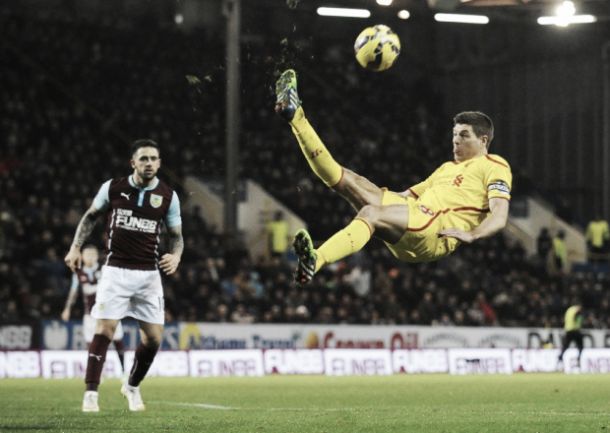 Liverpool supporters need to remain patient with the club's new striker Danny Ings, according to departing skipper Steven Gerrard.
The Reds announced that they had come to an agreement with Ings - whose contract runs out at Burnley this summer - for the 22-year-old to join the Anfield club on July 1, upon completing a medical.
Liverpool, who finished a disappointing sixth last season as they suffered from a severe lack of firepower, are still yet to agree a compensation fee with the Clarets as they look to avoid going to an independent tribunal, having had a £4 million initial offer turned down.
Gerrard intrigued by Ings' potential
England U21 international Ings, who will represent his country in Czech Republic at the under-21 Euros over the next few weeks, scored 11 goals in his maiden Premier League campaign, but Gerrard believes the club's fans must give him time to adjust to higher expectations on Merseyside.
"I'm really excited about Ings because he can be what he wants to be - I know the talent is there, he's very young and he is fresh," said Gerrard, who is currently enjoying his final few weeks in England before leaving to play in United States' MLS.
"If he carries on learning and developing then he can become a top striker. We [Liverpool fans] love top strikers, so it's there for Danny, the stage is there and I wish him the best of luck. I'm looking forward to watching him play."
Gerrard hoping Ings can get off the mark early to ease adjustment
Ings contributed 11 of Burnley's 28 league goals as Sean Dyche's side fought bravely against relegation but could not avoid the drop last season.
Since learning that the striker will be joining Liverpool, several ex-pros have been keen to weigh in with their opinions - including Jamie Carragher, who insisted Ings will take his chance to shine.
But despite such impressive goalscoring form for the Clarets and several glowing recommendations, Gerrard insisted that Liverpool fans must exercise caution as opposed to expecting him to hit the ground running.
"He's certainly got the platform there at one of the best clubs in the world to showcase his talents," added the 35-year-old, who said Ings might be one who needs a big move and can "thrive" under pressure.
"For me, the supporters just need to be a bit patient with him because he is still very young. I'm sure he'll get eased in gently but, as I say, I am really looking forward to watching him play.
"Hopefully he can get some goals early on which will give him the confidence that'll make him feel like he belongs there."