Manchester United and Manchester City both have 100% winning starts from their first three league games of the season, both looking very strong as their managers thrive in their new jobs.
However, this weekend, at least one will have to end their winning streak, and they will both have been undoubtdely working very hard throughout the international break to try and ensure that they're the winning side come Saturday afternoon.
So where is the Manchester Derby most likely to be won by either side?
Zlatan Ibrahimovic has been unstopabble thus far in his Premier League career
Manchester United's signing of Zlatan Ibrahimovic has so far proved to be a great piece of business by Jose Mourinho and his backroom staff, scoring three goals in as many games in the Premier League, and also scoring the winning goal in the Community Shield for United - Leicester City.
However, Manchester City boss Pep Guardiola has also significantly improved the Sky Blues' backline with the addition English centre-back John Stones from Everton for £50,000,000, and it is games of tis calibre that Guardiola will have been hoping Stones can really make the difference in and live up to his record breaking price tag.
This along, with the good recent form of Nicolas Otamendi, will surely lead to a great battle between United's number nine and the City backline.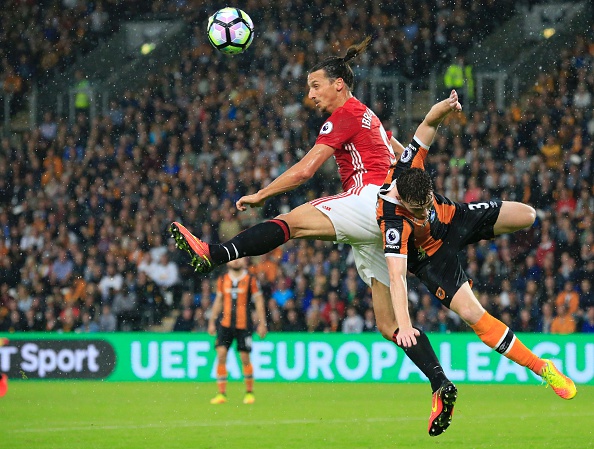 Battle in the centre of the park
No matter what the size of the game, or the quality of the teams playing, the midfield battle is always one of the most crucial factors in deciding the outcome of the game. This is no less so in such a huge game between two of the tops teams in England.
Despite playing away from home, it is most likely that Guardiola will expect his City team to have the majority of the possesion in front of the United midfield, however with the likes of Paul Pogba and Marouane Fellaini expected to start for the Red Devils, City may find it a lot more difficult to keep the ball, like they have against lesser opponents so far this season, resulting in City most likely getting less chances and having to be more ruthless in front of goal.
The sheer size of Fellaini and Pogba, both being well over 6ft, may prove to be a key aspect of the game if it was to turn into a more physical battle, in which United would most likely dominate against the smaller team of City, something Guardiola and his backroom staff will most likely be keen to try and avoid.
City's ruthless attack - United's well organised defence
So far this season, Manchester City are the Premier League's top scorers, already netting nine times in their opening three games. This matches up against the best defence in the league so far of Manchester United, having just conceded the one goal on the opening day of the season, an intriguing battle that cold prove to be very significant in the outcome of the game.
Sergio Aguero, City's top scorer, is banned for the game due to being charged with violent conduct after elbowing Winston Reid in their last game - West Ham United, surely to the delight of the United backline. However with the pace of Raheem Sterling, Jesus Navas, Nolito and Kelechi Ihenacho, who is expected to start instead of Aguero, still avalible to Guardiola's disposure, Mourinho's men will have to still be very alert as they will look to get behind the likes of the less pacey Daley Blind.
United keeper David De Gea has had very little to do thus far this season, however it is undoubted that his first real test will come this weekend in what is expected to be a very tight game.