Cast your mind back to last season, and you will remember just how much of a frustrating and silly season it turned out to be. Arsenal spurned probably their best chance to win the title since the Invincibles but for most of the team, and in particular Theo Walcott, it was a season to forget.
Walcott had masses amount of potential when he arrived over ten years ago from Southampton, but he is still yet to completely show that. This season though has been a massive step in the right direction and recently he's begun to show the sort of form we saw from him before and after he 'signed da ting' in 2012/13.
This season however, the Arsenal man has had a brilliant resurgence which is significantly benefiting Arsene Wenger's team. He's returned to form in spectacular fashion over the past month, and his performances have been exceptional. Just where has this rise in form from the England winger come from though?
Acceptance
A massive part that played on Walcott's mind in previous seasons has been wanting to play upfront, and to do the number 14 shirt, previously worn by the great Thierry Henry justice. Ever since he arrived at the club it's been a tale of him wanting to play up front but being stuck on the right which is his strongest position, but that's something he's finally learned now.
However accepting that he will never be Arsenal's main centre forward, and having it clear in his mind that the right wing is his position has been a crucial part in him re-discovering his best form. It's hard to disagree that he's had his moments upfront, and in previous seasons he's offered a suitable alternative to the likes of Olivier Giroud, but with Walcott on the right it offers the team an outlet and when he's on form the whole team seemingly plays better, as has been noted over the past month.
For Walcott, accepting that he's a natural winger, rather than a striker is probably the best thing he's done in his career so far, and it's worked wonders so far this season.
Competition for places
Competition for starting spots in this Arsenal side has arguably never been fiercer and in some sense that has benefited Walcott. With Alex Iwobi's rise to the first team at the end of last season, it meant Walcott was dropped to the bench with Iwobi becoming a preferred option by Wenger.
That sort of competition though has driven Walcott to work on his game and become a better player, something which we're clearly seeing this campaign.
Alexis Sanchez playing upfront, rather than on the wing has also helped Walcott. Obviously he's got his place back, but the combination of the Chilean and Walcott is working perfectly at the moment. When Giroud first arrived at Arsenal, he and Walcott had a brilliant understanding, with the England international supplying him from the right on a regular basis.
However Sanchez and Walcott's link-up play has been superb together, and with Alexis not playing with his back to goal, as Giroud does, he's been able to thread balls through to Walcott, which against Basel in the Champions League in particular has provided goals. Walcott tweeted when Alexis first arrived at Arsenal in 2014 that they were going to be a 'deadly force' and that is becoming a reality this season.
It's also arguable that the rumours of bringing in a wide-man over the summer has given Walcott a kick-up the back side. Riyad Mahrez was for a long time the name on the back pages of the papers as the player that was going to take the North London club on a level, but after those rumours dispersed, Walcott hasn't looked back, scoring five goals in eight appearances in all competitions. That also included scoring three games in a row against Hull, Chelsea and Basel.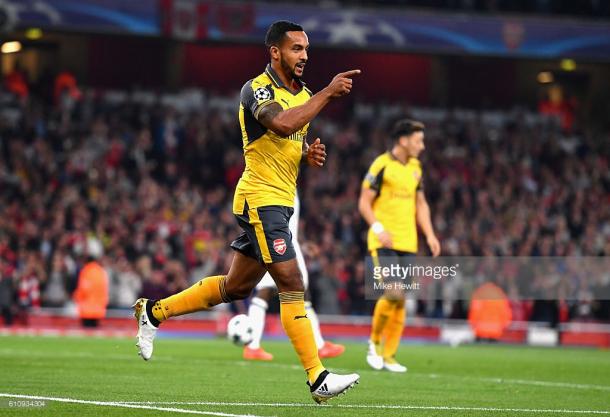 Euros disappointment
When it's come to major international tournaments, Walcott has never quite had the rub of the green. The only World Cup he's been to has been as a 17 year old when he went to Germany 2006. He was then left out of the World Cup squad for South Africa by Fabio Capello in 2010, and was then injured for Brazil 2014.
However missing out on Euro 2016, simply through having a frustrating and indifferent 2015/16 campaign has driven Walcott on this season as he's looked to prove his doubters wrong.
This campaign he has looked a completely different player to the one we saw last term. He's looking like he's become a more accomplished and composed crosser of the ball, and like when he was younger, he's starting to take on players with more confidence again. He had a brilliant work ethic in pre-season, posting fitness videos of himself to twitter, and it's things like that which have clearly helped the wide-man this season.
Whether Walcott's recent run of form is merely just a purple patch remains an unanswered question. His performances for the rest of the season will answer that, but he and Arsenal fans alike will be hoping and praying that he continues scoring. Continue like he does, and he will become an integral part of Wenger's squad once again.