All the build up to this game was all about Liverpool and how they would sweep Manchester United aside with their attacking football and their high press, but ultimately United's defence did very well to keep the ball out of David De Gea's net, the Spaniard himself making two world class saves to deny Liverpool the victory.
The game was one of two halves certainly and while it was tactically very interesting to analyse, both teams found it hard to find the end product needed and United will feel this is a point gained. After all, manager Jose Mourinho set out to take a point from this game, which was clear from his tactics.
Let's take a more detailed look at the game from a tactical perspective.
United tried to beat Liverpool at their own game early on
You wouldn't have been wrong to imagine that Liverpool would be the one on the front foot from the first whistle of the game, but it was in reality the Red Devils who started off stronger and gave the opposition a taste of their own style of play.
When the team sheet was announced, there were two surprising inclusions, Ashley Young and Marouane Fellaini. The former hadn't started in a game since January, the last time United played Liverpool. Both players managed to give a good account of themselves and did a decent job while defending against any attacks from the home side.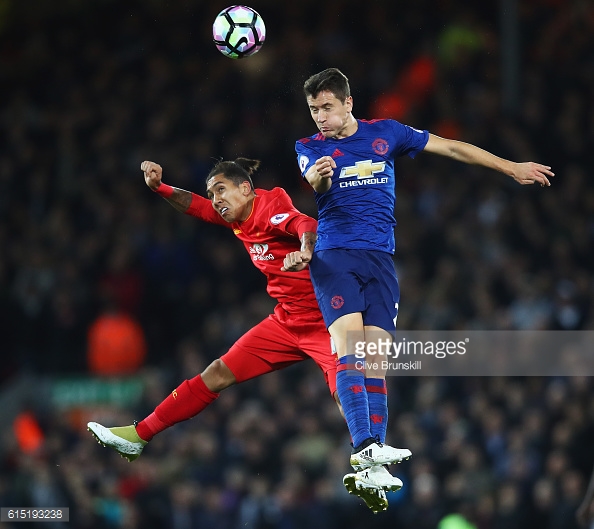 United pressed and did not allow the Liverpool players time on the ball at all during the first 25-30 minutes. Each United player was aggressive out of possession and always trying to win the ball back from the opposition at the earliest.
After the half hour mark, Liverpool grew into the game and started playing more of the football we've seen them play so far this season. United eventually sat deeper and allowed the opposition more time on the ball and more spaces to exploit.
This change of approach made life difficult for United as Liverpool enjoyed greater possession and gained more and more confidence as the Anfield crowd grew louder when Liverpool had the ball and were crying out for some end product. But, to their dismay, there was very little to cheer about in the first half.
Second half had Mourinho written all over it
The second half saw a more defensive United team as Mourinho made it evidently clear that the Red Devils had come to Anfield for a point and Jürgen Klopp on the other hand, kept pushing Liverpool to attack as they always do.
While the home side did have two or three chances to take the lead, United had De Gea to thank for making two brilliant match-winning saves - denying Emre Can and Philippe Coutinho in style.
Although Liverpool were on the front foot, United did have a golden chance to score themselves with Zlatan Ibrahimovic. But the striker terribly mistimed a header as Loris Karius was left stunned that the Swede didn't manage to find the back of the net.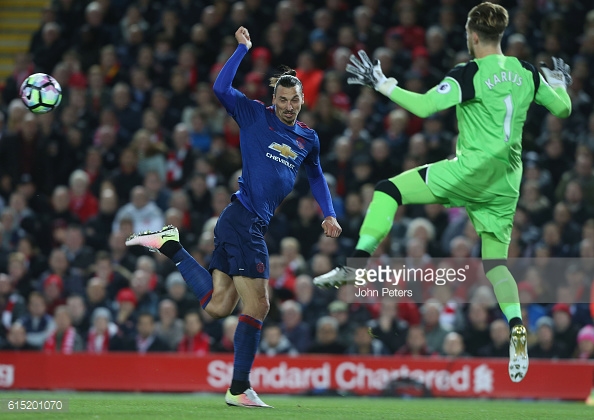 After that, the chances were little to none for United as Liverpool pressed on with their own efforts of nicking a victory. Can went very close after Joel Matip strode into midfield and set the German up for a tight shot, but De Gea was alert and made a very good save.
There was another moment where De Gea showed why he is considered one of the best in the world. Coutinho found space some 30 yards out and let fly with a bending shot that De Gea managed to keep out with a magnificient stretching save, which was applauded even by Klopp.
As the game came to a close, Liverpool still looked like they might get something from it and Roberto Firmino had a chance to do just that but a fantastic last ditch tackle from Antonio Valencia denied the Brazilian a chance to settle matters.
When the final whistle was blown, there was a sense of disappointment not only because of the hype surrounding the game, but also because how both teams failed to capitalise on the rare few chances they had to seal the points.
Mourinho will be looking to the Europa League for a momentum boost against Fenerbahce, ahead of a return to face former club Chelsea at Stamford Bridge on Sunday.