Nicklas Bendtner's injury came not only as a blow for him personally but also for Nottingham Forest. The forward, a summer signing for the Championship outfit, was just starting to show signs he was nearing full fitness and was beginning to show his quality.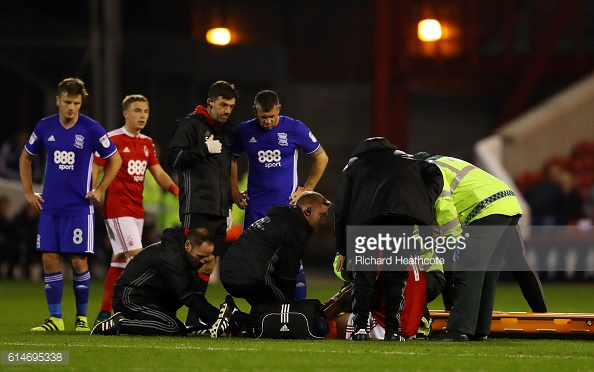 A good start
He scored his first goal for the club in the 1-1 draw with Fulham on the 27th September and also put in a sublime cross for Eric Lichaj's goal against Birmingham shortly before he picked up the injury.
Bendtner told nottinghamforest.co.uk that "it was important to get the first goal" and that "it was a long time since I last scored."
He also stated that he had "planned a celebration but as the ball hit the back of the net it didn't come off like that," showing how relieved he must have been to get his first goal for the club.
Timely return for Forest
Due to Forest's recent dismal run of results, they will be glad to see Bendtner return shortly after the international break to give manager Philippe Montanier some more options in the attacking department.
Forest's issue this season has not been scoring goals but letting far too many in at the other end. However, in recent games such as the 2-0 defeat away at Reading and 1-1 draw at home to QPR, their lack of ruthlessness in front of goal has cost them dearly.
Bendtner told nottinghamforest.co.uk that "the QPR game we should have won" as it was one of those games "where the other team has the little percentage over us and we need to cancel them out and be really strong."
A potentially deadly duo?
Bendtner is now looking forward to getting going again and is excited by the prospect of playing alongside fellow striker Britt Assombalonga who has also recently returned from injury.
Many Forest fans believe that Assombalonga could be the difference for Forest this season in regards to avoiding relegation from the Championship. However, with Bendtner returning sooner than expected it will help take that pressure off Assombalonga.
Montanier has been reluctant to play two strikers from the start in Forest's games so far this season. However, this is something a lot of Forest fans have been calling out to see for years. Now that Forest have two quality strikers fit and at their disposal, it will be very difficult for Montanier to leave either of them out of the starting line-up.