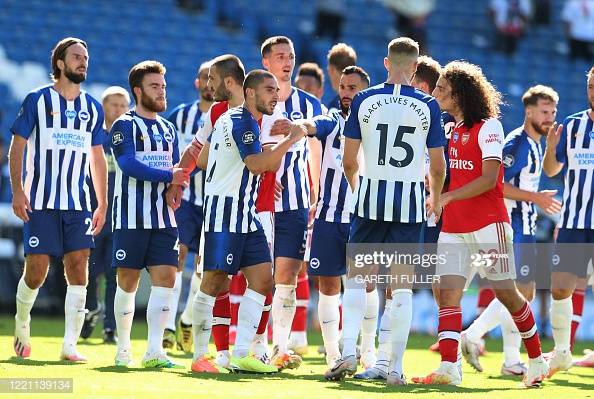 When Aaron Connolly flicked the ball over the Arsenal defence and Neal Maupay latched onto it in the fifth minute of injury time, there was an air of inevitability about the outcome as Maupay honed in on goal.
After all, Arsenal fans have grown accustomed to such humiliation. Their side have been stumbling from one calamity to another for as long as many of the younger fans can remember. On Saturday, though, those in red sunk to new depths.
Maupay, who had appeared to contribute to the season-ending injury to Bernd Leno in the first half (much to the ire of the Arsenal players), would duly score past Emiliano Martinez, condemning Mikel Arteta's men to their second defeat of the restart after the chastening loss at The Etihad a week prior.
It was only a week ago that Arsenal, with Arteta helming a romantic resurgence prior to the shutdown, held the title of the only top-flight side to remain unbeaten in 2020. However, any shred of optimism for the run-in now seems to have vanished.
They travel to St Mary's in the hope of bouncing back, but exactly what for they will struggle to say. Languishing in 10th place, hopes of reaching Europe have dissolved rapidly, with their season all but over now barring a flawless display across the final furlongs that might see them sneak into the Europa League places.
They continue their pursuit of the FA Cup on Sunday against Sheffield United and the importance of that game cannot be overstated, with the competition representing a viable route into Europe.
Wednesday, though, pits them against Southampton. The Saints recorded an impressive 3-0 victory away at Norwich City in their first game back and will be hoping to continue their ascent under Ralph Hasenhüttl, who was rewarded with a new four-year deal earlier this month.
On the face of it, there is very little at stake. Two sides residing in no man's land, no crowd, nothing to play for. There, are, however underlying questions pointing the way of the visitors, in both a financial and cultural sense.
Financial worries
In 2018/19, Arsenal made a £32m loss - their first of the kind since 2002.
Absence from the Champions League and a bloated wage bill served as the principle explanations, with Arsenal's self-sustaining business model relying on regular qualification for the pearly gates of Europe's elite competition.
Lurking in the background, though, is another alarming deficiency that threatens to compound Arsenal's financial woes, and - unsurprisingly - it's linked to Covid-19.
Arsenal - with their vast hospitality market, high attendances and high ticket prices - lead the way with Manchester United when it comes to matchday revenue in the Premier League. It constitutes 29% of their overall revenue, an unusually high figure for a club of Arsenal's stature.
This, though, leaves Arsenal in a perilous position in the eerie world of empty stadiums. It also makes Champions League qualification imperative if the Gunners are to maintain a healthy financial standing.
However, with hopes of reaching the Champions League slipping away after consecutive defeats - allied to the fact that there's no crowd Arsenal could possibly attract - it makes you wonder what Arsenal have left to play for this season.
Yes, there is a financial incentive to finish higher in the league and therefore access a greater share of the Premier League's domestic and overseas TV deals, but - in reality - such bonuses (around £2m per place) are dwarfed by the lucrative sums involved in the participation in the Champions League and Europa League.
Cultural issues
In restoring dignity and pride, however, there is one motive for Arteta's men.
The way in which they resigned themselves to the perceived inevitable against Brighton has seen the character and mental strength of the side called into question, in spite of Arteta's attempts to eradicate any fragility.
Neal Maupay claimed the Arsenal players "needed to learn humility" in his post-match press conference, while the much-maligned AFTV made no attempt to conceal their disappointment with the spineless nature of the defeat. The old habits - the ones that crippled Arsenal in the latter years of Arsene Wenger's reign - seem to be rearing their ugly heads once again.
Their performance against Southampton will be telling. As mentioned previously, there is little at stake in terms of points to be won, but - with several key players out injured and the media on their backs - the match will reveal the true depth of Arsenal's character reserves.