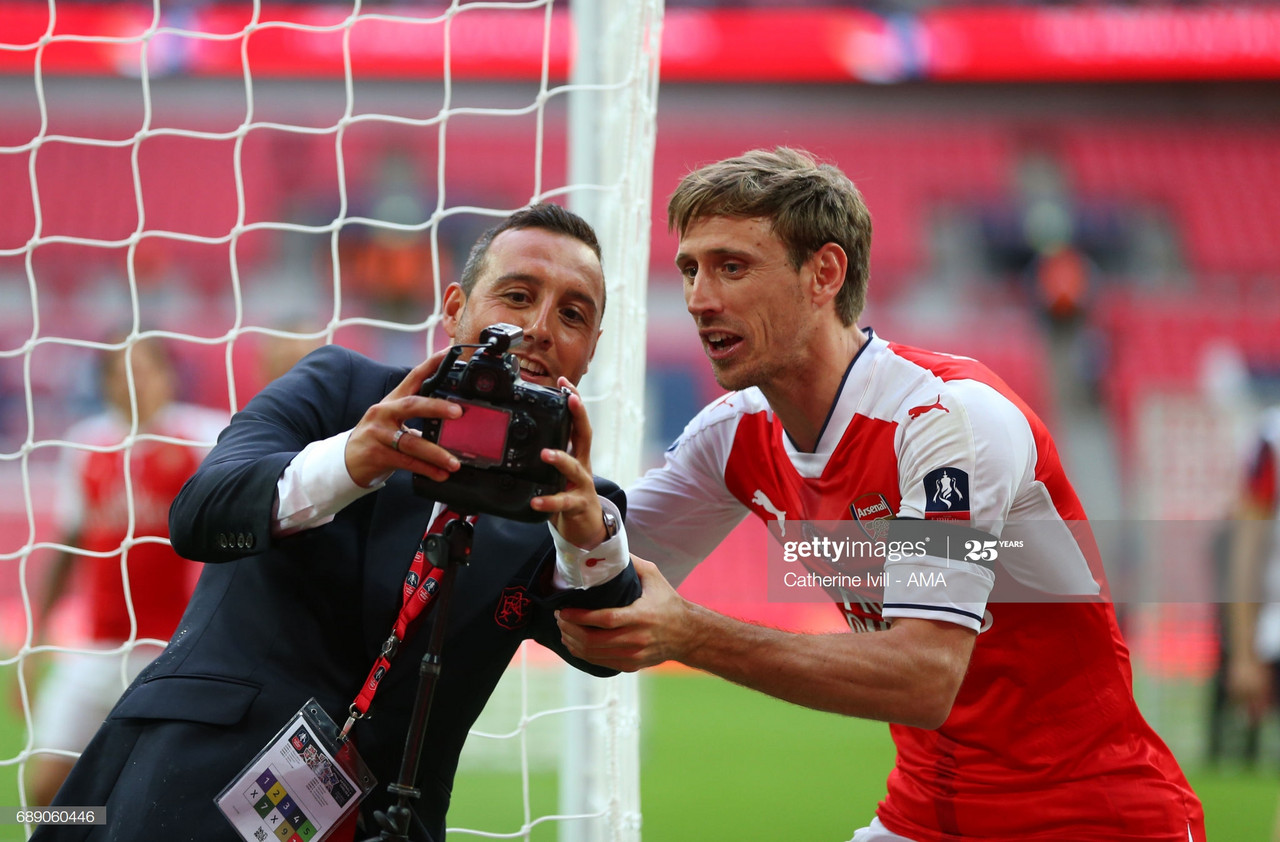 The North-London side have been blessed with talent that have worn the Red and White shirt but picking the best XI won't be easy at all.
Since Arsenal's move to the Emirates, we've witnessed a lot of players that have fulfilled their potential and produced some stellar performances at the Emirates that Arsenal fans will never forget. Arsenal legend and all-time goal scorer Thierry Henry captained the side in their debut season, to Aaron Ramsey becoming the rising star for the future and scored the winner in the 2014 FA Cup final win over Hull City which ended the club's nine-year drought.
The best starting XI is all based on the players that have produced outstanding performances at the Emirates and throughout that initial period. Also, we've picked on the formation that will suit that best starting line-up.
Here is Arsenal's best XI of the Emirates era and there is some interesting debates around them.
Goalkeeper
Arsenal hadn't had great goalkeepers over the last 14 years and have failed to sufficiently replicate the standards of David Seaman and Jens Lehmann who've been key to Arsenal's last Premier League title wins and domestic cup success.
Some fans might quickly turn on Wojciech Szczesny, as he did establish himself as first choice keeper at such a young age. He eventually grew as a reliable goalkeeper during the 2013/14 season who had an imposing and confident presence in goal. Former Gunners shot stopper kept the highest number of clean sheets (16) in the 2013/14 Premier League campaign and shared the golden glove with Petr Cech, who later joined Arsenal in June 2015. Szczesny's form declined in the following season which proved to be an end to his Arsenal career and went to Roma on a season-loan, which was then followed by a permanent move to Juventus.
But Bernd Leno must be up there as a more consistent keeper over the course of his time at the club so far, who is turning out to be a more seasoned player and is comfortable with the ball at his feet, always looking to instigate attacking movements from his own penalty area. The German international had enjoyed a terrific first season at Arsenal, the highlight of which was a sensational double save in the North London derby at Wembley Stadium which perfectly illustrated his rapid reactions.
This season, Leno has been instrumental in keeping the Gunners out of the relegation scraps as he's made the most saves in the division (104), demonstrating his reliability and calming influence in goal. Leno gets in the starting spot and edges over Szczesny.
Goalkeeper: Leno
Defence
Arsenal's Achilles heel has to be in their defence and many fans will fully agree to it.
Bacary Sagna deserves to be the Gunners' best right-back in the Emirates era – consistent performer over seven years at the club. His solidity in defence and inclusive bursts up the pitch combine made him one of Arsenal's most dependable players – it is also something that this current Arsenal need right now. He was also able to play at centre-back and left-back if needed and provided a lot of stability in the Arsenal defence.
He was considered as one of the most consistent right-backs in the Premier League and named in the PFA Team of the Year in 2008 and 2011, this was recognised across the country.
Per Mertesacker goes alongside Sagna. The 6ft 6in German centre-back has been a dominant figure in the heart of Arsenal's defence, where he always used his wealth of experience and reading of the game to great effect, often formed an excellent central defensive partnership with Laurent Koscielny – the pair went on a 31 match unbeaten run when they started together between January 22nd 2012 till February 2nd 2014 (winning 22).
Koscielny has also been a formidable presence at the back - established himself as one of the most consistent performers in the Premier League and had a knack of scoring vital goals. He claimed crucial strikes on the last day of both 2011/12 and 2012/13 seasons – against West Brom and Newcastle respectively to secure Champions League football on both occasions. He also netted the all-important equaliser in the 2014 FA Cup final win over Hull City. Both players remained quality until their time at the club was over. The manner of Koscielny's departure in particular won't change that or the FA Cup memories both players produced in all three finals.
Nacho Monreal arrived at North London in January 2013 for £8.5million. He became an all-round solid option and Arsenal's most consistent performers which he managed to beat Kieran Gibbs as first-choice left back.
The stand-out moment for Monreal was scoring the vital equaliser in the FA Cup semi-final against Manchester City which Arsenal came from behind to win 2-1 and was simply versatile to play as a make shift centre-half. When he left, he still looked like he had more to offer in north London.
Gael Clichy deserves credit as he was another consistent left-back especially after Ashley Cole's departure but Monreal deemed as a more reliable option.
Defence: Sagna, Mertesacker (c), Koscielny, Monreal
Midfielders
Midfield is an area that Arsenal had the most joy with players who had great technical ability during the Emirates era. There would be many players to choose from but it will be down to their consistent performances and how impactful they're were to the team.
To make this midfield work is to opt a 4-3-3 formation to accommodate the three midfielders chosen.
The first pick, is Santi Cazorla. He had established himself as an integral part of the team since he arrived at the club in 2012. The Spaniard loved to operate just behind the forwards in the middle third and proved to a big difference in both scoring and assisting in the final third was vital. He was also able to drop back in a deeper position where he dictated the play with his unique ability to change the rhythm of the game.
Putting Cazorla in the deeper role would leave Cesc Fabregas to take the No.10 position.
Alongside him as the other creative/attacking midfielder is Aaron Ramsey, a powerful, all-action central midfielder who had incredible stamina levels and was tenacious in a tackle. The Wales international used his passing range to great effect when deployed on the right flanks.
Ramsey memorably scored the winner in FA Cup final wins over Hull and Chelsea in 2014 and 2017 respectively – both assisted by Oliver Giroud which Arsenal fans will never forget.
In the advanced midfielder position, it will be Fabregas who arrived at the club in 2003. He became one of the most players in the early years of the Emirates era and stepped up massively- played all 38 games in the 2006/07 Premier League season (Arsenal's first season at the Emirates).
Fabregas continued to play a bigger role at the club after being appointed as club captain at 21-years-old and established himself as one of the club's key figures – his best season was in the 2009/10 campaign, he scored 15 times in the Premier League and 19 in all competitions. The Spaniard's impact on the early Emirates era cannot be undervalued.
Midfielders: Cazorla, Ramsey, Fabregas
Strikers
Onto the front three where there will be some debates and disagreements but here it goes – starting in the right-wing.
Off the right it has to be Robin van Persie – arrived at Arsenal as an exciting prospect for the future and signed as a long-term replacement for Dennis Bergkamp. A scorer of sensational goals and is renowned for his movement, finishing and all-round ability. For the major of his Arsenal career, he has been hit by injuries. However, he was outstanding both in 2010/2011 and 2011/12 campaigns.
His final season proved to be a prolific campaign as he became the Premier League's top goalscorer with 30 goals, which earned him the Professional Footballers' Association and Football Writers' player of the year.
Meanwhile, Alexis Sanchez will fill in the left-wing position and proved to be one of the marquee signings of the Emirates era. He was an all-action, energetic forward and had a tireless work-ethic who played in wide positions and in centre forward positions, impressed with his immense ability and clinical finishing, all allied to an effervescent approach to the game. Sanchez's contribution was outstanding and nobody can doubt his threating ability up front – scoring 80 times and adding 45 assists during his time at the club.
Finally, up front as the main striker will have to be Pierre-Emerick Aubameyang and has been in excellent goalscoring form since his arrival in January 2018. Gabon international is well known for his electrifying pace, finishing and movement in front of goal which he has lived up to the standards.
Aubameyang has netted 61 times for the Gunners and counting, which clearly shows his impact he is having on the side – similar contribution level as Sanchez's which just can't go unnoticed.
Forwards: Van Persie, Aubameyang, Sanchez