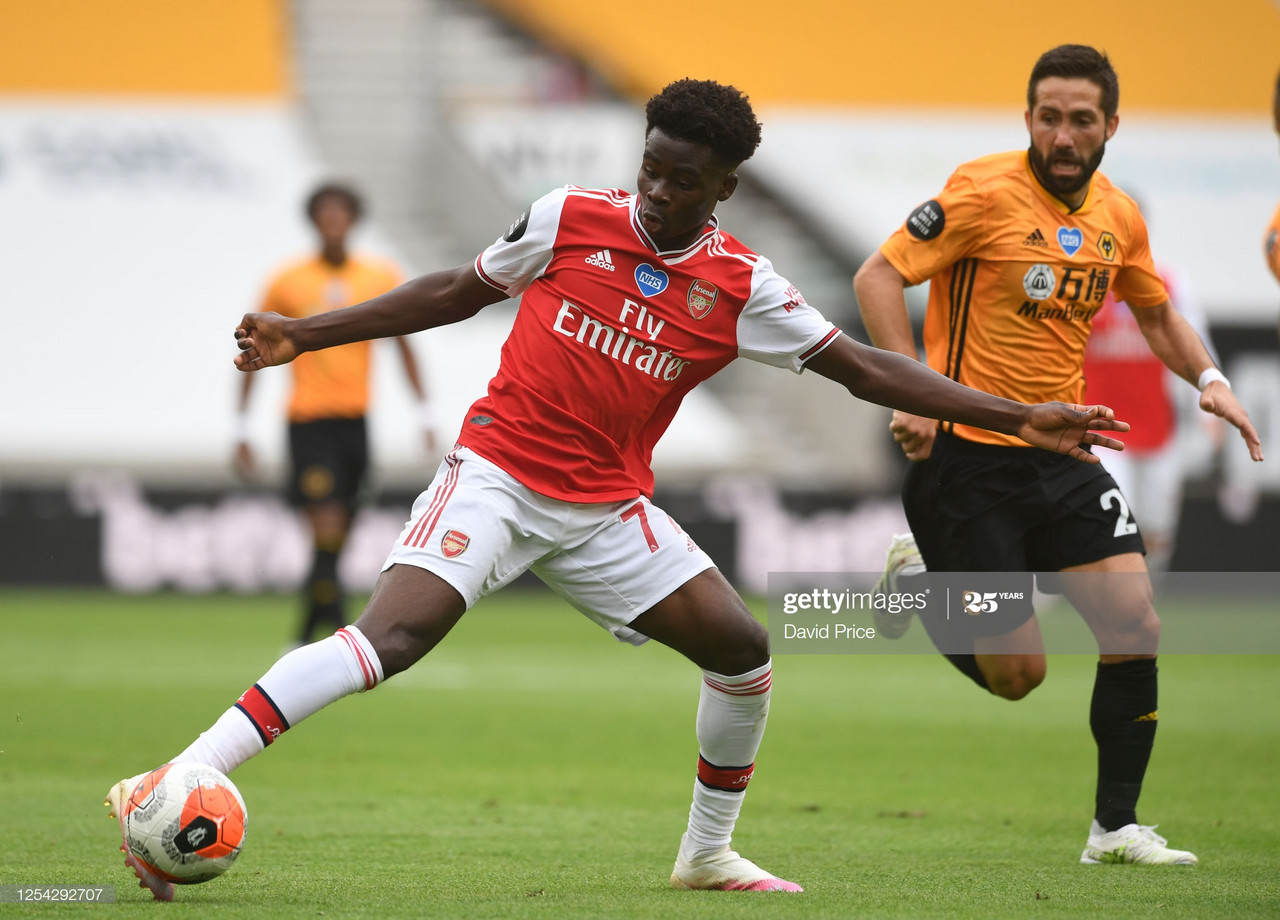 Arsenal cruised past Wolves on Saturday evening following goals from Bukayo Saka and Alex Lacazette to extend the Gunners' winning run to four games.
This result leaves Arsenal three points behind Wolves and a further six points away from Manchester United, who currently sit fourth. The chances for Arsenal to qualify for next season's Champions League looks very slim. At the moment, both United and Chelsea could claim the final Champions League places but there is still a lot of play for.
Mikel Arteta's side produced an all-round professional performance to get a result at Molineux after riding out early pressure from the hosts at key moments in either half.
Saka's versatility
It was Saka's 34th appearance for Arsenal this season in all competitions and he played on the right-wing. In previous outings, he's been used either at left-back, centre-forward or in midfield.
He's very keen, humble and enthusiastic individual who is continuously pushing for more both on and off the pitch. It's an exciting time for the Gunners as they're keen to develop younger talent like Saka into future greats. He has already contributed to 11 goals and he registered his fourth goal in an Arsenal shirt with a brilliant left-footed strike past Rui Patricio. In fact, all of his Arsenal goals so far have come away from home, and his thumping effort appeared to be his first in the Premier League.
Earlier in the week, he secured his long-term future at Arsenal – alongside fellow team-mate Gabriel Martinelli. It is still a long way to go for Arteta to bring back the glory and happier times again but there are promising signs. There is no doubt that Saka will play a vital role in the coming years as he continues to develop. Hard work and dedication have pushed him far ahead and he's now a regular starter for Arsenal. Cementing the place as a guaranteed starter should be the next goal for Saka.
All-round performance
It is not a surprise that Saka has played more games under Arteta (13) in the Premier League – only Pierre-Emerick Aubameyang and Granit Xhaka played more minutes than him.
Saka is a prime example of a player who clearly understand the values that Arsenal stand for across the world – clearly showing that hard work does beat talent. It was another disciplined performance from Saka and he never shied away from his defensive responsibilities – winning possession in each of his three attempted tackles and aerial duels.
When he had the ball, he showed great drive and purpose to help the team and he didn't waste possession. It's one of the key attributes and qualities Saka has possessed especially in a tough away match.
Team performance and upcoming games
It was a resolute performance from Arsenal and fans are immensely impressed with Arteta's tactical decision as well as his fostering a better team spirit, both on and off the pitch. The Spaniard's vision for the team remains a work in progress.
Arteta has now probably sent his biggest statement as the right coach who can take Arsenal forward. The defence was organised, he got key forwards in the right areas and he made the right substitutions. Most importantly of all, everyone knew their roles and responsibilities, which fulfilled the expectations set by the former Arsenal captain. He implemented a 3-5-2 formation with wing-backs and is getting the best from the likes of Kieran Tierney. Playing three at the back has been a success in the Premier League when Chelsea stormed to their last league title in 2017 and David Luiz knows all about it.
The next four games, including the FA Cup Semi-Final against Manchester City, will define Arsenal's chances of either securing Champions League football or crowning their season with a trophy. Arsenal are heading in the right direction under Arteta but there's still a long way to go for Arsenal to be back as big challengers for major trophies.