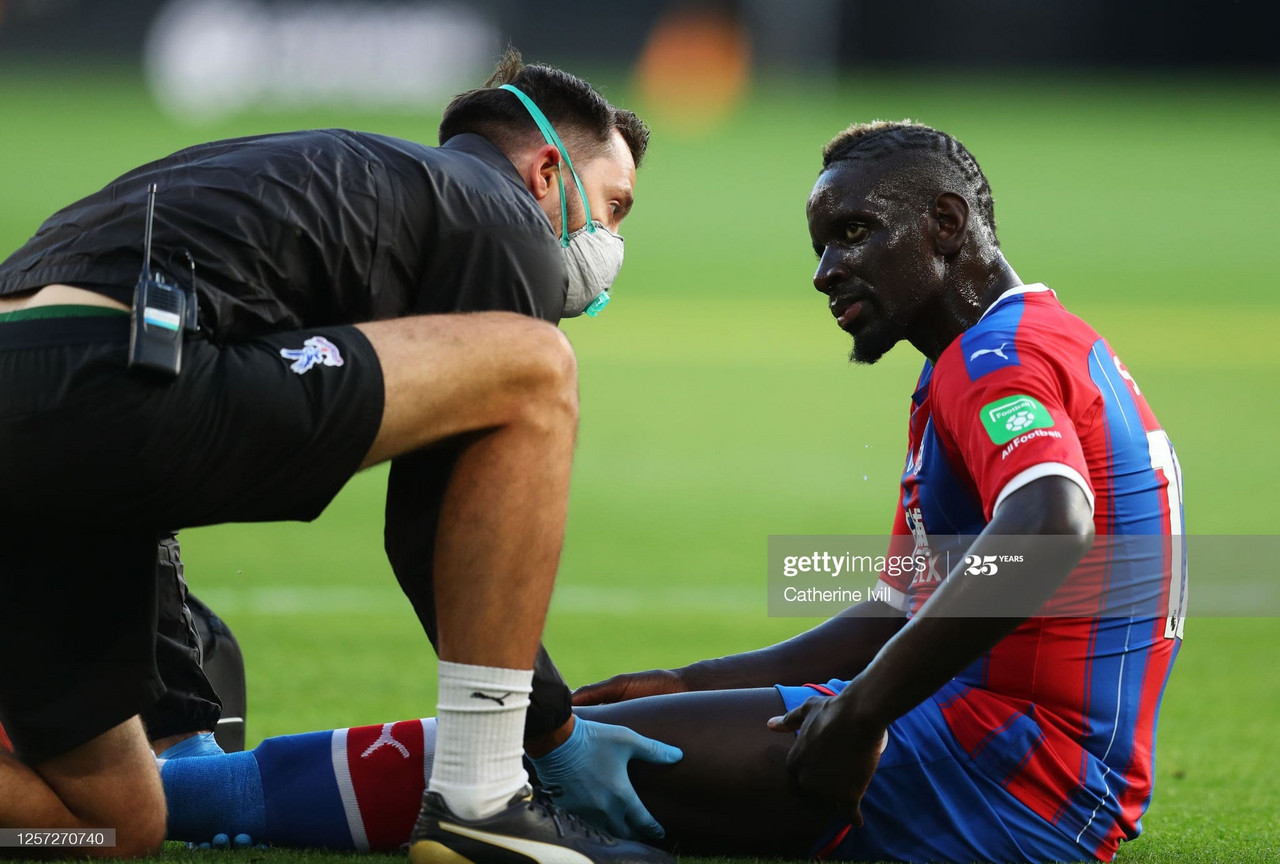 Mamadou Sakho joined on a permanent transfer from Liverpool for a reported £26milllion fee after a successful loan spell under then Crystal Palace boss, Sam Allardyce.
Sakho's infectious personality and sometimes frantic attitude to playing the game, such as the Cruyff turns inside his own penalty area and the heart-in-mouth moments when the centre back had the ball, quickly saw Sakho warm to the Palace faithful, and his loan spell would prove successful, with him playing a key role in keeping the Eagles in the top-flight.
However, the warning signs about Sakho's fitness were evident from the loan spell. Sakho only played eight out of a possible thirteen games of the loan due to a ligament injury picked up against Spurs, which would see Sakho miss the final four matches of the season.
Following the last game of the 2016/17 campaign, where Palace had secured their Premier League status after a 4-0 demolition of Hull City , cries of "Sakho, Sakho", "Sign him up" and "We want you to stay, we want you to stay, Mamadou Sakho we want you to stay" echoed around Selhurst Park as Sakho, on crutches, joined in on the traditional lap of the pitch.
On deadline day, Palace's hand was somewhat forced into signing Sakho following their atrocious start to life under Frank De Boer, where the Eagles' recorded four straight losses without scoring a single goal; De Boer would ultimately be sacked days after the window closed, with Roy Hodgson coming into to steer the club to safety.
Sakho's injury problems
Fast-forward three seasons to Monday evening against Wolves; for the first this season Mamadou Sakho was making his fifth consecutive appearance in a row, following another campaign which has been incredibly stop-start.
Sakho yet again cut a familiar dispirited figure, as, on the 23rd minute, the 30-year-old was forced to leave the Molineux pitch after picking up a hamstring injury.
Sakho's Palace career has been tormented by injuries. Since arriving in 2017, the former Paris Saint Germain captain has missed over a season's worth of football. He has only managed 14 appearances this season, 27 in 2018/19 and only 20 the season prior to that.
He has spent 43 games sidelined over three seasons due to different injuries. For a player who is one of Palace's highest earners to have missed over a whole campaign of football, he is no longer economically viable for the Eagles.
Sakho's inability to stay fit, as shown when Gary Cahill and Sakho started a string of games together in recent outings, has potentially hindered his relationship with new signings
Palace had boasted one of the best defences in the League prior to Lockdown and the suspension of football. However, in the three games this season when Cahill and Sakho have started alongside each other, despite being two of Palace's most decorated and accomplished players, they conceded an astonishing 11 goals between them.
Wage problem
Palace fork out a reported £100,000 a week to Sakho for his services, which equates to £5.2million a year and for a player who has only made 14 appearance this year, Sakho has been paid around £370,000 per appearance this season.
The centre-back, who last featured for the France National side in a friendly match against Uruguay in 2018, is no longer in the plans of Les Bleus boss, Didier Deschamps, with the World Cup winners having a plethora of elite centre back options at their disposal.
Sakho was seemingly surplus to requirements at Palace too not too long ago as the South Londoners are blessed with a wide selection of centre-backs at the club; Gary Cahill and James Tomkins have become the preferred choices at the back for the 72 year-old Hodgson, with Sakho's injuries making him the forgotten man.
Palace have an extortionate wage bill which has crippled their financial power for recent transfer windows. Around £72million a year is paid out in wages and the Eagles are making a conscious decision this season finally to move away from the type of Sakho and Christian Benteke signings which have caused the club to stagnate on the financial front.
The future of Sakho
Sakho is heading into the final year of his five-year deal at Selhurst Park, with an option for the club to extend his contract for another season available.
Despite being the youngest natural centre-back at the club, Palace could look to cash in on Sakho in an attempt to recoup some money and to invest it back into the side.
According to L'Équipe, Lyon have shown real interest in bringing Sakho back to his home country, however, Palace and Lyon are someway apart in their valuations of the ex-Liverpool man, with Lyon valuing Sakho at just under £5million.
Sakho's injuries really have hung a dark cloud over his Crystal Palace journey thus far. Despite being Palace's best ball player centre back and a leader that marshals the back four, patience is starting to wear thin with the Frenchman as one of the Eagles highest earners is unable to stay off the injury table.