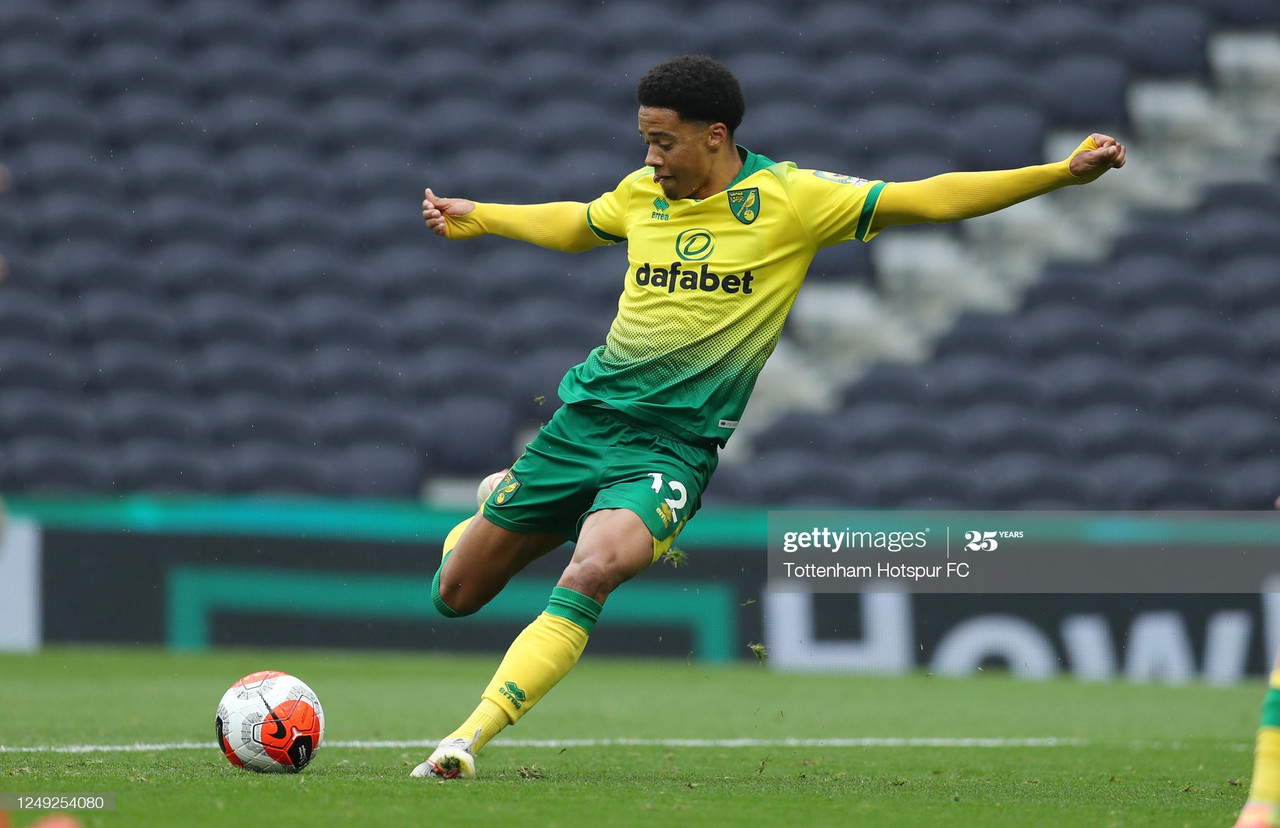 Just over a year ago, Jamal Lewis was part of the Norwich City starting XI which romped to a convincing 3-1 Premier League win against Newcastle United at Carrow Road, a victory which made convinced many City fans that their team would have what was needed to secure top-flight survival.
12 months on, the Canaries are preparing for yet another season in the Championship. But despite Norwich's dismal Premier League campaign, the academy players which regularly featured throughout the season, and in the 2018-19 Championship campaign where they first secured their first-team place, have still received their fair share of attention from possible top-flight suitors.
One of those is emerging left-back Lewis, who as reported by the BBC is set to move to Newcastle in a £15 million deal, which could rise to £20m with add-ons.
Whilst some Norwich fans may be reluctant to see their club let go of one of their homegrown success stories, the move represents smart business from the East Anglian club, and the capture of a very promising international player for those on Tyneside.
Transfer fee validates Norwich's business philosophy
In July, Norwich's Sporting Director Stuart Webber said, "[Previously] We had to sell players to survive and we don't need to do that now. We've got a young squad and a squad full of international players. We've got a recruitment department which covers players all over Europe and into South America now. This club will get the benefits of that.
"We had to sell just to keep the club afloat, now we don't ,and we've got all the weapons. It's a case of if somebody goes, it will be on our terms. It will be for a lot of money, but also, we have to respect what these players have done."
For a club of Norwich's size, selling any player for a fee of £15m is impressive. The club's record transfer fee is still only £8.5m. Instead, the club have acknowledged their limited buying power and have ploughed money into their Category 1 Academy, hoping to sell players on for a big profit.
If Lewis does move to St. James' Park, it will be the latest transfer of a growing list which justifies this shrewd approach. James Maddison was signed from Coventry City in 2016 for a reported fee of around £2m. Just two years later, he moved to Leicester City for a fee in the ballpark of £25m. Twins Josh and Jacob Murphy - both academy products - left for equal fees of around £10 million to Cardiff City and Newcastle respectively. At a time when the club was much less financially stable than what it is today, that money was vital in providing transfer funds for the club at the time.
The Norfolk club's hierarchy are clearly happy with the figure, whatever it ends up becoming - Liverpool's £10m offer was turned down in early August for not meeting Norwich's valuation, so Newcastle's offer must have been noteworthy. Furthermore, the signings of Sunderland's Bali Mumba and Villerreal's Xavi Quintilla mean that Norwich now have the squad depth to cover Lewis' departure, whilst also receiving a handsome fee.
Although some City fans may criticise the club for selling one of the silver linings of the last campaign, Norwich have always been a selling club. If they are to attract the quality needed to get back to the Premier League and stay there, transfer deals such as this should not be turned down.
Newcastle and Lewis offer mutual benefit
For Lewis - who is currently on international duty with Northern Ireland in the Nations League - this move represents a chance to continue his development in top-class facilities.
The Championship is a baptism of fire for any player, and Lewis has proven himself at that level before. But the chance to prove his top-flight potential at a club where he has a real chance of breaking into the starting XI is one that is too good to turn down.
For the Toon, the departure of Jetro Willems and Danny Rose following the conclusion of their respective loan deals leaves a gap that Steve Bruce will have been keen to fill. Whilst Lewis may not yet be the finished article, he represents a long-term investment in the Newcastle back line which, as has been well-publicised, is much needed.
Lewis would provide stern competition to possible future teammates Javier Manquillo and Achraf Lazaar, as well as gaining more Premier League experience.
For a young man who has shown great promise in the top-flight, and demonstrated he has what it takes to perform regularly in the relentless atmosphere of the second tier, the 22-year old is someone that Newcastle fans are well within their rights to be excited about. For the club he leaves behind, although a shame to lose a player of his potential, Lewis' departure gives Norwich great encouragement for the future of their player development, and the funds to sustain it.