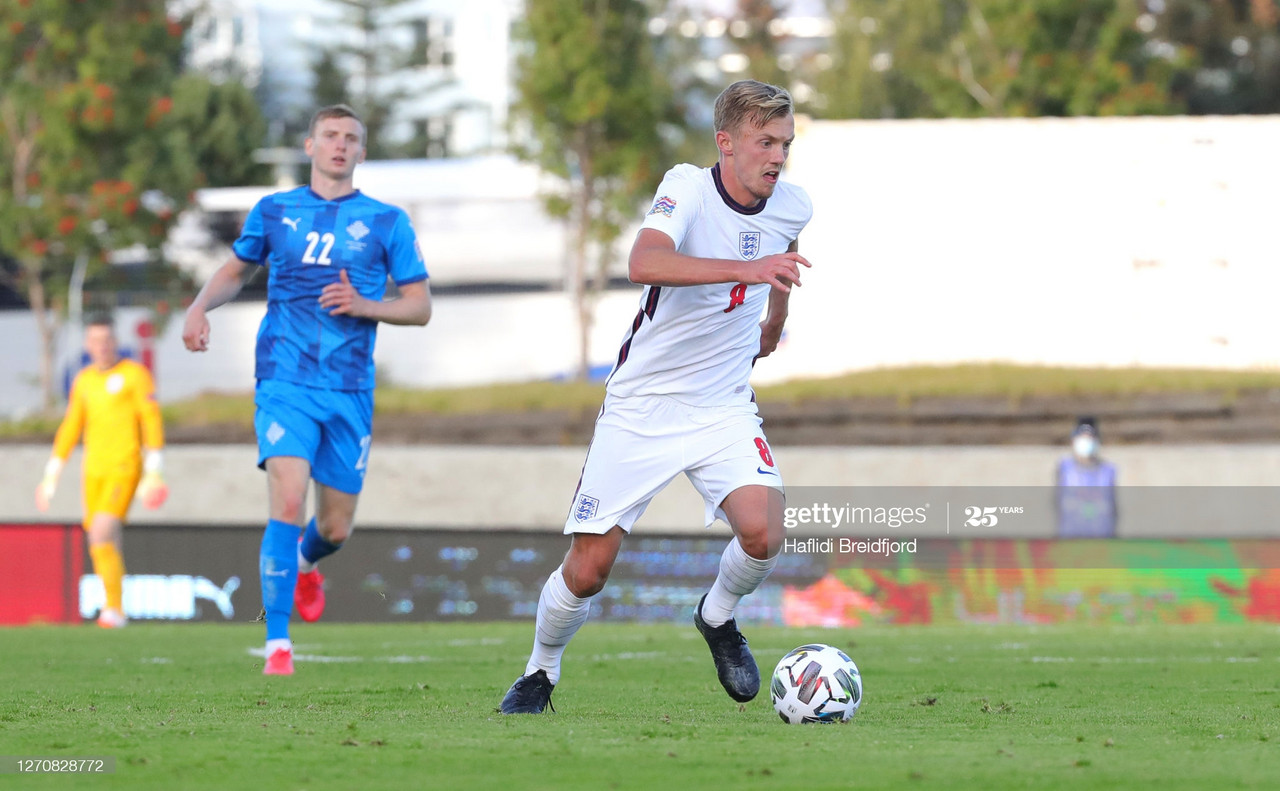 Less than a minute of injury time left and England's narrow victory over Iceland was in jeopardy, Joe Gomez conceded a penalty in the dying breaths of a lifeless affair - only three minutes after Raheem Sterling had tucked one away himself to give England a 1-0 lead.
It was at that moment James Ward-Prose, on his full England debut, found himself lurking on the penalty spot awaiting Birkir Bjarnason to test his luck in the UEFA Nations League Match in Reykjavik.
Speculation on social media quickly circulated that the Southampton captain had been attempting to damage the turf on the penalty spot, an accusation he denied speaking with Sky Sports.
The midfielder said: "It wasn't any digging of the spot, it was more just delaying the penalty. It was a bit of a mad few minutes for everybody."
Embracing the 'darker side'
While he denies claims of digging up the spot, the attempt to delay play is exactly the darker side of the game he says England needs to embrace, a nature absent in the Three Lions sides of recent years.
The 25-year-old added: "There's certain scenarios in a game you find yourself where you have to take yourself out of the situation and see what's best at that time. It's something that we certainly at club level have employed.
"We maybe had the reputation of being a bit too nice and we've had to show a bit more aggression and a bit of that darker side in order to help us win games. I think it's just something that I have learned along the way."
Lessons learned at club level
Ward-Prowse puts his aggression in the game down to lessons learned since Southampton boss Ralph Hasenhuttl took charge on the South Coast in December 2018, and since then has learnt how to adapt his game to better suit the Austrian's style.
Ward-Prowse continued "I think he showed me sides of my game which weren't suitable for his style of play and we had an honest conversation about him wanting to see me to be more aggressive and to be better against the ball."
There's no doubt it has paid dividends at club level having been left out of the Austrian's first squad to becoming club captain. And now on the international stage too, with it perhaps playing in the mind of Bjarnsson by building up the pressure, in the delay, as he missed his spot-kick to ensure England obtained what should have been an easy three points on paper.
Playing with that streak of aggression and how Hasenhuttl sets up his side is something the Southampton academy graduate clearly admires.
He added: "I love the way that he plays, I wanted to be part of that and I knew that I had to go away and work hard at it. That side of the game has definitely come into it.
"I think with Southampton generally people think 'you know, it's a nice club It's a family club' but I think we've done well recently in adding a different side to our game. I think we're enjoying being hard to play against."
England continue their Nations League campaign away in Copenhagen on Tuesday, against Denmark in which Ward-Prowse will be hoping to feature again, potentially alongside club compatriot Danny Ings.