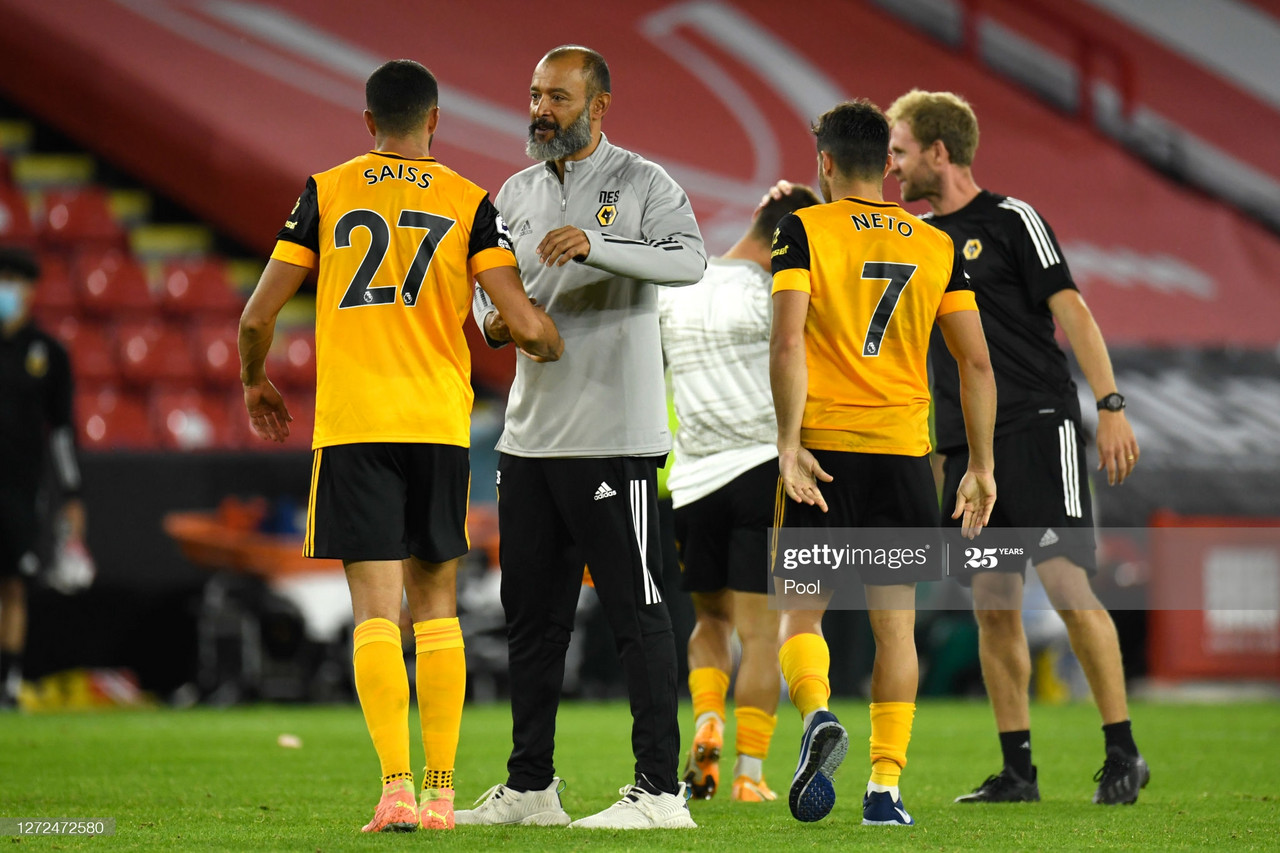 Nuno Espirito Santo's Wolverhampton Wanderers began the new Premier League season with three points after a comfortable 2-0 victory over Sheffield United on Monday evening.
Wolves had the game won within the opening six minutes. They took the lead through a brilliant finish from Raul Jimenez two minutes in and then Romain Saiss added the second with a powerful header that gave Blades goalkeeper Aaron Ramsdale no chance.
Here are some key quotes from the Wanderer's boss, courtesy of the official Wolves website:
On his sides two early goals
After a superb opening six minutes, Wolves burst into a 2-0 lead and left Sheffield United shellshocked. Espirito Santo was extremely happy with the beginning of the game and revealed what he said to his players ahead of the match.
He said: "We knew. It's clear that Sheffield United would start fast and the message was let's start faster than them. We saw our energy, what we have, and we dealt with it.
"The idea was clear to start fast. We were effective, the first two times we arrived at their box, we scored, and that makes a lot of difference."
On Wolves' hard work to stifle Sheffield United
Once the game was starting to even out, the Wanderers worked hard to maintain the lead and dominated proceedings. Chris Wilder's side struggled to get a touch of the ball at times and when chances came, Wolves coped well.
Espirito Santo spoke of his pride after what was a very professional performance. He said: "The hard work of the boys. It's the first official match we've had, and everyone was waiting for the response of the players and that's what pleased me most – the way they worked for the ball.
"Tough moments, here it's always hard. Sheffield United are a fantastic team, they nailed us in the box, created a lot of problems, but we stayed in the game, so I'm happy for it."
On opening goalscorer Raul Jimenez
Wolves' top scorer Jimenez opened his 2020/21 account with an impressive finish inside two minutes. The Mexican scored 17 goals in the Premier League last season and added another 10 in Europe. He will be keen to try and replicate that scoring form once again this campaign.
Nuno gave his thoughts on Jimenez's performance and gave credit to the rest of his squad.
"He played good. We know Raul, besides his talent, the way he works for the team is amazing," Espirito Santo said. "He gives lines of pass, is always fighting and, with a limited pre-season, he prepared himself very well during training sessions.
"We were fortunate to have Daniel and Raul together and that allowed us to create some complexities, facing this match. The credit, you know me, is for everybody. Everyone worked hard. Of course, individuals sometimes make a difference. Raul made the difference because of his talent."
On his players' quick return from a short pre-season
Only seven weeks after the previous season ended, Premier League teams have returned to competitive football. This gave clubs a very limited time of to play friendlies and return to full match fitness. Espirito Santo praised his squad's ability to regain their fitness so quickly and to perform so well in their first game back.
He said: "[It's credit] to the players because they are the ones that prepared themselves well. Those that stayed here during the holidays, with a responsibility to stay fit, and some with the national teams, then presented and worked hard today. We played very good."
On possible incomings
Despite bringing in Marcal, Fabio Silva, and Vitinha, Wolves still need to improve their depth after selling Matt Doherty and with Jonny still out injured.
After the game, Espirito Santo outlined his plans for the remainder of the window and revealed whether he will be looking to buy any more players.
The Wanderers boss said: "We're still working. The squad is not complete yet, we need to balance better the squad and we will do. As a club we are working, because until the transfer market isn't open, anything can happen."