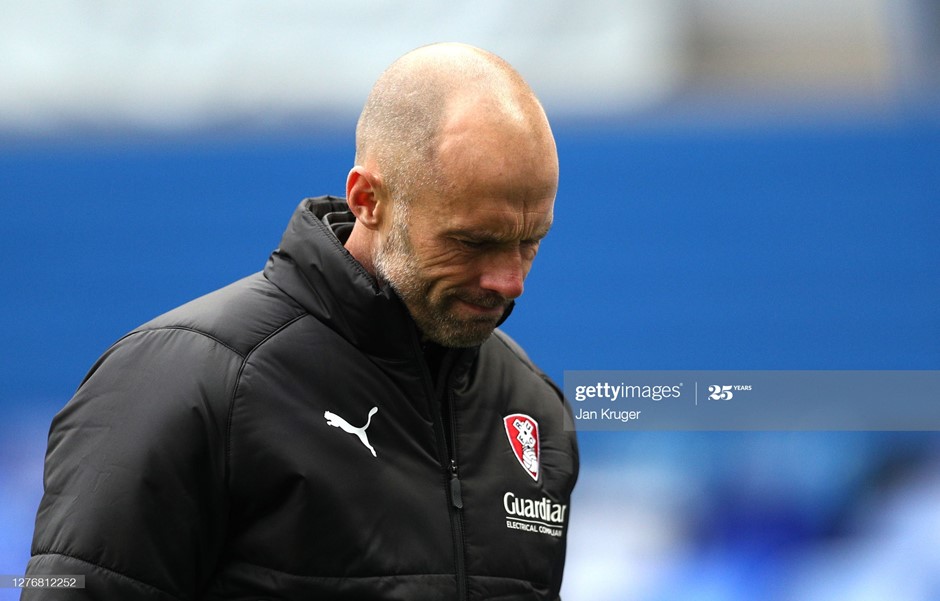 Rotherham United fell to a second consecutive 1-0 defeat on Wednesday night, losing to Luton Town at the New York Stadium.
They dominated the first half but failed to take their chances and were outplayed in the second, leaving manager Paul Warne somewhat frustrated.
On the performance
Warne recognised that it was very much a game of two halves, summarising: "The short version is I thought we were really good first half. We didn't create enough clear-cut chances but I thought we dominated the play really.
"To be fair to Luton every time we broke they fouled, so we had loads of attempts into their box but our set pieces weren't great tonight, I wasn't best pleased with them. So the first-half performance was good; the second half wasn't.
"I didn't think we were anything like in our previous game," he said looking back on another single-goal defeat, at Stoke City having been on top for much of the game.
"Whether that's a fatigue thing (I don't know), we didn't make loads of changes so maybe that's on me. Nath (Jones, Luton manager) made six changes and obviously because he wins, and I'm not trying to be disingenuous, that looks like it's the right decision.
"I think we had a 10- or 15-minute spell in the second half where Luton thoroughly deserved their goal. They were on top and we just couldn't handle them. I thought they outplayed us."
On the lack of response
Having gone behind with 20 minutes still on the clock, Rotherham struggled to find the reserves to mount a serious response.
"I don't want to sit here and slaughter my lads, and it's not my job to, but I just didn't think we had a response," said Warne. "Whether there just wasn't a physical response, whether the lads had given everything over the last few weeks and it's just a step too far. That's on me, not on them.
"Normally if we go a goal down I always fancy us to get back in it, and in fairness the teams that we've took goal-leads up against have always come back at us, but we didn't change the way we were playing, we still played the same way until the end, and we just didn't have enough in the final third tonight, whether it was the delivery of the final ball, the run or anything.
"I was disappointed, but I think a lot of it is down to the physicality, so we definitely need to freshen the team up."
On strikers
Michael Smith was handed a third league start of the season up front, in place of Freddie Ladapo, but failed to test goalkeeper Simon Sluga sufficiently with four good chances that came his way.
Warne insisted it was the responsibility of the whole team to produce goals, with this being a second blank in a row for Rotherham, who have only scored more than one goal on one occasion this season.
"Obviously you want your strikers to score but in fairness they need to have chances," said the Millers boss. "I think Smudge had a couple of headed opportunities tonight, but it's the job of the whole team to score, as it is the responsibility of the whole team to defend.
"We need to score more goals, but that's throughout the team. I've changed the strikers and no one has played every game, so it's a bit harsh on the strikers, but if you play up front there is a pressure to be a goal threat.
"We definitely need to score more goals, that is fact. If I had two strikers who were on six or seven we'd be sitting in a much better position. But we do need to take more chances, that is for sure."
On injuries
Their rotten luck with injuries continued in the Luton defeat, with left-back Joe Mattock forced off after just a few minutes with a hamstring injury which will rule him out until the international break.
An even bigger blow is the loss of midfielder Shaun MacDonald, who will be out until at least the new year with a broken leg suffered in the previous game at Stoke, although at least it doesn't require an operation.
Warne confirmed the diagnosis, saying: "His tib and fib smashed against each other when he landed at Stoke and they're fractured, so we won't see him before January.
"It'll be in a pot for four weeks and then as long as it's healed, he starts his rehab. It's a big blow for him and big blow for us, because Shaun was in really good form.
"We were trying to not play him every game because we're aware of the demands, especially on the older chassis. It's disappointing. He thought that he could play on Saturday as well, so it shows what sort of player he is.
"It's a big blow, and blow for him because he loves playing football and does everything right. He's just been really unfortunate."
Right-back Billy Jones has been absent from the squad for the past couple of games and Warne explained he had a knee problem which would rule him out for two or three weeks, joining Chiedozie Ogbene and Clark Robertson on an expanding injury list.
On needing a break
Between those injuries and the general fatigue setting in among Rotherham's small squad during this challenging run of fixtures, Warne could be forgiven for looking forward to the international break after this weekend's game against Preston North End.
"I think all teams feel like that," he said. "Speaking to Nath it's the same with him, it feels incessant. We'll be back in the training ground in about nine hours, and then trying to prepare for the Preston game.
"It's the physical output obviously, but it's also the psychological one. You're constantly recovering, preparing, recovering, preparing.
"It would be nice to get a positive result and a better performance on Saturday, and then it gives you two weeks to rest a few and put new things into them. It's been difficult for all the coaches to coach your players; you just don't have them on the grass because they're recovering all the time. It will be nice to get through to this weekend and then breathe really."