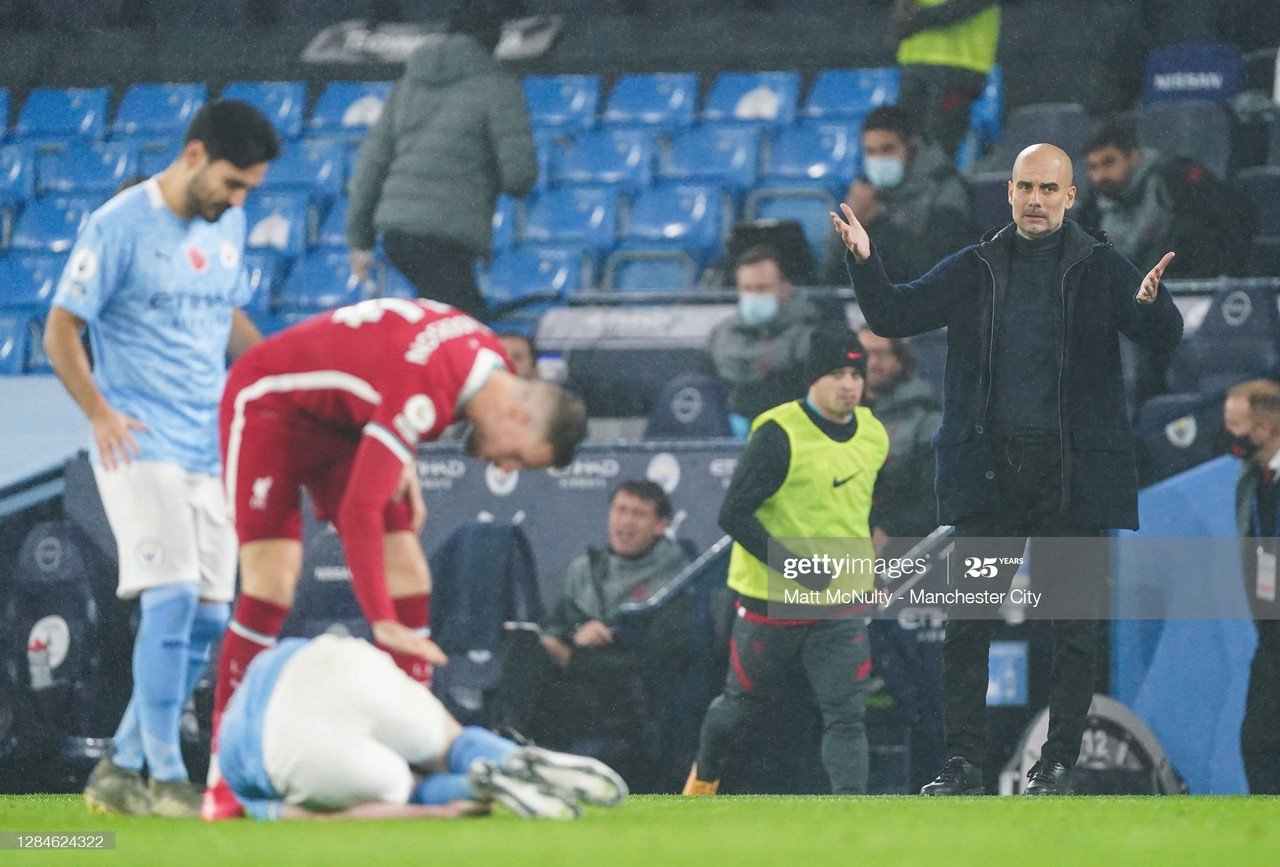 Jesus back in business:
It was a successful night for Gabriel Jesus as City's injury worries became a little less severe with them being able to give the Brazilian his first Premier League start since the first game of the season.
With Sergio Aguero ruled out once again it has been Fernan Torres filling in for the two prolific frontmen in the number 9 position. Despite Torres doing a decent job leading the line on several occasions it was a relief to see Jesus back up and running.
In typical Jesus style he marked his first start since the opening day win against Wolves, with a goal and what a goal it was. With pundits comparing his goal to the Dennis Bergkamp goal against Newcastle back in 2002 it was a great way to reinstate his place in the side. This will settle the nerves of many Blues fans seeing Jesus come back with a bang, due to the unfortunate luck they've had so far this season with both Gabriel Jesus and Sergio Aguero.
City off the boil:
There where many positives to take away from yesterdays game for both sides but for City there was also moments of noticeable sloppiness. Despite Kyle Walker being in fine form so far this season it was his lack naivete that led to the Liverpool penalty as he recklessly brought down Sadio Mane. With City being awarded a penalty after a controversial VAR decision going against Joe Gomez this gave Kevin De Bruyne the chance to equalise from the spot, a chance he didn't take.
This was only the Belgians second penalty miss in his entire career but it was a huge miss in the grand scheme of things. With City losing and drawing at home in the league already they now sit tenth a position that Guardiola himself will not be happy with. The fixture congestion in the UEFA Champions League will not have helped, especially with the amount of injuries the Citizens have had to overcome but with Gabriel Jesus back fit it will be a big next few months for the Blues as they will try and climb the table.
Getting the right balance:
With Manchester City's worst start to a season under Pep Guardiola down to a number of things, injuries and fixture congestion being the two main factors Guardiola has got to seriously consider his priorities moving forward. Will he put all his eggs in one basket and focus on trying to win the Champions League? Or will he go for his third title in his fifth season in Manchester?
With players on their way back from injury this will be a key time for Guardiola to show what his team can do on the domestic and European stage. With City only playing one of 'the big six' between now and Christmas it will be a perfect time for Pep's men to establish a form of consistency and climb back up the table.