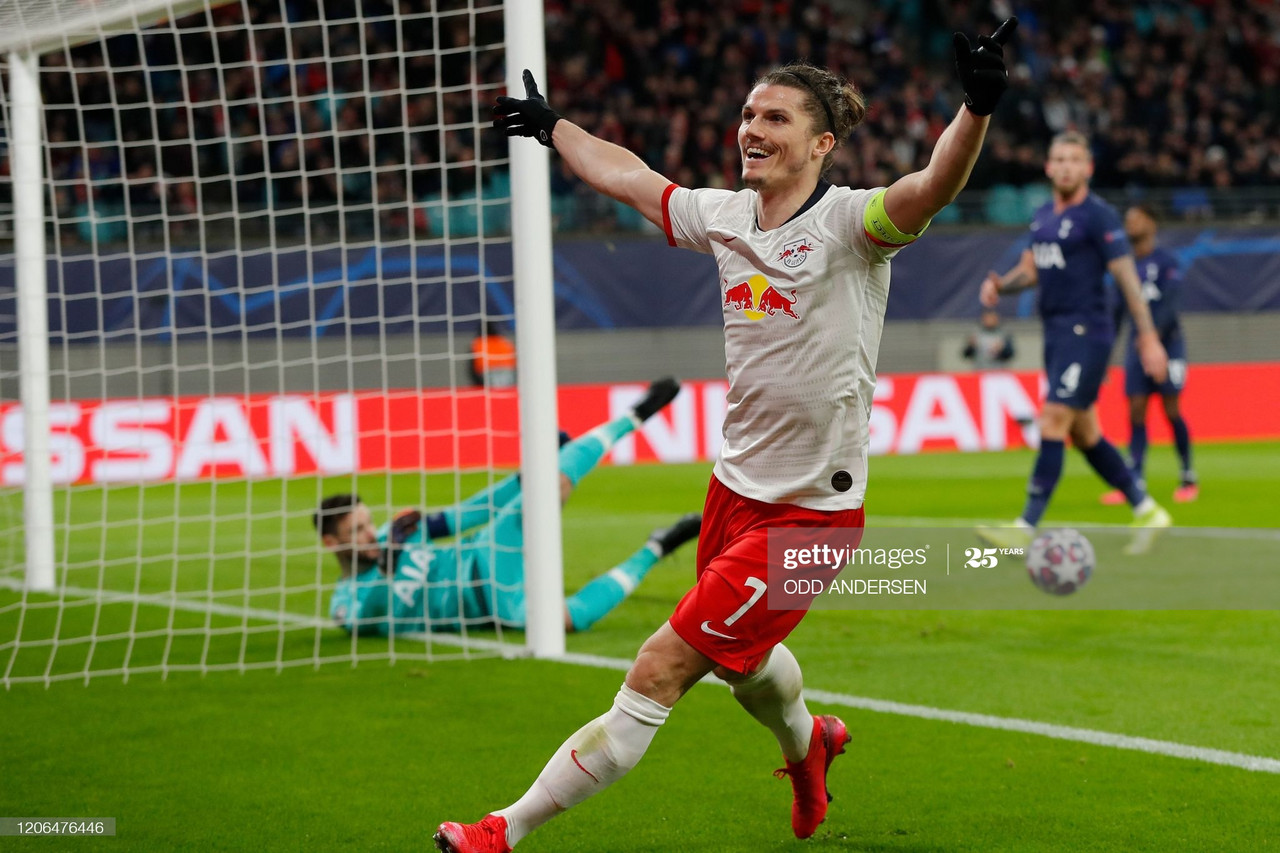 Tottenham Hotspur are interested in signing RB Leipzig midfielder Marcel Sabitzer, according to Fabrizio Romano.
The 26-year-old's contract runs out in 2022, reportedly meaning he would be available for around £30 million.
Jose Mourinho's new-look side have already seen seven new signings come in during the summer window, but it appears the incomings are not over yet.
The Austrian international has impressed with his dual ability to create and score during his time in the Bundesliga. Sabitzer achieved 26 goals and assists last season.
He has become a key competent in Julian Naglesmann's well-worked machine, and Spurs came to know his talent all too well last season.
Sabitzer grabbed a first-half brace to effectively knock Mourinho's side out of the Champions League in March.
Mourinho is already blessed with attacking assets but prizing Sabitzer away from Germany could become a big priority in the upcoming transfer window.
Sabitzer first stamped his name onto the football map for Rapid Wein in the Austrian Bundesliga.
After one season, he was quickly snapped up by Leipzig but was loaned back to Austria, but instead in the hands of partners RB Salzburg.
He scored 16 goals while being deployed in midfield – which was more than enough to eventually earn him a place in the Leipzig 2015/2016 side that grabbed promoted to the Bundesliga.
Leipzig have never looked back, and neither has the versatile midfielder. Slowly but surely, season by season, he has evolved into a brilliant midfielder – charging Leipzig to multiple title chases and Champions League finishes.
He has made a name for his versatility. Sabitzer is comfortable playing in a 6, 8, or a ten, and has also been shifted out onto the right midfield.
His returns have been constantly impressive, often chipping in with goals and assists. The work rate to keep Nagelsmann's complex system in tune has also been magnificent. He covered 320.1KM last season.
The Austrian played a huge part in Leipzig's Champions League run last season, where they glided past Spurs in the last 16 and eventually got to the semi-final.
He has also made a big impression on the international stage, making 44 appearances for Autsria and winning the 2017 Austrian player of the year.
The 26-year-old's stock is now very high.
DOES THE SIGNING MAKE SENSE?
Yes, and no.
Spurs' strength in attack and midfield is well documented, but there is no denying the issues in defence that need addressing, specifically centre-back.
Milan Skirniar was very close to signing in the summer window, but the deal never went through.
Would it make sense to save the money possibly spent on Sabitzer, to fund the position that is generally in dire need of an upgrade?
But this being said, Sabitzer is the perfect Mourinho player. Works hard, has great decision making on the counter-attack, and is very versatile. The different options it would give Spurs in midfield might be too good of a prospect for them not to pursue.
With Giovani Lo Celso or Tanguy Ndombele acting as the creative sources from midfield, the 26-year-old could possibly be alternate to Moussa Sissoko or Harry Winks instead. The 26-year-old has proven he can take on these roles.
It's a very exciting prospect and this transfer is defiantly one to watch.