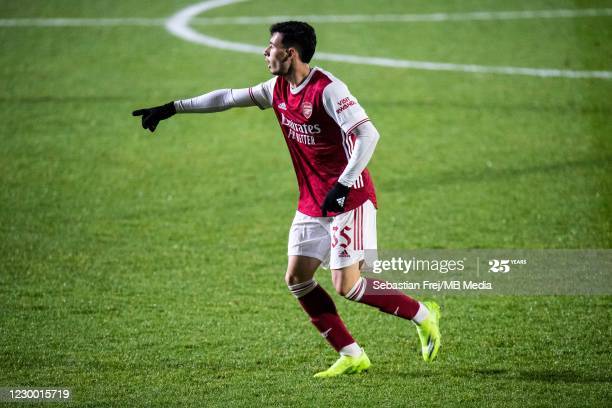 Many would struggle to believe Arsenal fans would be counting down the days for a 19 year-old to be fit as early as December in a league season.
But the reality is, The Gunners have made an incredibly poor start to the season and have missed the enigmatic Gabriel Martinelli as they have slumped to 3 successive home defeats and a humiliation at Tottenham Hotspur.
With a body language and energy that resembles some of the great South American footballers the Premier League has seen such as Luis Suarez and Alexis Sanchez.
The never-say-die attitude that helped drag Arsenal back into games on numerous occasions last season such as Chelsea and West Ham away - Martinelli can change a game with his willingness to chase every lost ball.
Featuring last night for the first time since July in an Under-23's game for Arsenal against AFC Wimbledon, it served as a symbol of hope for the hopeless Gunners fans at the moment.
Disappointing attacking options
The inability of the team at the moment to score goals with the underperforming captain Pierre-Emerick Aubameyang - the return of 'Gabby' will be welcomed sigh of relief for Aubameyang as the weight is somewhat lifted off his shoulders as the sole goalscorer in the team.
With Alexandre Lacazette's faltering form as of late as he is reverted to someone who resembles a number 10 rather than the traditional goalscoring number 9 Arsenal fans had been told he was.
And Eddie Nketiah scoring just the one league goal so far this season, the fit Martinelli will give Arsenal manager Mikel Arteta much needed options for his front three.
Where will he play?
Martinelli, who has played as a left-winger and as a centre-forward whilst at Arsenal, could either enable a return to the left for Arsenal captain Aubameyang where he has had much success for The Gunners.
Or it could solve the left-wing problem. Personally, and something that resonates throughout the fanbase; many believe Bukayo Saka is better on the right than the left.
Many would debate whether he is a winger at all - arguing he is best on the left of a midfield three. So the young Brazilian gives Arteta the opportunity to play a more natural left-sided winger.
Moreover, the two youngsters; Saka and Martinelli have a very strong connection between themselves and it would be exciting to see them rekindle their friendship on the pitch.
With how long and how many different options he has tried this season before Aubameyang was played at number 9 in the middle of the front three; many believe Arteta will play Martinelli at number nine.
By all accounts, this is where his future lies. But the ability of 'Auba' and Gabby being able to play both positions to a high level will give the Arsenal side more fluidity as it looks to attack and confuse opposition players.
As Arsenal struggle to create chances with joint lowest chance creation in the league and only having scored more goals than the bottom three - Martinelli can chip in with some goals.
Too much pressure on young shoulders
To end this piece; Arsenal fans should try to curb their excitement of the return of Martinelli. Undoubtedly a talented young player who will have a big future for the North London side.
But, regarding his rehabilitation. The injury he sustained to his left knee was a serious one and having been out for so long he is bound to be rusty - fans should hesitate to pile on so much pressure.
There is talks of Martinelli 'saving The Gunners season' and completely turning their fortunes around. Although he certainly holds the ability to do so - we should be content with him being rusty for the first few weeks/months.
However, this is not to say we should not be excited. Gabby is one of the most exciting youngsters in Europe and it will be exhilarating to see him back in the fold at the Emirates.