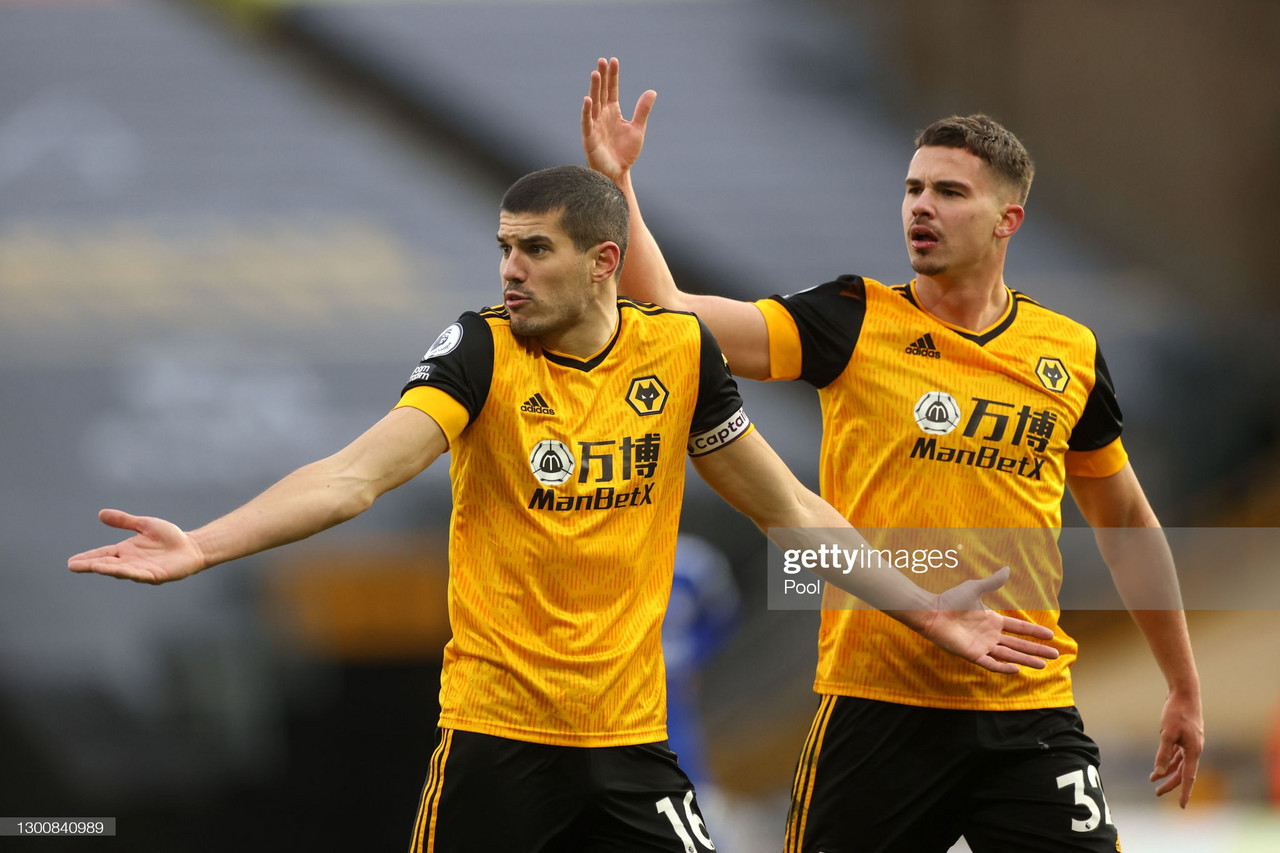 Wolverhampton Wanderers and Leicester City met at Molineux on Sunday afternoon, in a game that had everything but a goal.
Both teams went close in the game with Leicester having the better of the first half and Wolves just edging the second.
The game finished 0-0 but it could have gone either way.
Nuno Espirito Santo spoke to the media to discuss Jonny's return, the result and Fabio Silva's chance.
• On the Jonny's return:
Jonny made his long-awaited return from injury having not made an appearance so far this season, he was taken off at half time but Nuno said this was always the plan.
Nuno said, "We have a lot of players out, Jonny gave us a big hand, he's come in from injury, but trying to be compact.
"It was something that was decided already. It was decided by him, by us, by the medical staff, by the doctor that operated on him."
"With him returning, we have to be very careful. The decision was made before the game started. It was a decision based on our future, how we have to preserve a player like Jonny."
"[Injuries to Podence and Boly] It's a big blow because we are trying to recover players and then we lose some more. It's been a hard season for us, but we will keep on fighting."
• On Silva's chance:
Silva, who signed From FC Porto in the summer for a reported £35 million, has been deputising for the injured Wolves, striking talisman Raúl Jiménez, who has been out since November with a fractured skull.
Silva had a quilt edged chance in the second half that could have won the game for the team from the Black Country.
Nuno had this to say, "We had good chances. In the end, clear ones, but it will come. I'm proud of the way the boys faced the challenge of facing a very good team in possession and realising that they have to pass and go."
"Fabio has to do better. He [Schmeichel] did a great save, it was a fantastic save, but he has to do better."
"He will score these kinds of situations in the future because this is his talent and this is what he's good at. He's young, he's very talented, but that moment requires a better finish."
"He's very good at many aspects of the game, but this clinical touch, he must improve it, and we will work on that."
• On the result:
Wolves were coming off the back of their first home win in eight and Leicester had just beaten Fulham 2-0 and were looking to solidify their place in the top four.
Nuno said, "It was a good performance. It was a tough game against a very good team, but we played good. Both teams were organised, Leicester had chances, we also had good chances, but it was a tough game for us."
"Leicester is a very good team in possession of the ball but we were able to be organised, close the pockets and close the lines, and we had good spells in possession, good chances to score, so there are positives to take from the game."
"Sometimes it's about what your opponent allows you to do. In the second-half, we were on the front foot for many spells of the game, Leicester was a more dangerous team after Vardy came on with the counter-attacks, so I think this balance was important."
• On the clean sheet:
Wolves now have two clean sheets in their last three and the four at the back system that they have started using is starting to take shape, they just need to start converting their chances at the other end.
Nuno will be hoping that Silva and José can convert their chances in the coming games.
Espirito Santo said, "It pleasing, but at the same time, we must find that balance to go and attack the way we did it and then produce these good moments with young players that we put in the pitch who we want to grow and improve.
"We committed to the game. Leicester is a very good team in possession of the ball and if you open space and pockets, then you are in danger. But we were able to close them, to recover and not allow Leicester to stop our game, so there were positives."
• On how they showed character:
Wolves had been struggling to show character before this recent run of good form. Since their win against Chorley, Wolves have been on the up and will hope their form will only get better.
Nuno said this about their character, "This is what it's all about. This is not a positive, this is an obligation. We have to fight. Never surrender. I must see it every day, not only in the games. Tomorrow we have a training session and the commitment must be the same because it's the only way to improve."
"The most impressive thing was before the game. We realise that what's happening to us and the circumstances that we face, the moment that we are in and the spirit that we have to try to do better."
"It was about the moment that we had, the circumstances that happened before, the outcoming and recovering players, the stabilising of the team, so we are again finding a good way and will grow."