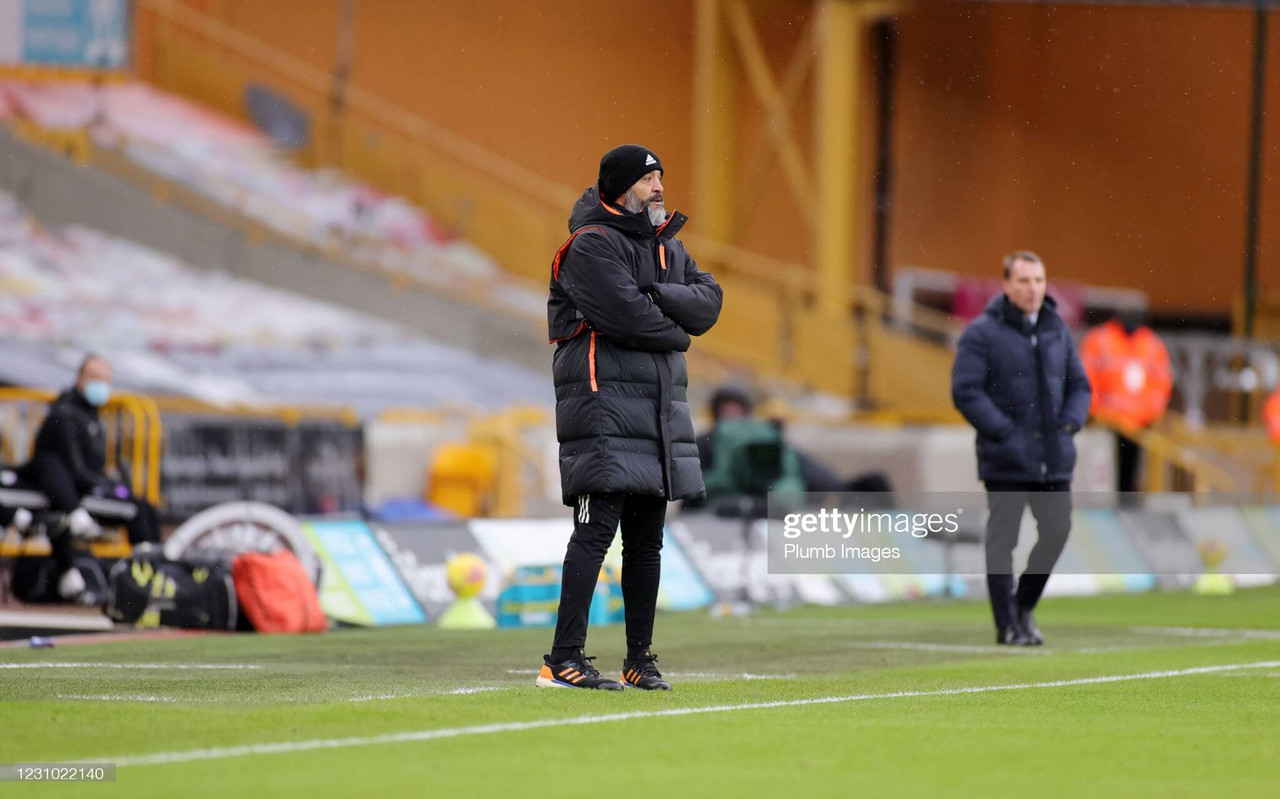 Wolverhampton Wanderers will look to progress to the FA Cup quarter-finals for the second time in three years as they host Southampton on Thursday.
Nuno Espirito Santo's side will try to build on an impressive performance as they drew 0-0 with Leicester on Sunday, a game in which they had the better of the chances.
Southampton are on a five-game losing league run, but defeated Arsenal in the FA Cup fourth round to set up a trip to Molineux.
Nuno spoke to wolves.co.uk to preview Thursday's game, although discussion was dominated by news of Jonny Castro Otto's new contract.
Wolves received two welcome boosts this week regarding left-wing back Jonny, who returned from a six-month absence. Nuno reaffirmed his importance to the side in his press conference.
"He's a very important player because he has all the routines of the team, he's very competitive, and he's very talented, so when you have a played with such quality out, you of course miss him. He brings this side of his game, all the talent that he has, the way he defends, so he's huge for us.
"At the same time, we still have to be really careful on his return, so he has progressive time on the pitch, so we can get the best out of him. We have to be really careful on our decisions, but we are acting as planned, so he's feeling good and we'll decide."
Jonny completed a near-perfect week on Wednesday as the club announced he had signed a new contract, which will run to 2025. Nuno said he was pleased that one of his key players had committed himself to the club.
"It was very important and we are very pleased. I think it was done even before he returned and in the game everybody saw how important he is for us in the concept of our team. We are delighted he put pen to paper on a new contract."
With Wolves suffering large amounts of injuries for the first time in Nuno's tenure, players' recovery has been put in the spotlight. Nuno said it was up to the medical staff to decide when a player is ready, and that players need to understand that.
"They must understand because that's why the decision makers are here, the doctors and people that really understand. We cannot increase the risk on the situations and the player must be comfortable with the decisions, so we can move forward together.
"It's not about pushing, it's about growing until we fully understand he's totally fit, we have to be very careful. The players understand because we are talking about not only their present, but their future, so they should understand. In the case of Jonny, he truly does."
"The player himself has access to all the data, so he can compare himself, what he does in the training sessions, what he did previously before the injury, how many games he played, the intensity, the high running, the load, they help themselves, they have access to all this data. So, everybody together is when we decide."
Despite Jonny's return, Nuno is still struggling with a number of absentees ahead of Thursday's game. He did, however, bring good news with regards to another of Wolves' left-wing backs, as Rayan Ait-Nouri will return to face the Saints.
"They [Boly and Podence] are improving, doing treatment, but they are not available for these two games against Southampton – definitely not an option for us. We expect them to get better and gradually return, but I cannot give exact time schedules on that."
"[Marcal and Ait-Nouri] are getting better. Rayan [Ait-Nouri] is available to join the squad tomorrow, Marcal not yet."
On injuries in the bubble
With Premier League clubs having to observe strict COVID guidelines, many clubs are having to make sacrifices to keep everything secure. However, Nuno confirmed that injured Wolves players would remain in the first-team bubble, saying that anything else would be a 'mental mistake'.
"The protocols are very tricky and some things are really difficult to overcome. The players are being really patient with the situation, cooperative, trying to follow, but at the same time we have a team to prepare, we have things to do.
"It's always our decision that when a player is injured, even if it's long-term, they always stay with us, to have them around and at the same time allow them to have a safe environment that we can socialise and be together – it's fundamental for the recovery of the player. It would be a huge mental mistake to isolate, so I wouldn't do it."