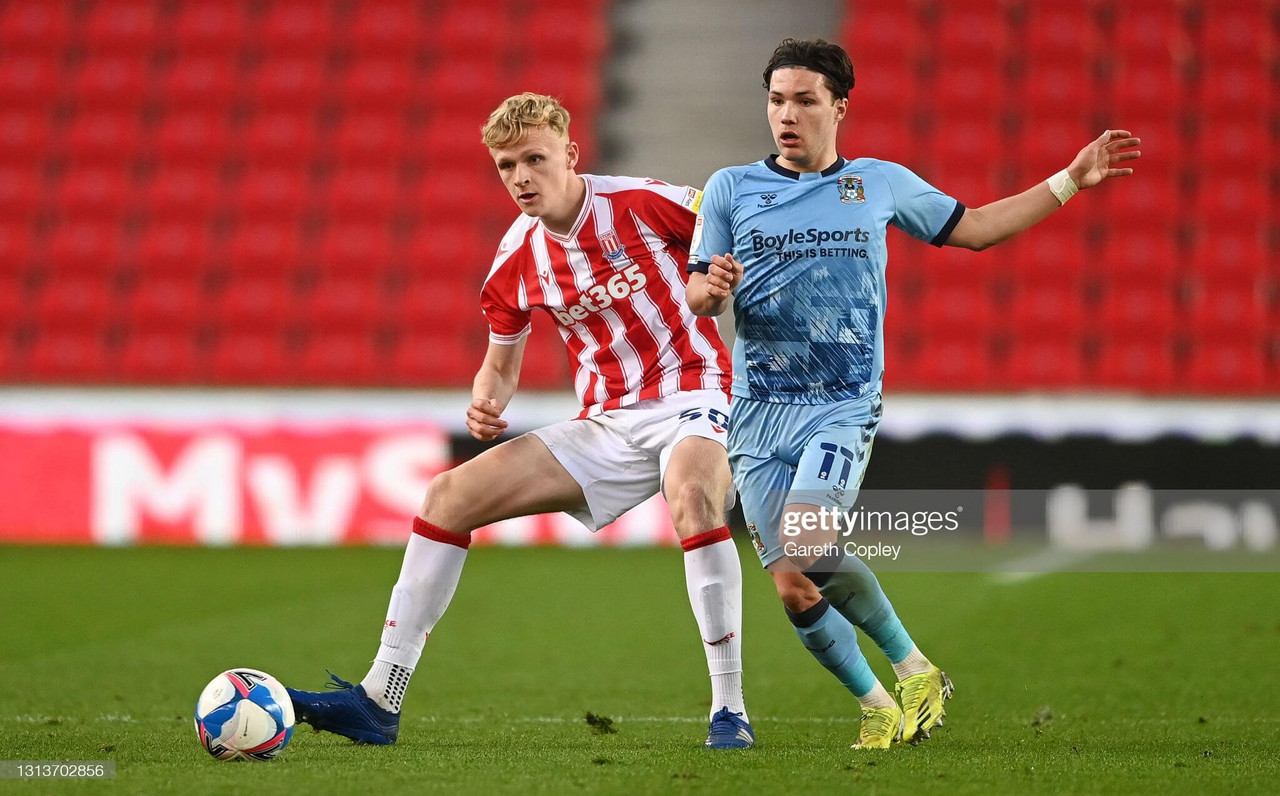 It was a disappointing evening for Stoke City yesterday at the Bet365 Stadium as they extended their winless run to four games after suffering a 3-2 loss against Coventry City.
However, it will have been a proud night for young defender Connor Taylor who made his first-team debut after coming on to replace the injured James Chester early in the first period.
The 19-year-old had made the step up from the academy and with Nathan Collins remaining out with a fractured foot and Liam Lindsay being out on loan at Preston North End, in recent matches, Taylor has been utilised as a substitute.
Although, following the suspension of Harry Souttar, who received a straight red card late on at the weekend along with the injury of Chester yesterday, Taylor was forced to be to brought on alongside the experienced Danny Batth and usual left-back Rhys Norrington-Davies in the back three.
"Probably not ready to play"
After the defeat to the Sky Blues, Stoke manager Michael O'Neill did admit that it was not exactly ideal to be forced to bring the youngster in and that he is not ready to feature at this level just yet.
"Well, it means that we have to bring in a very inexperienced, young player into the action very early when he is probably not ready to play if we are honest," he said.
"He has only just come into the first team in the last two or three weeks because of the injury situation at the club and then we have got a young back three, either side of Danny.
"So, it is a lot of responsibility on Danny [Batth], where he is playing with an 18-year-old, a 20-year-old on the other side of him with Rhys [Norrington-Davies] who is a left-back, but who I thought did very well at left centre back on Saturday and tonight as well.
"So, it just makes you a little bit more inexperienced in key areas."
"Needs a loan"
Despite acknowledging that the academy graduate did do good things in the game, O'Neill said that Taylor may need to go out on loan to gain more match experience, he said:
"It is never easy coming in and playing, particularly as a defender I think it is more difficult to come on and he was thrown in very quickly.
"I thought he did a lot of good very things in the game and he just needs to look at in particular possibly the first goal, he gives himself up a little bit easy. Young players make those type of decisions and he will learn from that.
"Connor is a young player that probably needs a loan. I think he probably will have to go the route that Harry Souttar went before he comes and really challenges."
The former Northern Ireland boss added: "He is very young, he is only 19 years of age, so very young for a centre back and particularly to be playing in this league.
"But he has made his debut tonight and he has just got to build on that."
"Real positive"
When speaking on an academy player making the step up to the first team, O'Neill said that it will be a proud moment for the academy to see a homegrown player earn minutes for his side.
"There is a lot of investment that has gone into the academy over the years.
"Like all academies, sometimes it is hard to quantify that because it is very difficult to bring players through, particularly when the club was in the Premier League, it was virtually impossible.
"But for Connor as a Stoke boy to come through and play, that is a real positive.
O'Neill continued: "The other players that have come through via the academy are players that we have acquired rather than developed from a really young age.
"So we have got to be mindful of that and it is nice for the academy to see a homegrown player get on to the pitch."