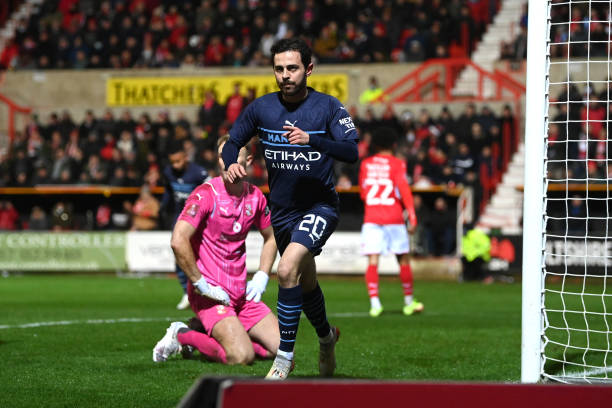 Swindon Town were swept aside in the third round of the FA Cup as Manchester City eased through with four simple goals.
Swindon managed to get one back but it was too little too late.
Despite a Covid-19 outbreak in the Man City squad, the Premier League side assembled a very strong Starting XI to fight off FA Cup hopefuls Swindon.
The City bench was full of academy players, hoping for a chance to impress.
Story of the match
Bernardo Silva had the first chance of the game with Swindon putting on the early pressure.
Smart build-up play found Joao Cancelo in the box, who squared a pass to the Portuguese man but he could only fire over. It was only a matter of time until Man City took the lead, however.
Cole Palmer's trickery earned him an inch of space to fire a ball across, with Bernardo tapping home for City's inevitable lead after 14 minutes.
Bernardo could have had a hat-trick after 20 minutes, with two chances blasted into the car park. Swindon were clinging on.
Lewis Ward was being given plenty of work to do in between the Swindon sticks, the latest getting his body behind a Kevin De Bruyne shot.
Speaking of shot, Swindon shot themselves in the foot as City doubled their lead.
Swindon looked worried when playing out from the back and this time, they were punished.
Gabriel Jesus was slipped in by De Bruyne before slotting the ball away for his sixth goal of the season.
Zack Steffen almost gifted a goal to the in-form Harry McKirdy, who had recently powered home four times against Northampton Town midweek.
McKirdy's chip, after Steffen struck the ball at him, almost evaded the keeper but the American got back just in time to recover.
Ilkay Gundogan stripped away any hopes that Swindon still held with a fantastic free-kick.
The German, and captain for the night, caught the keeper out at his near post and punished the poor positioning of the Swindon wall. Game, set, match?
Jesus could have answered that question from the penalty spot but Ward denied the Brazilian for his second of the night.
McKirdy's strike with 15 minutes left to play finally gave Swindon something to cheer about. A breakaway attack meant the home side finally pegged City back. Jubilation.
That joy was not to last long, however. Palmer was at the centre of attention once again with a sublime finish from a tight angle.
Ward was by far Swindon's Man of the Match on the night, and he showed his brilliance again, pushing a Rodri thunderbolt onto the bar.
The FA Cup is full of magic. But Friday night was not meant to be for Swindon Town as Manchester City's quality was just too much for the League Two side to handle.