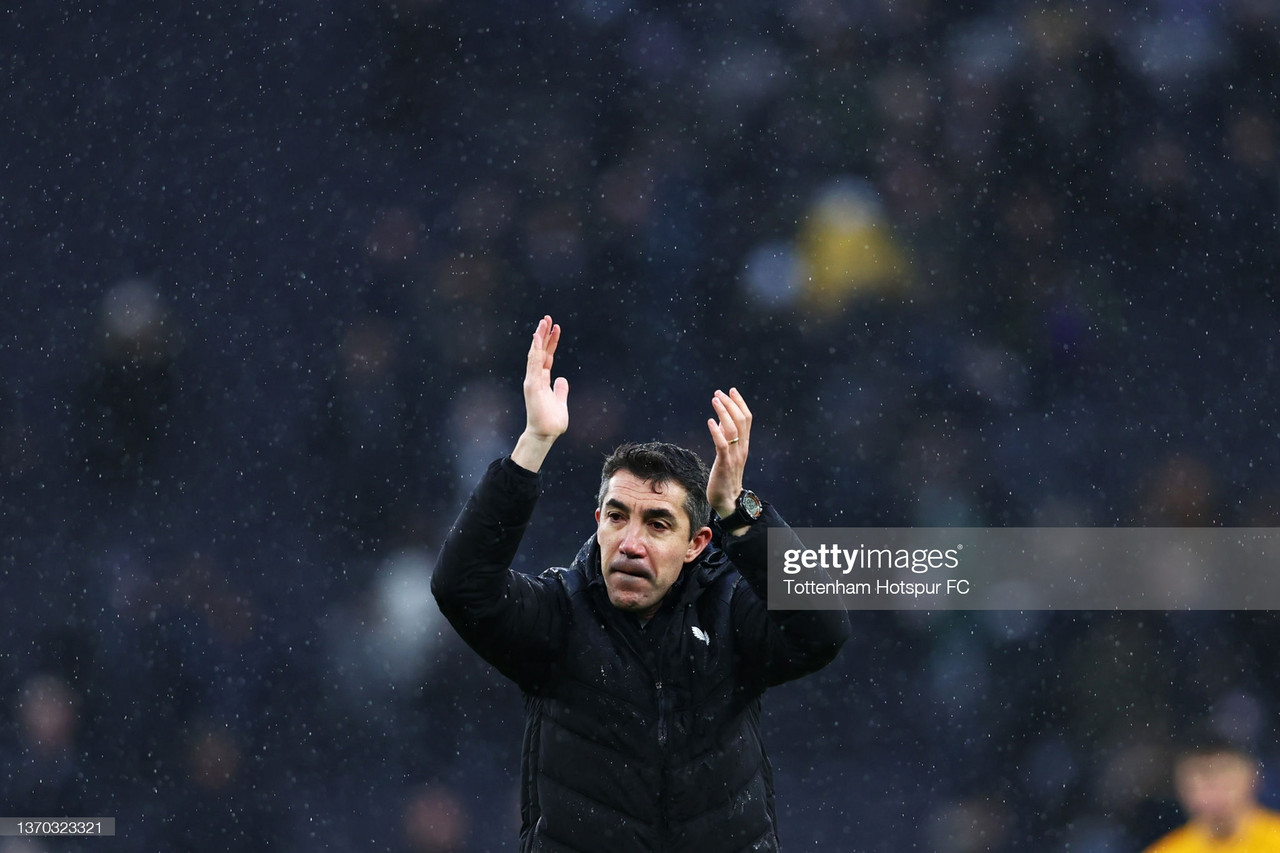 Wolverhampton Wanderers continued and boosted their quest for European football on Sunday when they dispatched a poor Tottenham Hotspur side in north London thanks to goals from Raul Jimenez and Leander Dendoncker.
They got off to the best possible start when the Mexican striker volleyed home from inside the box just six minutes into the contest, and their advantage was soon doubled when Dendoncker prodded home from close range to effectively tie up with contest within 20 minutes of kick-off.
Subsequent tactical alterations from Spurs head coach Antonio Conte did make the match a little more even from then onwards, but Wolves ground their way to their fourth consecutive Premier League away win.
Manager Bruno Lage addressed the media after the match — these were his most noteworthy quotes.
On the overall performance
As displays against the traditional 'top six' go, Wolves could not have asked for a more complete one prior to the match. In each position from top to bottom, and man-for-man, they bettered Tottenham on the day and deserved nothing except victory.
Lage was particularly pleased with their performance in the first-half, appreciating that thereafter Conte's shuffle of his pack made things a little harder for his side.
"We did a good game, especially the first 45 minutes," he said. "We were playing against a top team, the manager is one of the best, but we played against them with the character I have asked of them over the last weeks. I think we controlled the game — maybe they had one or two chances but we had other chances to score. We played how I like us to play and won the three points."
On keeping focus
In winning this match, Wolves leapfrogged Tottenham into 7th in the Premier League table and, given their impressive recent form, there is talk about just how high they can aim under Lage's management.
However, the manager was keen to ease expectations in his post-match press conference, insisting that his game-by-game approach to the fixture list has never changed.
"The goal is every time to improve the way we are working," asserted Lage. "I don't promise anything, every time we win it is exciting for the fans to look at the table, but for me we have to decide the best plan, the best eleven, and make sure we go on the pitch to play how we did today — that's how I approach every game."
On Luke Cundle
Such a big victory away at a rival contender for European football was the obvious positive for Wolves, but another rested in the performance of teenager and academy graduate Luke Cundle — making his full Premier League debut on the day, the 19-year old didn't look one bit out of place.
Lage explained it was a tactical decision to start Cundle, and that the teenager had earned his chance to feature in the absence of Joao Moutinho due to the hard work he had put in on the training pitch throughout this campaign.
"We needed to play with one more midfielder and Luke is in that position, like Joao. He's done very well since the beginning of the season, training hard. The chance for him came in the right moment and he played his game against a top team like Tottenham. Now he needs to continue to work. He is 19, a young kid with character, and he played well today."
On Leander Dendoncker
Another player who caught the eye was Dendoncker, crowning a dominant performance from midfield with an instinctive and crucial goal which put Wolves in an extremely comfortable position just 20 minutes into the contest.
It's his versatility which pleases Lage most of all: also capable occupying a position in the back-three, Dendoncker combines his defensive qualities with calmness and precision in possession and, according to his manager, sets the tone in terms of what he expects form his players.
"Leander is an important player for me, every time he is there for us. He works hard every day, and is a good example of what a teammate should be. He is available as a centre-back too. He is a top player and a top man and I am happy because he deserved his goal."
On impressive results on the road
Sunday resulted in Wolves' fourth consecutive away win, the first time they have achieved such a feat in the top flight since April 1989. To his credit, Lage has not only made Wolves immensely difficult to beat, but the frequency with which his side take the lead and hold on is mightily impressive.
The manager insists the support he and his side receive from Wolves fans up and down the country plays its part, but believes it has no real impact whether his side play home or away; their objectives, and his expectations, remain exactly the same.
"With Wolves supporters, everywhere I go I feel a big support from everyone, and that's why at the end of the match I thanked them," he said. "We need to play our game everywhere we go — it's not about home or away, we come here to play in this magnificent stadium against these top players and manager and this can give us a lot of motivation to play our game."