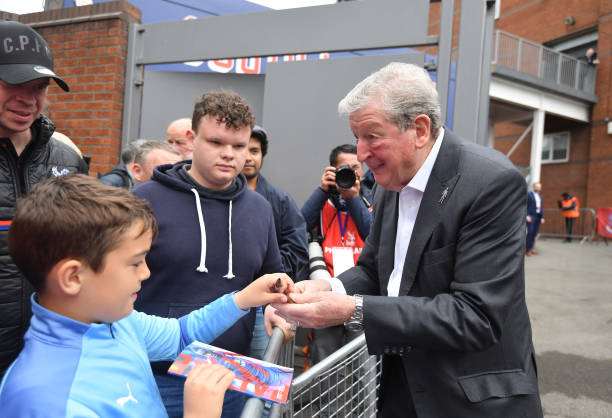 Roy Hodgson received a hero's welcome as he returned to former club, Crystal Palace with relegation-threatened, Watford.
The Watford manager soaked up the adoration from start to end as he signed autographs, took pictures and blew kisses to the home crowd as Wilfred Zaha's first half penalty was enough to seal Watford's fate and return to the Sky Bet Championship.
Speaking after the game, Hodgson was asked why he didn't thank the Watford fans who had sold-out the away end of Selhurst Park.
On the away fans
"Unfortunately they were a bit too far away," he said when asked why he didn't thank them at full time.
Normally I would acknowledge the Watford fans, but they were unfortunately on the far corner and I was being dragged, if you like, towards the towards the tunnel by one or two of the Palace players."
When asked if he should have acknowledged the fans, Hodgson was more contrite,
"I suppose in hindsight, you're probably right. But Hindsight is a wonderful thing. But the Watford fans were very good, I've got to say I was very impressed with them today and I was impressed with them last week as well for that matter because they also are not stupid people.
"They also realised that probably this was going to be curtains for us and yet still they cheered us on and even had some gallows humour.
I think they've probably been feeling low all week and yet still they showed character today. They came here with even a bit of gallows humour and they cheered the team on by the way throughout, so I think they deserve an awful lot of credit.
"They were never going to out-shout the Palace fans because there's so many more of them, I thought they were very good in our last home game and I don't think the players or the club can have anything other than respect and admiration for the way these fans have tried to get behind the team. They've tried to keep the team going through a difficult season when really right the way through [the season] we've been looking up the table and never down the table."
On the reception from home fans
"It just reminds me of what a wonderful crowd this is and how sad I was to miss them during the 15 months of lockdown during my final days here. It was great to come back and really touching, such a good reception, so as a result that can send me home happy tonight in some respects."
On today's performance
"It was a tough week, there's no doubt about that," said Hodgson, acknowledging last weekend's 2-1 collapse at home to Burnley that all-but sealed their demotion, before Palace hammered the final nail into their coffin.
And that's why today's performance is a performance that really satisfied me because the week has been a very tough one, and to come here to Crystal Palace, with the form they're in...we could so easily have collapsed and suffered a serious defeat.
As it is we lost 1-0 with 10 men and to a penalty which we contest should never been given."
On the games to come
"We're going to try to do what we did today. Basically, we're going to go out there, we're going to try and believe in ourselves. We're going to prepare the game so we know what Everton are going to come with and what we've got to do to keep them out, as well as what we've got to do to maybe get in behind them and score goals. We're going to work on that for a couple of days.
I'm going to go out with the players and ask them to reproduce today's performance because that was probably as good an away performance as we've given, on a par with the Liverpool one, where we also lost.
But that won't be easy because it's a short turnaround. Basically, the players gave a lot today so I think they're going to need a lot of tender love and care if they're going to be able to get out on Wednesday night and give anything like the sort of performance they have done."
It was a strange response considering Watford had enjoyed just 30% possession and managed just one shot on target but perhaps demonstrates the low expectations for this Watford side.
Watford were devoid of creativity and energy – issues that have plagued them throughout the season and whilst relegation was finally confirmed today, the outcome has been inevitable for weeks.
Watford will now have to prepare for life in the second tier and there are no assurances that they will return to the Premier League any time soon based on today's performance.