Liverpool's new No.1 Loris Karius has revealed that speaking with Jürgen Klopp convinced him to make the move to Merseyside, hailing the German manager as "a big factor" behind his decision.
The 22-year-old will bring competition to current first-choice 'keeper Simon Mignolet afer inking a long-term contract with the club following the completion of a £4.7 million move from Mainz, where Klopp spent 18 years as a player and a manager.
The German shotstopper has made more saves in Europe's top five leagues than any other goalkeeper under the age of 123 and caught the eye with a number of fine performances for Mainz as he played every minute of every game for the Bundesliga outfit in 2015-16.
Karius has played at every youth level for his country and was voted behind only Bayern Munich shotstopper Manuel Neuer, who is commonly regarded as the best player in his position in the world, in a vote on the German top-tier's best goalkeepers earlier this week.
He saved 74.23% of the shots he faced in the most recent Bundesliga season, helping Mainz to a sixth-placed finish to qualify for European football next term, and becomes the Reds' first No.1 since Brad Jones having chosen to take the vacant shirt number this week.
Karius keen to become Reds' new first-choice 'keeper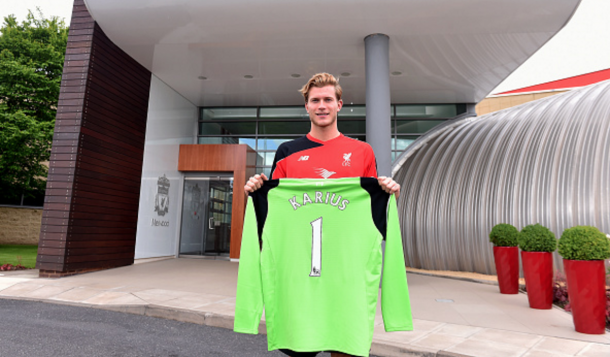 Speaking to Liverpool's official website, Karius said that his move to Anfield was "a very good feeling" and called it "an honour to play for a club like this."
He hailed the "special history" and the "amazing" fans at the club, insisting that he looks forward to playing at Anfield for the first time. "I know a lot about the club from watching them on TV," continued Karius as he explained that "everybody who plays football knows" about Liverpool and their history.
"There are a lot of things in my head when I think of this club," he said as he revealed that having spoken to Klopp, he had "a good feeling afterwards" after learning his compatriot's vision of "what he wants to do with the club and with the players."
"It was a good talk with him," Karius, who spent two years at Manchester City as a teenager, said. "And after that I was convinced this was the right decision."
The Reds' new 'keeper insisted that Klopp was "a big factor" in persuading him to sign a five-year deal with Liverpool, calling the boss a "big coach" and saying that he's "very excited" to work under him because he is "the right coach" to help him along "the next steps" of his career and to "develop well and bring my game on."
Karius also told Liverpoolfc.com that he "wouldn't make the move if I thought I was just going to sit on the bench" and said: "I want to play and I feel like I will be able to do that if I do well in training and pre-season. I'm confident. I've played almost 100 league games in Germany, so I'm young but I'm experienced. I'm not afraid of anything."