Liverpool manager Jürgen Klopp admitted their win over Huddersfield Town was "really hard" for his squad as they recorded their fourth win in as many friendlies on Wednesday night.
The Reds maintained their 100 per cent record in pre-season, this their fourth warm-up so far, thanks to Marko Grujic's fine first-half strike and a late penalty from Alberto Moreno.
The spot-kick - the second Liverpool were awarded after Philippe Coutinho saw his attempt from 12-yards saved in the first-half capped a bizarre 90 minutes in West Yorkshire.
At one point, play had to be stopped due to a drone illegally flying overhead while Academy goalkeeper Shamal George made his senior debut as a striker after Lucas Leiva was forced off injured when Klopp had already made all of his substitutes.
However, Championship side Huddersfield - managed by Klopp's close friend David Wagner who was the best man at his wedding - posed the club's toughest test yet so far in their 2016-17 preparations.
And Klopp insisted that there was plenty of positives to take away from his side's performances at the John Smith's Stadium.
Klopp: Huddersfield test was "really hard" for the squad
Asked about his side maintaining their perfect pre-season record, having scored 10 and conceded none, Klopp insisted that this game "was different" but suggested that they "should have scored more" in the first-half.
He said that maybe they might have scored more if Sadio Mane hadn't seen a goal harshly disallowed by the linesman for an adjudged foul, as well as citing Coutinho's missed penalty and "a few chances" that they failed to take.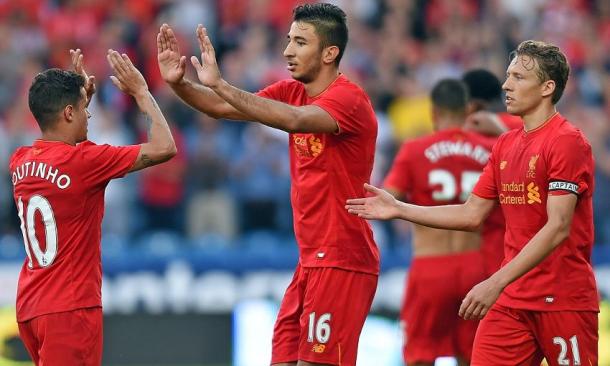 Regardless, the German focused on the "wonderful combinations" that his side played, insisting their play was "really good" although he was "not too happy with the first 20 minutes" because of "the concentration level" they showed.
"It's not bad, of course not," continued Klopp, who insisted it's "not bad" to lose concentration a little "when you are 1-0 in the lead against a Championship team" but said that if they "trust a little too much" in their qualities than "it's not the best decision to make."
On their performance after the interval, the Reds boss explained it as "a little bit lively" and acknowledged that they "were under pressure" as Huddersfield enjoyed more possession and looked to get on the front foot more often.
He added that then "unfortunately" Lucas' suspected hamstring injury meant they had to "change the formation to have Shamal as a striker."
Reds boss praises George for unusual, if unforgettable, debut display up front
Klopp hailed the 18-year-old shotstopper for doing "wonderful" before they "scored a second goal" late on and on their second-half display as a whole said it was "okay" although they were forced to defend "a little deeper" which was "really hard for the players."
On the decision to bring George on, after he had already used his six substitutes as he made a number of changes at half-time, Klopp added that he was told "from the bench" after he had already "organised the system with 10 [men]" for them to suggest introducing the teenage 'keeper.
Reporters joked that for the late penalty, Moreno should have handed the spot-kick to George - who drew praise for a commendable display as a makeshift striker, almost running through on goal before he was narrowly ruled offside.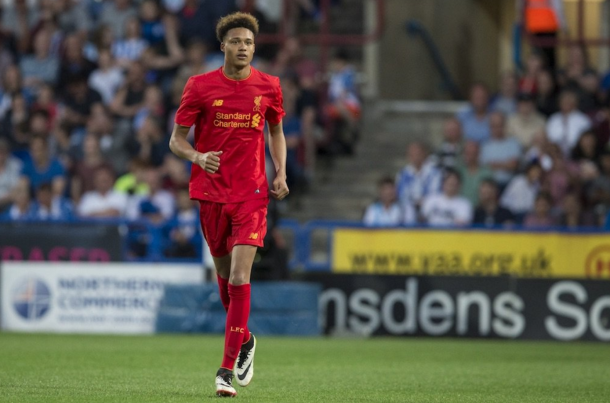 But Klopp dismissed such suggestions, insisting that it was still a serious affair for his Liverpool team even though it's still just a pre-season game.
"Even though it doesn't look like it all the time," he said, "For us, these games are quite serious so we don't want to make a joke of it."
Klopp acknowledged it as "nice for the crowd" but insisted that "in no game in the world" should they make "funny decisions" although if the scoreline is "4-0, 5-0, [then] we can think about it" before insisting that "even then, it's a lack of respect for the opponent."
US tour is "a good chance" for full squad to get up to scratch fitness-wise, says German
Liverpool now turn their attentions to their 12-day tour of America, jetting off to California in the early hours of Thursday morning to be joined by all of the club's 12 internationals who took part in Euro 2016.
Asked whether their friendlies in the States - against Chelsea, AC Milan and AS Roma - would represent a step up in opposition, Klopp responded: "No, it's a good chance for us to bring our two groups together."
He said that some of his squad have trained "for three weeks, four weeks, five weeks, one week" and so it's "difficult to bring our fitness levels together."
Klopp revealed that for their first friendly game in America they will have "15 or 16 players who could play 90 minutes" while they will also "see how the English, the Welsh boys and so on are" and "make a decision" as to whether, or how long for, they feature.
"The coaches will have a lot of work with the different groups in how they play and train," he further acknowledged, but called it "no problem" and said "that's the good thing with a training camp" because they "have nothing else to do" and have "organised it very well" so that they "can be fully concentrated" on "the things we have to do."